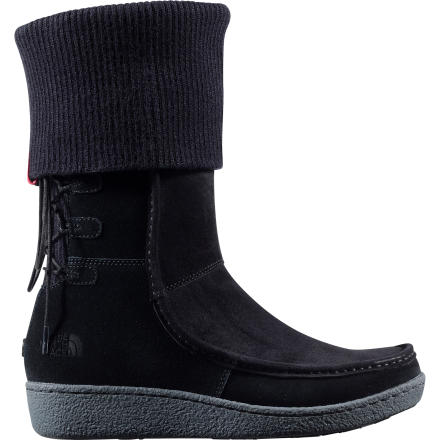 Wear The North Face Women's Alana Mid Boots through the chilly ski town streets without feeling frumpy or slipping and breaking your tailbone. This deliciously stylish boot's waterproof outsoles, PrimaLoft Eco insulation, and Ice Pick recycled rubber outsoles keep you warm, secure, and dry when the temps dip low. So go ahead—bundle up and walk to dinner. You can still be at the helm of après fashion.
Cuter Than Uggs With The Same Comfort
I love my boots because I didn't want large, clunky, trendy Uggs, but something that was mid-calf, warm, weather resistant, and super cute. These boots were my answer. I just love the lace up part in the back- it gives the boot style. You will love being the exception, the non-Ugg, make everyone else jealous, person. I thought the sizing just right, because I bought a half-size larger than my normal shoe size to make room for thicker socks. They fit perfectly for thicker socks!
Great, Nice looking Boot!
Great Boot for the price. Very Comfortable and sure-footed. I like the lacing in the back of the boot; makes the on-and-off process easier. Sizing is just to fit for my size 10's. Not much extra room, although I am able to comfortably wear thick, wool socks with the boots. The boots are nice looking and are well insulated. I went through the BIG Blizzard of February 2011 that blew through the mid-west armed with these boots, and they performed well. Kept my feet pretty warm. I wish they were about 4-5 inches taller, as they are a MID-CALF length boot.
THESE SHOES WERE WAY TO BIG AND BACK COUNTY CHARGED ME FOR RETURN SHIPPING
THERE ARE A LOT OF OTHER WEBSITES THAT SHIP BACK FREE...... SO PLEASE THINK ABOUT BUYING FROM HERE....
I love these boots! They are my casual-wear-every-day and everywhere boots for this winter. I can walk for miles in them and not want to take them off! The wedge-type heel gives a little bit of height which is nice. They fit true to size. Also, although they look like they would be incredibly warm, they are not. This is good in some instances because my feet do not get hot & sweaty, however, when it is very cold and I'm not moving around a lot, my toes do get cold in them.
These boots are really comfy...haven't worn them in really cold weather yet, but I imagine they will keep my feet pretty toasty. I like the fact they have laces on the back that can be tightened to my liking.
Comfort and Fashion collide
Love the quality,comfort and versatility of The Alana Mid Boots. Nice change and a different look than the Ugg boots.
The compliments are an added plus.....
These boots are amazing. I just measured my foot and used the measurements given on the size chart to decide what size to get. It's pretty accurate because my boots fit perfect! They are perfect for tucking in my jeans or wearing with a skirt, and the boot height is adjustable so I can change how they look with each outfit. I live in Wisconsin and it gets freakin' cold, and I wear these babies almost everyday and my feet never get cold or wet...Love 'em!
I love all NorthFace stuff-these boots are soooo comfortable, darling and warm. I would say they run a little bit big but not enough to really adjust my shoe size. I have worn them with skirts and levis...Santa was kind enough to bring them to me for Christmas....I highly recommend!
do these boots run small or large?
do these boots run small or large?
The Alana Mid Boots run true to size i got the 7.5 first and they fit great but, that was with just a trouser sock or no socks on my feet so, i chose to go up to an size 8 to allow for thicker sock room. Love the boots !!! Lots of compliments!!!!
Can these function as rain and snow boots?...
Can these function as rain and snow boots? I know they're waterproof, but I'm talking like torrential downpour kind of rain.
They'll keep water out no matter how hard it's raining, but I'd make sure you dry them out in between. The stitching won't last as long if it's constantly wet.
Just to be 100% sure, these boots are...
Just to be 100% sure, these boots are treated to be waterproof right?