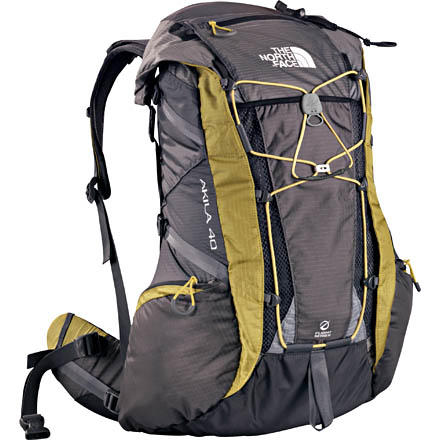 Comfortable Minimal Backpack
Pros
-This bag is very comfortable especially since they are women specific and come in different sizes to fit just so. It's a good looking bag. This would be a great bag for a really short and minimal gear backpack trip, where you really wanted to be able to do a lot of rock hopping and needed a pack to stick right with you, you could carry really heavy stuff just not very much of it.

Cons
-What I didn't like about the bag is that there are no water bottle holders or straps at the bottom for a sleeping pad, the bag doesn't stand up by it self it flops onto its back, and the line that makes up the zipper pulls (that looks like it should be easy to open with gloves on) is oriented the wrong direction making the zippers difficult to open without two hands. Also the side pockets are difficult to access with the pack on.
this is a very nice pack. i ordered it for my girlfriend for christmas and we've made great use of it since then... super light and comes with a free rain cover which is pretty nice. i have an extra that i was going to give to my sister but she didn't want it. anyway, if anyone wants it send me an offer (ryan.patrick.daley@gmail.com). i'll take any reasonable offer - no sense in having two of these things around.

cheers
The backpack is exactly as described. Haven't tested on the trails yet, but it is very light, fits perfectly and molds to my hips. It will be used to carry my equipment across the Camino de Santiago in early May 2007.
, ☃bcs_badge_alumni_label☃
solid pack for quick and light!
I went on a ridiculous 8- mile-in-4-day hike with some hard core peeps with a goal of going as light as possible. This was only possible with this pack. Its large enough to fit my sleeping bag, tent and food, as well as the layers needed, but not too much more. PROS: It caries REALLY WELL for fastpacking. The material is super-light, but puncture-resistant. The roll-top allows the pack to be used for anything from overnighters to 4/5 days. CONS: It's so streamline that there is no "good" place to put a Nalgene. (You pretty much have to use a CamelBak.)