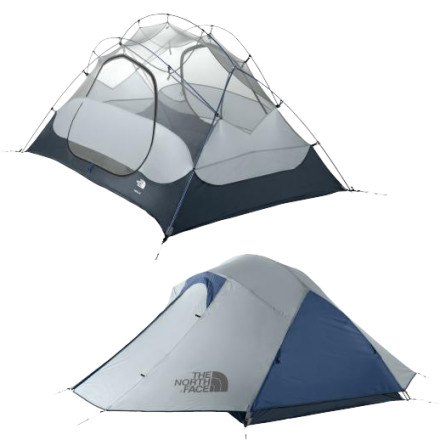 North Face Hits a Homerun
All I can say is that this is the best tent I have ever owned. I was somewhat skeptical that I was just buying a name like when I bought North Face shoes (they fell apart). This tent is a true performer. I just spent 8 days in this bad boy and it performed perfectly. I have the footprint for it. I went on a 3-day trip without the footprint and I would definitely recommend purchasing them together. The pole system looks hokey when you first see it, but you learn to love it! It is very easy to set up and take down. I like a bit of extra space and this gives it to you although, it is a bit heavy for long trips. For me it is worth the weight. It is strong in the wind and I got no water inside the tent at all. There is a lot of floor space in the vestibule but the rain flap takes the vertical space, but with both sides with doors, you can fit a lot of crap in there. A+
The tent has a quite good space/weight ratio and is very easy to set up. Pole system seems very rigid. The inner tent has steep walls, 2 large doors and a quite good headroom. The mesh add to this so it seems even roomier inside. If it is windy there is a bit of a draft since there is quite a lot of mesh on the inner tent and the rainfly does'nt go all the way down on the sides. Good floor space in the vestibule, but the walls are'nt steep. The tent seems waterproof and has endured a couple of nights with rain, not heavy though, without any leaking into the inner tent. I wish there was a few attachment points for guy-lines on the long sides of the rainfly. If you are spending a lot of time in the tent the color can be a bit depressing compared to a more bright, e.g yellow tent imo.
This tent is fantastic! It's light and very easy to setup.
Has plenty of room to.
I would recommend any one who is going to buy this tent to also buy the footprint for extra protection and insulation.
The footprint is extremely light and gives that extra level of protection and life to the tent.