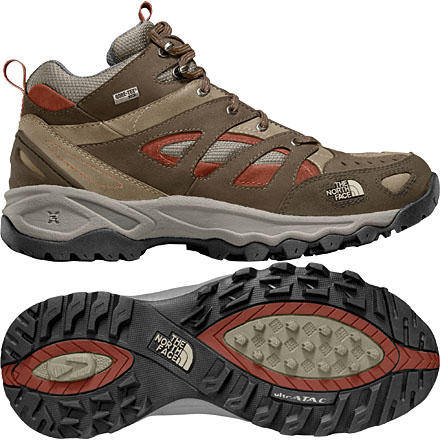 Pros: nice design, waterproof, reasonable price.
Cons: difficult to pick the right size (in my case 12 - too small, 13 - way too large), one of soles started to squeak after several of hikes, ankle sores when the shoe is laced up tight, the sole is too soft and too flexible for tough hikes.
I would recommend these shoe for day hikes only.
I am most pleased by these very light-weight, sturdy, truly waterproof boots. They give me excellent support. It is too early to determine their durability but so far they rate very highly.
, ☃bcs_badge_alumni_label☃
Great Mid for Hiking Elevation!
These were great for climbing to alpine cirque's as well as stable on the trail. These even doubled as a great winter boot and being gore, they are great for those wet areas. If you are looking for a great mid to hike in, look no further.
Before ordering the Adrenaline hiking shoes I tried on a couple pair of hiking shoes (different style) to see which would fit best. I ordered accordingly. WRONG, should have ordered my regular size. I returned them, with no hassles, and ordered the correct size. Man are these shoes great. What a good fit they are now. I'm looking forward to the opportunity to try them some place besides the back yard.
Don't pass them up if you're cheap
Great deal here folks! At first I was skeptical of the price, but the shoe's overall quality and fit is excellent. However, as others have indicated, tightly lacing to the top of the shoe can cause some discomfort. I wore them right out of the box on a 2-day, 23-mile backpacking trip, and they were great. I will never wear heavy backpacking boots again on a backpacking trip -- these are the way to go!
The shoes are lightweight and watertight. Overall extremely pleased.
I have narrow feet and these boots fit great. They work best for me with 2 pairs of socks. They are really the most comfortable SHOE I've ever worn. I wish I could wear them to work. I liked them so much I bought a pair of low cut North Face boots for walking around in so I don't wear out the tread on the Adrenalines. With the Northotic insole it is almost impossible to bottom out. Just can't say enough good things.
At age 54 I've owned a lot of boots. These combine comfort and durability better than any I've ever worn. I just received my second pair after wearing out the first, which I wore nearly every day for a year and a half. I even wear these weightlifting four days a week. I'm no lightweight--245 pounds--so these boots are put to the test. I'm actually considering buying another pair right now, just in case they discontinue them!
I am really satisfied with my Adrenaline Gore-Tex XCR Mid Hiking Shoes, I used them in Montana where I spent a month, in Italy and in Sweden, they work really fine in different environments (mountains as well as city) with different climatic conditions!
I bought these shoes for my boyfriend. They look cool. They sound cool. But, the ankle cut out is too far back. After walking around in them for a day, his ankles were bruised and sore... not what you want while hiking. So, we're exchanging them. Who knows, he could have strange ankles.
I purchased these shoes for my son. They're his third pair. He says they are the most comfortable shoes ever. My husband plans to try them also!
These shoes have an excellent workmanship and excellent fit to my feet. I haven't had the opportunity to test the water proofing of the shoes, but in all other respects can say it's a fine product.
the perfect pair of day hiking shoes
While I have not had an opportunity to test the waterproofness of the shoes, I can attest to their comfort and support. No need for a "break-in" period, these are ready for a long hike day one. The shoes seem quite breathable and do not leave my feet hot and sweaty. Plus, they look pretty darn nifty.
Adrenaline Gore-Tex XCR Mid Hiking Shoe - Men's
I bought this shoe because of its excellent reputation. It has not disappointed. Beautiful fit, ready to hike right out of the box.
In East Tennessee we have many trails that are well worn and have exposed roots and rock strewn treads. The shoe hangs tough and handles it all without slipping or twisting.
This site's service along with no tax or shipping makes it a no-brainer buy.
These boots are great for weekend warriors like ourselves (we both have the same model of boot.) There was no break in time and no bloody heel. I will buy them again.
I took these shoes to the Canadian Rockies and they were very comfortable on the day hikes and mountain biking. My feet didn't hurt at the end of the day as with some shoes. Plenty of toe room. Definitely a recommendation.
Versatile, Comfortable Hiking Boot
I just bought these for a trip to Africa to climb Mt. Kilimanjaro and go on safari, and I was not disappointed. They're waterproof, which kept my feet dry when it rained. They offered plenty of support on the hike up and down the mountain, and yet they are very light, which helped on the hike and made them versatile to use to go out and about town. Also they look pretty good so I was able to use them to go out to a nice place without getting dirty looks. I highly recommended them.
No break-in time required. No tired feet. What I really like is the lighter weight then alternative "Vibram outsoles" which I have worn down to "nubs" on my Merrell Millenniums (and many other hiking boots) and are now due for new soles. The NF Adrenaline boots fit really well and what I really like is they don't slip around on my feet - especially on the downhill. So far I have used my formerly new NF Adrenaline boots on day hikes in Glacier NP and Yellowstone NP, but would not hesitate to use them on much longer overnighters. I don't consider myself a professional guide, but I have been hiking in Glacier NP, the Bob Marshall Wilderness, and many other places since I was a kid wearing surplus army boots. The NF Adrenalines are great boots and I would recommend them to anyone. Hike Montana!
These are the most comfortable day hiking shoes I've owned. They're perfect for getting wet and dirty. I spent a week in Alaska, wearing them almost every day. It only took a day or so to wear them in.
I just got back from Costa Rica backpacking for two weeks and these shoes were great, I did get a little wet in the rain forest but nothing could have avoided that. These are great shoes without the weight and with more flexibility.