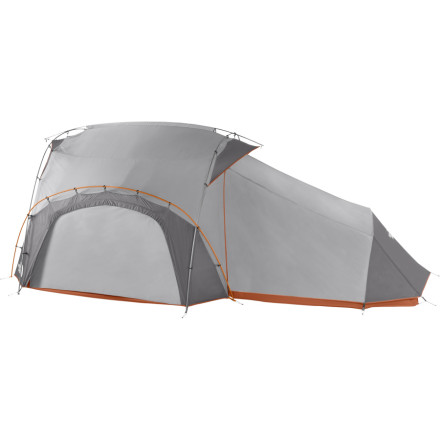 Community Images
The North Face 4 Person Dock Tent is designed specifically to expand the sleeping capacity or move bodies outside of the main Docking Station tent. Color coordinated buckles and hook attachments ensure effortless attachment of this section to the main tent. The roll-back rain fly lets you expose the mesh roof on clear nights or during the day for ventilation.
in the video it will tell you about the extension and the main part of the tent
Hey. We're looking at camping up North...
Hey. We're looking at camping up North (way North- Yukon, Alaska area). How heavy is this tent for hiking? And how insulated are you from lower temps at night (between 0-10C)?
This isn't a tent by itself. It's designed to be added on to the TNF Docking Station tent, and so it won't stand up without the other. If you're backpacking, there are very few 4 person tents, and for ease of use's sake, you'd be much better served by going with two 2-man tents. I'd recommend the Kelty Salida 2 as a lightweight and inexpensive option. If there are three of you, the Black Diamond Skylight is a great option. In general, for cold weather, you tend to want something with less mesh, because it keeps the heat in, which is why the Salida and Skylight are both pretty good options. If there's going to be heavy snow, look at something with a four-season rating, like the Big Agnes Flying Diamond or MSR Dragontail. A three season tend can be crushed under heavy snow, so be careful.
Floor and Height Dimensions
Can I use it without main docing station?...
Can I use it without main docing station? As a separate unit?
Best Answer
I don't believe so. It's not freestanding, and the upper end relies on attachment to the pole structure of the main dock to keep it up.
Excellent for 2-3 adults...
I have used this tent before, I was very happy with how easy it was to setup, easy to get in and out of, as well as how warm it was even in the fall i would definitely recommend this product to anyone that camps alot. Not necessarily designed for windy conditions however, it serves great purpose for use in the woods, fields, or even your back yard....

Enjoy, I know you would love it!