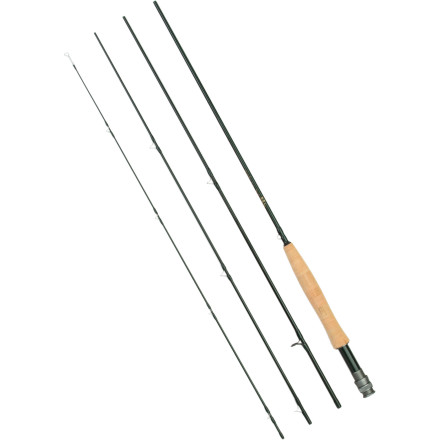 Community Images
The Temple Fork Outfitters Pro Special 4-Piece Fly Rod is the gift that just keeps on giving. Whether you're eyeing this beauty for your partner, buddy, or yourself, this medium- to fast-action fly rod with progressive taper has you casting, hooking, and fighting browns and rainbows in no time. Plus, you'll have funds left over for a new reel or fly line.

Medium- to fast-action rod with a progressive taper provides smooth, powerful, and forgiving casts, and is ideal for all anglers at all skill levels
Translucent green finished blanks, oversized stripping guides, and premium-grade cork with burled accents make the Pro as forgiving on the eyes as it is in your hand
Anodized aluminum reel seats with braided carbon fiber inserts ensure durability and years of use
Four-piece configuration makes the Pro easy to travel with and store
5 and 6wt rods feature a half-wells handle that gives you more leverage, allows you to cast longer and fight larger fish, and is ideal for those who like support of their thumb
8wt rod features a full-wells handle with medium fighting butt that provides hand support at the rear and front of the rod, gives you more leverage, and allows you to cast longer and fight larger fish
Included rod sock protects the Pro during transport and storage
Great medium action rod
Familiarity:

I've put it through the wringer
Great softer rod. I use it for dry fly fishing on small streams and I've loved it so far. I wouldn't use it for a big time nymphing rod streamer rod, but fun for dries on smaller water.
Defective Unit - 5wt
Familiarity:

I've used it once or twice and have initial impressions
Received this rod from Backcountry today. Had a few defects.

1) Reel Seat. Top of reel seat doesn't align with bottom of reel seat, so while I can work my reel onto the rod it doesn't lock in tight and doesn't seat flat.
2) Handle. After about an hour of fishing, the cork handle where I rest the thumb on my casting hand started to crumble and peel off.
3) Rod Sock. Has a small tear in the top flap. Also made of very thin and underwhelming material.
4) Casting/Feel (not a defect). Bought this 5wt 8'6 to extend my casting distance a tad and punch slightly larger flies out onto some local ponds. I didn't notice an appreciable difference to distance over my 7'6 Orv** ClearW**** 5wt that's 16 years old and primarily used for trout on mountain streams. The TFO rod also felt a little flimsy and didn't load as quickly or sharply with 5wt WF line; a less snappy. For comparison purposes the TFO rod is a medium action rod and the 7'6" mentioned above is a 5.5 midflex on their old proprietary flex scale. That being said I suspect the TFO rod would deliver a small dry fly fairly nicely, especially if you had a more deliberate and patient casting motion (although I didn't test that today).

For $90 on sale this is would be a C+ rod and probably worth the money as a backup or intro rod. I would worry about it standing the test of time, however.

Backcountry's customer service is great and is allowing me to return this rod.


Description
Awesome rod for the price
Familiarity:

I've put it through the wringer
I purchased this as my first rod. This thing is great especially when considering price. By far, this is the best deal out there. Like other reviewers stated, the workmanship makes this worth way more than the $100 price tag. I have the 8ft 6in 5wt paired with a Sage 3250 reel and I could not be happier.
Great Quality
Familiarity:

I've put it through the wringer
This rod is worth way more than 90 dollars. The design, quality, and workmanship cannot be beat for under 100 dollars. If you are looking to get into the sport or just looking to pick up a 5 wt, look no further than the TFO Pro Special
A great fly rod, better than I expected
Familiarity:

I've used it several times
TFO makes a great fly rod and backcountry.com sells them at a great price. Mine is light and fits nicely in my backpack. While I'm not an expert fly caster, I don't have any trouble making 50 to 60 foot casts with my new favorite TFO rod. I wouldn't send it back even if I got double my money back.
does this rod have the lifetime breakage...
does this rod have the lifetime breakage warranty?
Best Answer
Yes it does, only through Temple Fork Outfitters though. Backcountry doesn't do the unlimited lifetime warranty anymore. Make sure you fill out the warranty card and send it in otherwise you don't get it. Hope this helps.
This is so light and packable. High quality and great construction
Purchased for me and my wife thrilled with the product!! Says it's the best price for this fly rod and comparable to many other more expensive products. Great Customer Service and Warranty.
I bought the 8'6" 5 weight rod and it's an excellent rod for the money. My only complaint is that I wish it had "dual" locking rings instead of the single one it has. Just so you know, the main difference between a TFO Professional and a Professional II is that the II has dual locking rings. I find the single locking ring tends to loosen on its own and I'd hate it if my $200+ reel ends up falling off and getting damaged!!! (Sure this won't happen). I have no idea where the "blank" for this rod came from? It is nothing like a TFO Professional blank because the color and the ferrule design are completely different. The blank has the green color and the ferrule design of a TFO Signature blank, but it is much thinner (higher performance graphite) than a Signature blank and is similar to a Professional blank in material. The action of this rod is kind of odd, not like my 4 wt Professional II or my 5 wt Signature Series rods. It has a very fast and whippy top 1.5 feet and is very stiff the rest of the way down. It casts well, however, but is more like a 5.5 wt rod. For the money, it's a great deal, but I like the action of the Professional II rod better, but that rod costs about $50 more than this rod.
Great Rod for a great price
I bought the 8'6" 5 weight rod and paired it with an Okuma Sierra 5/6 reel. This was my first "Nice" rod and reel. It is night and day better then my Box Store special and presents the fly very lightly on the water. The rod loads nicely and cast the line out surprisingly well even on a windy day. Well worth the money.
Nice performing rod for little money
I've got the 9'8wt version of the rod and it works well for steelhead. The rod looks really nice other than the reelseat, which is grey plastic on the heavy rods with fighting butts. At the closeout price, they're hard to beat and I don't have to worry about breaking the rod if I hook something other than a fish.
Very well constructed, decent action 6wt
Familiarity:

I've used it several times
I briefly owned the 6wt., having found the action unfriendly to my tempo. The top couple of feet load easily and accurately put a fly out to about 40ft., but the lower rod seems disconnected from the top, being very stiff and not loading progressively. It may work very well over-lined and tossing weighted rigs, though. Cosmetics are very nice and the cork is a higher-grade burled variety than the standard. I find the largish swell too far forward to actually accommodate large hands; it positions my thumb ahead of the cork and on the blank.

An excellent rod if the odd grip shape and disjointed action suit you.