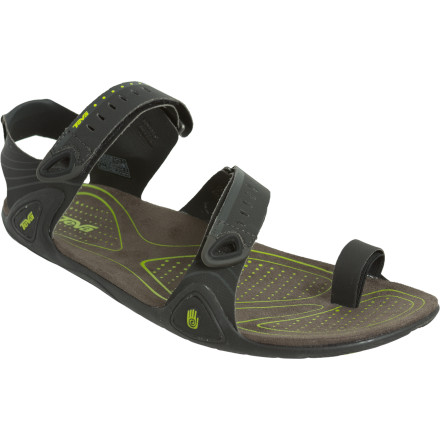 Detail Images

Community Images
The only thing that gets you closer to barefoot then being barefoot is the Teva Zilch Sandal. A minimalist design features a thin sole that bends and flexes with your foot motion, and offers a bit of protection from sharp rocks and spiky cactus.
Non-marking Spider rubber outsole provides exquisite grip in wet environments
Nylon straps are highly adjustable for a custom fit every time
Contoured footbed supports your foot in all the right places for all day comfort
Minimilist sandal design connects your feet to the ground
Rolls up for easy packing when you're traveling
These hit the spot.
Familiarity:

I've used it several times

Fit:

True to size
These are great for there intended purpose (my purpose; light weigh wet/dry camp shoe or at the beach shoe). In cool weather, you can wear a sock and just step over the toe-loop.

Must be sized properly (in half sizes). 7oz ea.
I had to return my original pair: I bought a size down and they were a little short. Second pair is my normal size and they feel true.
Very comfortable, no issues with rubbing. Pretty close to walking completely barefoot.
These sandals are great for those looking to minimalize their footwear. The only issue that arose was the sizing. I had to order one size below what I actually wear and as you read more reviews you'll notice that other people are also having the same issue. Your best bet is to actually measure your foot and compare it to Teva's sizing chart. Other than that, the Zilch is a great shoe for water sports or just cruising around town.
I made a comment earlier about size difference. Backcountry is so awesome they sent me a new pair a year later. on the right is the new size 9 the left is my size 10. I normally wear a size 10 1/2 in everything (asics mizuno's montrail scarpa) the old 10's fit fine but not nearly as good as the 9's.
Great minimalist sport sandal
These sandals are super comfortable. They fit my feet like a glove and haven't produced any hot spots. You do want to size down with these so they fit correctly. I normally wear a 10.5 and I ordered these in a 9.5 which is perfect. These are great for backpacking, I like to stick them in my bag and wear them around camp. They are super light and you can fold them up if you want to. Highly recommended.
Minimal weight, fits in your pack and when your tired feet need relief- voila! Just enough of a cushion. No problem with the toe loop after initial break in. Buy a half size larger for a comfortable fit. Your feet will thank you.
After losing my '98 Reefs while crossing the Merced River this summer, I decided I needed a new pair of camp shoes / water shoes to take backpacking. I wanted them to be light and low profile, and when I saw these reviewed in a magazine I had to check them out. I recently received them (on sale through another site) and after a few wears I can say that they fit the bill perfectly. I generally wear a size 10.5 - 11 in sneakers, and I ordered a size 10.5 in these. They fit my feet almost perfectly, so I guess my experience just adds to the sizing confusion below. I think the issue with sizing is that these are designed to really fit your feet closely and ergonomically, which unfortunately can't take into account just how different everyone's feet are. Perhaps I got lucky, but from my experience these run true to size.

I can also attest that the toe strap DOES stretch to accommodate a larger toe in time, and it is really no problem. The only issue I have is that the fit tends to want to push my heel off the back of the shoe and because the rear strap is not adjustable, I have to deal with a tiny bit of my heel spilling off the back of the sole. I counter this by loosening the front strap. Again, I think this is due to trying to make a "generic" ergonomic shoe. Despite this caveat, I really, really love these things and they are light enough to clip to my pack without stressing too much about added weight.

These are my first "barefoot" shoe, and I really like the feeling. I have not used them yet in stream crossings, but I imagine they would perform like any other Teva-type sandal.

PROS:
-Light!
-"Barefoot" style low profile sole
-Comfortable on feet
-Look Good
-Ergonomic streamlined fit

CONS:
-The streamlined fit might *potentially* cause problems with individual feet
-Rear strap not adjustable

Overall I would definitely buy these again...
I have had these sandals for a good two months and i have taken them everywhere. I have pounded pavement in amazement parks all day and they felt great. There is a occasion where they may start to rub on your foot but the next time you put them on it does not bother(i think i have to play with the adjustment). I take them to the crag and they work well for moderate descents and are light to carry. In the water the rub is not as sticky as you may hope but they do work pretty well and way easier to swim in then trail shoes. The toe loop fits well and pretty soon you forget it's even there. As for sizing size DOWN 1 SIZE. I 10 1/2 and got a 10 and i am waiting to exchange it with a 9 1/2. It fits alright but ive got a good chunk of sandal left at the end. As for the barefoot feel, you get more then a sneaker and hurts less than no shoes. I would highly recommend them and would be at 5 stars if i would have got the right size.
So one reviewer says they run large and...
So one reviewer says they run large and the other says they run small? What is this good cop, bad cop????
Just received a pair and yeah they run BIG! With my normal 10.5 size my big toe barely goes through the toe loop. Additionally there is more than an inch of sandal in front of my toes with my heel in the heel pocket. Bummer is BC.com doesn't have a size 10 in stock, oh well :(
I, on the other hand, wear a size 10 in pretty much every kind of footwear (sometimes 10.5 in a backpacking boot, sometimes 9.5 in a sneaker, but almost always a 10), and the 10 in the zilch fits perfectly. They are just the right length, and the toe loop hits at the right point. Either Teva's sizing is wacky, or everyone's crazy. Myself included.
Uncomfortable at first, now I can't take them off.
I wore these for the first day and got sores on my feet from the rubbing of the straps. What i found out was that I just had the straps way too tight. I loosened up the straps (almost as loose as possible) and I've loved them ever since. No more painful rubbing. The big toe strap was too tight at first but it's definitely loosened up since then and I'm sure it will adjusted even more to the size of my big toe. I hope it does because it's still a little tight on me. **Big toe strap isn't adjustable**

Size seems to run a little big. I wear a 10.5 in street shoes, 11 in running and hiking and I've been wearing the 10 Zilches. And even at a 10 the sandal extends out past my toes a little farther than I'd like.

I got them about a week ago and I've already worn them on 2 hikes and 2 short approaches to a local climbing wall, plus a painful (not because of the shoe, just because I had to be in Wal-Mart that long) two hour trip to Wal-mart:( They were really comfortable walking around Wal-mart and hiking in. The hikes were mostly sandstone and red sand trails. During the approaches I was scrambling around on warn down lava rock (with some sharp edges). The grip is really good and didn't slip like my older Tevas when down-climbing and scrambling. Even though I stepped on some sharp lava rocks, the sole held up great. I did get a few nics on the front of my toes but I bought these knowing they didn't have front toe protection. None the less, it still hurt pretty bad.

I've never worn minimalist shoes before but these are really making me consider it. I love how skinny the sole is and how natural it feels to walk around in them. Pretty close to walking in barefoot with just a small surface between you and the ground.

I'm loving these sandals! I know I'm going to get some good wear out of them. I love the style too. I never really liked the big bulky technical sandals and I've definitely never been attracted to Chaco's just because the huge sole is ugly to me and seems unnecessary.
When I got my hands on these I was stoked. Teva is a great brand with a great rep and this shoe is well designed functionally and aesthetically. Being a big fan of barefooting and 0 heel drop... I immediately wanted a pair of these when I saw pics of them before they were out. can you blame me? they look great, especially next to my huaraches (though, i do like them, but...) and blend in my better than my many pairs of VFFs. They are pretty thick at 10mm, but for some of the stuff I want to do in them, i might be grateful. I can use my other stuff when i'm wanting better ground feel. pulled them out of the box and the blue just looked great. My heart skipped a beat. The stokage didn't last long though. I seem to have some of the oddest feet around. My big toe would not fit into the toe loop. I stretched it out with my hand for about 5 min and finally got it to squeeze in there but i feel like my circulation is being cut off and its very noticeable that there is something on my toe. I still have not had much time to break these in, so I'm hoping with a couple more days use they'll loosen up for me. Updates will come. Sizing seems to be a tiny bit on the small side. Most of my shoes are 10.5's though I do have a number of 10s and 11's. I snagged a 10.5 my toes are rather close to the edge.

****UPDATE******
Ok, I may have jumped the gun on this review. But I hadn't been this excited for a new product in a long time. So, for the good news, especially for us big toed (?) people: the toe does stretch out nicely, just be patient with it. the 10MM thickness is pretty thick, I took it out on some trails that my treksports (five fingers) have issued with (rocks) and these certainly handle them better. Also, after some usage out on the trail, I have decided to size down to a 9.5. I'm bringing my stokage back up to 5 stars (originally 3)