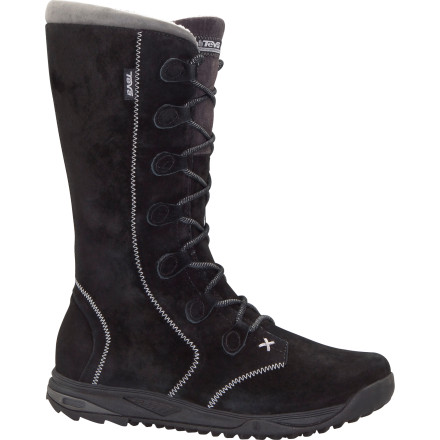 You may not be superhuman, but you can walk as if you were with the help of the Teva Women's Vero WP Boots. Thanks to White Spider rubber soles, these smokin' hot leather boots are designed to help you confidently strut your stuff across icy, snowy terrain. To ensure your feet stay warm and dry, these boots have a waterproof membrane and 200-gram Thinsulate insulation.
Shoc Pads in the heels make for a smooth ride
Mush Infused insoles provide superb comfort for long days on your feet
Flexible EVA Strobel lasting gives your feet extra cushioning
Side zippers help you slip easily in and out of these boots while laces adjust for a just-right fit
I got these boots just in time for the Blizzard of 2013 here in CT. We got 33 inches and my driveway (1/4M long) was unplowed for 6 days. So I needed these boots! They kept me warm and dry (although I wouldn't wear them in the rain or slush, they're fine for snow); the arch support and "athletic" sole are great for long walks; and they're pretty sporty/decent-looking as well. I have large (muscular) calves, so the option to loosen laces in addition to using the snug side zipper made these boots a perfect fit and function. I'd give 4.5 if there was that option.
Hi, are these true to size? I'm normally...
Hi, are these true to size? I'm normally an 8 1/2 (merrells,) but in chacos I wear a 9. I'm in New Zealand, so returning would be an expensive hassle. Do you think an 8 1/2 would be adequate?
Hey,

Generally size up 1/2 size from your street shoe.
I would size up. Because of the water proof liner the tend to fit a little bit more snug that a regular boot in the same size. With it being a winter boot as well you will most likely be able to wear a thicker sock more easily.
I've had the dark Gull (grey) boots for about a week now. They look and feel really great. Nice light insulating lining, zipper is a terrific feature. I even wore them bicycling because it was cold out and they kept my feet toasty. I too have very sensitive feet and I am extremely happy with these because the footbed is very comfortable. I think you too will love them.
I have nerve damage to my feet, mainly in the soles, due to an accident. Finding comfortable shoes is next to impossible but I found these! They are so comforable and have wonderful cushioning in both the interior and exterior which is what I have to have to walk without pain. I love both the side zipper as well as the lace tie as they can be adjusted to fit you perfectly.

I usually wear a size 7.5 but bought an 8 so I would have some room for a light sock and they fit perfectly. They have excellent arch support which was something I thought at first would be a problem for me but it was not (I don't need excellent arch support).

I have no idea if they are waterproof as I have yet to wear them in the rain even thought I live in the Pac NW. I sure hope they are!

If you are looking for comfort, you will find it here. They are stylish and very pretty as well.

(If you need a comfortable boot without as much arch support then I suggest the Merrell Apex boot which Backcountry sells as well.)