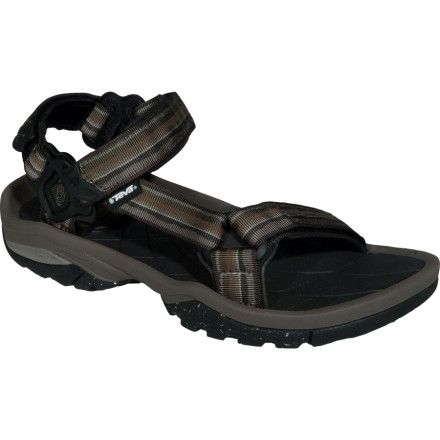 Community Images
From the beaches of the Mediterranean to the deserts of the Southwest, Teva's Terra Fi 3 Sandal is at home. The Shoc Pad provides increased shock absorption in the heel and disperses the impact throughout the footbed for maximum stride comfort in wet and dry climates.
Universal strapping system secures your foot through four contact points
Non-marking rubber outsole provides exquisite grip in wet environments
Microban antimicrobial technology uses the natural antibacterial properties of zinc to prevent stinky bacteria and fungus growth
Nylon shank provides stability and lets you walk over pointy rocks and sticks without feeling each one under your foot
I usually am a size 11.5 in most shoes, but I found that the size 11.5 to be way too big, I finally went 10.5, which fit great. These are amazing shoes, I used them on my trip to Culebra, and I will be wearing them all summer. The reviews on here about the shoes are all true!
Super durable
Gender:

Male

Familiarity:

I've put it through the wringer
I have mine for YEARS!!!! I have used them either going to the bar & used them on a bunch of short to medium hikes when it was too nice to wear my hiking boots on more mellow terrain. These sandals have nice traction as well.



My sandals after 4-5 years are just starting to show their age, but still are going strong, not getting rid of them of them just yet. These sandals are nice to have when you are backpacking. You come across a river/creek ford, just take off off your hiking boots & charge through fast moving water without fear of these tearing off.
Perfect Summer Sandal
Familiarity:

I gave it as a gift but have feedback to share
Bought these as a gift, but they are the perfect summer sandal. My dad lives on the coast and it is the shoe he wears around everyday. Also great for those times that he want a water shoe and need the traction as it is not at all slick when you get out of the water. One complaint was they are a bit stiff for the first day or so, but once broken in you will not want to take them off.
After reading Lobster Tony's review, I had to give them a run. So far so good, can't beat 'em for both wet and arid climates alike.
SINCE THE '80'S, I THINK.....
0N MY 4th PAIR. I WEAR THEM EVERYWHERE. I EVEN WEAR THEM WITH WOOL SOCKS IN THE WINTER. HAD TO WEAR A TUX TO SOME GIG, THOUGHT ABOUT IT....
I read all the bad reviews on the TF3 compared to the TF2( the heel plug) I finally bought a pair after wearing the Hurricanes ( terrible ) and I can't find that much of a difference. The sandals are just as comfortable as the old and I have been wearing them working ( building a deck ) and as water shoes. No difference. I did notice the velcro is not as sticky as the old, but hasn't been a problem. The heel plug was a little annoying when I first wore them, but I don't notice it now ( and it doesn't leave a Teva "hand" pattern in my heel ) I have been wearing them (beating them up ) for a month and a half. So far, very good sandals.
Teva Terra Fi 3 Men's sandals
They rock! They were bought as a gift and the person loved them and were exactly what he was looking for. Sturdy, water proof and beach resistant. Great stuff!
Thank you.
I've owned at least 7 sets of Teva Tera fi2's and put 500-1000 miles on them. So I was a little hesitant when the Tera Fi3 came out. I read some bad reviews such as hard shock pad and uncomfortable straps.

Now that I've been wearing the Tera fi3 black ones for over a month, I must say they are comfortable. Even the shock pads feel softer. I'm just wondering if other reviewers received some inferior sandals? Or do the different colors use slightly different materials? The reason I say this is because the Tera Fi2's I got from Sierra Trading Post, and the black ones that came straight from Teva, felt different.

I now prefer the 3's over the 2's because the arch is slightly higher which translates to a more comfortable walk, hike, and backpacking trip. To me they're softer than the 2's. I've backpacked in Tera fi's for over 7 years now and they are great in all terrain: Rocky Mountains, desert, bog, rain or shine. I like these sandals since they're light weight and extremely hard to twist your ankle (which I have not been able to accomplish after a few thousand miles). And unlike boots, they're comfortable right out of the box. However, there are tricks to the trade for high mileage sandal backpacking. One of them is using a fast drying, cushy, cool sock. Another is cinch them tight when walking and loosen them when resting. This will prevent blisters. You won't need camp slippers with these. Just loosen them and feel a bit of heaven in camp. If they ever get muddy (typical on my trips), I just rinse them in a stream. When it's raining at night, I leave them outside my tent in the rain and put on clean sandals in the morning.

I thought the tera fi 2's had the best grip on sloping wet granite: Much much better than vibram. However, these Tera Fi 3's have even better grip! The traction is incredible!

I also do basketball, tennis, and biking in these sandals. I like black sandals with black socks and them my work mates never notice I'm wearing sandals.

This is a good high quality sandal.
-Barry
The Terra Fi's are the quintessential active sandal. The tough-as-nails spider rubber outsole grips to anything wet, dry and in between. The foot support is great, I have a high arch and the footbed cradles the foot like a baby. The strap system is very reliable, though the toe strap does pinch the little toe sometimes. Personally, I get the most use out of these in the boundary waters, where they are the perfect hybrid for fast drying after unloading and enough support for the portage. I've been wearing Terra Fi's all my life, and I probably won't stop any time soon.
Unanswered Question
I am looking for a lightweight camp shoe...
I am looking for a lightweight camp shoe that can be worn for backpacking crossing streams. Lightweight is the priority. Thanks
here is a pick of my 1999 teva original terra fi's
keep in mind i wore these everyday one year. and every summer since.
in my opinion they are very much in the "good condition" department.
i have gotten a new pair since. if i don't wash the old ones outside and let them sit in the sun they start to stink.
I've had lots of water shoes/sandals. These are the best. The problem with closed toe sandals/water shoes is the protection is increased, but sand and stones/shells get in no matter what- on my Columbia water shoes, Teva Wraptors, New Balance 921's and Keen h2o newports-same thing. Once the junk is in it doesn't go anywhere. On these Teva's, the junk gets in and the water quickly washes it out. I never have to take them off to clear pebbles or sand.
They are very comfortable. They are very sure footed. I was able to carry my 45lb. son down a steep trail with loose gravel and sand and didn't slip at all.
So its 2010 and i got a new pair of tevas.
my old pair was from 1999 and they are still in excellent condition!
my wife kept telling me my feet stunk when i wore them though.
i guess the antimicrobial stuff wore off after 11 years.
needless to say i still have my old ones but wear my new ones!
love them to death!