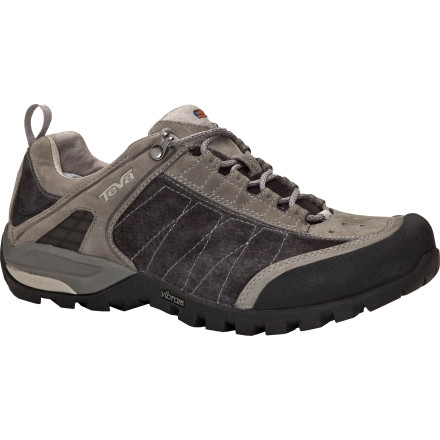 Detail Images

Community Images
March into the mountains with cool, sure-footed determination thanks to the Teva Men's Riva eVent Hiking Shoe that rocks a grippy Vibram sole. Whether you're trudging through a multi-day excursion or taking a quick after-work trip into the hills, this supportive shoe performs like a champion. Breathable eVent fabric shields your feet from sudden drizzles or unexpected puddles without leaving you with hot, clammy toes.
Repeatable Glue Problems on Toe Guard.
Familiarity:

I've put it through the wringer

Fit:

True to size
This used to be a great shoe. My old pair of Teva Riva Event shoes finally wore out after 3 years of hard use. Replaced it with the 2014 model - after 1 month, toe guard began seriously separating. Returned the shoe as defective for a second pair, and again, after one month of extremely light use, the same problem with the toe guard separating. Why did Teva choose to stop sewing the toe guard? Being top of the line shoes, this is really disappointing. Will be asking for a refund.
Out of the box and to the trail!
Great shoe. Comfortable from the first moments throughout the entire 6 miles of varied desert terrain. Wear them weekly and enjoying the support and fix.
Great walking shoes!
Familiarity:

I've used it several times

Fit:

True to size
Great pair for hiking up mountain trails or for a weekend walk on the beach. Great arch support; the shoe design cuddles and supports my feet better than other shoes I've tried. altho a bit pricey; I think it is worth it.
Some for me and some for my Dad
Familiarity:

I've put it through the wringer

Fit:

Runs small
I love these shoes, my Dad loves these shoes hahaha. I have a pair and he immediately asked that I get him a pair just based on looks alone. They are super comfortable and great for light hikes and walking around town. They fit a little smaller than I am used to, I would recommend getting a half size bigger than you normally wear.
Unanswered Question
Sir, Am about to buy Teva Event Hiking...
Sir,



Am about to buy Teva Event Hiking shoes with vibram sole.



Can you confirm if the shoe lining is made of pig skin or cow's leather?



We are muslims now shopping for these type of shoes in a Dubai Factory Outlet shops.



Best Regards,



M Amin Alwi

email : amin@misteel.com.my
Quality issues
Familiarity:

I've put it through the wringer

Fit:

True to size
I purchased this Reva eVent shoe back in June to replace some Keens. I love the look and feel of this shoe, and I am HUGE fan of eVent. The shoe worked for about 2 months for me but then started having glue issues - the toe guards on both shoes started coming apart. Backcountry, being the awesome place it is, replaced the shoe for me with the same shoe, which is exactly what I wanted. However; I have had this new Reva shoe now for a month and the left shoe is popping when I walk (felt more than heard) and on the same shoe the eVent fabric liner is sagging enough that it feels like my sock is bunched up in the toe due to suction created by walking. (just a guess) I don't want to hammer the Teva name too bad because they make good products and do good things, but these shoes were solid for a time but then just came a part a lot sooner than I think they should have - it may just be some quality control issues in production. I am in the process of working to return this second pair of shoes for a different model, possibly a different brand.



FYI - these are my day to day work shoes and I sit at a desk all day...
So-so, but not what I anticipated
Familiarity:

I've put it through the wringer

Fit:

True to size
If you notice below, I had asked a question about the suitability of these shoes for use as the primary set of footwear while hiking or walking around towns for resupply, and so on. When talking with the product reps, they had informed me that the shoes themselves were partially leather, so I should expect them to swell 1/4 - 1/2 of a size larger than the size that I ordered them in. Moreover, I had had some experience with the eVent fabric that lines the shoes to provide a waterproofing protection, and while I didn't have any apparel that had the fabric embedded in it, I did have compression sacks that had performed admirably, so I went out on a limb and got them.

My trial with them has been a mixed bag, complete with positives and negatives.

The shoe itself does keep the water out, but only insofar as the rubber toe guard does not come unattached from the rest of the fabric. The miles that I have put on have caused a separation of the two, which dramatically reduces their ability to repel water.

Moreover, while they breathe decently, it hasn't been nearly the venting capability that I was expecting. They have caused a number of blisters to form over the course of my trip, not just from their inability to truly vent like I was made to believe, but also from the fact that their size did not, as I was made to believe it would, swell substantially.

The soles of the shoes are excellent, but they could be better. I typically expect Vibram products to hold up to hard wear n' tear, and I suppose these probably have better than other soles would have given what I have put them through. However, the shoes as a set are quite heavy, so be sure to keep that in mind when debating over a purchase.

All in all, they are mediocre, and probably a good urban shoe, but don't expect to be completely satisfied when out in the backcountry. The design and build definitely need to be tweaked before I would ever consider trying these shoes as go-to footwear.
These shoes are comfortable and breathable
Do these shoes or any other waterproof...
Do these shoes or any other waterproof shoe that Backcountry sells come in a 10.5 EEE or 11 EEE?
I've looked through a good portion of the hiking shoes and have never seen any that are specifically called out in a wide size. Your best bet would be to click on the "Live Chat" link at the top of the page. The folks at Backcountry are great to work with and can find an answer for about anything.
Unanswered Question
For an impending thru-hike of the PCT, I...
For an impending thru-hike of the PCT, I am debating between three different pairs of hiking shoes that will need to be appropriate for sections of the trail which will inevitably range from scalding to frigid, if all my research done up to now serves me well. That being said, I have narrowed down my choices to either these, the Salewa Alp Trainer GTX Hiking Shoe, or the Salomon X Ultra GTX Hiking Shoe.

Anyone recommend one over the others, and if so, why? Any input, suggestions, or advice would be most appreciated. Thanks!
Better and better.
Gender:

Male

Familiarity:

I've put it through the wringer
At first, I wasn't sure what to make of this shoe. I liked it in the store, and it looks great, but upon wearing it around town and for my first hike, I found it to be somewhat uncomfortable. I basically put them on my shoe rack and didn't touch them for a while. One day, I decided to give them another try, and I wore them for a week straight. I don't know if there was just a short breaking-in time that I didn't allow for or what, but now they are absolutely my favorite shoe. I wear them almost every day and have been doing so for most of the last year. I've worn them through slush and mud and dust and everything else the midwest could throw at me, and they still look really nice, if not brand new. The Vibram sole is still going strong, hardly any signs of wear after all this time. The suede is still soft and supple, somehow. My feet have never gotten wet, and the shoe vents well too so they are rarely if ever sweaty.



In short, this is a great shoe and I would absolutely buy it again. If they aren't 100% comfortable on your first hike, give it some time to adjust to your feet. Within a week I bet you'll love them too.
Can't say enough!
Familiarity:

I've put it through the wringer
I am a golf course supt. and deal with the elements 70 + hours a week. These shoes lasted longer than any shoe I have had in over 10 years. Although they were soaked every morning from dew, rain, or snow, my foot was never...ever wet, not even from sweat! I am now buying my third pair, great shoe.
Is the eVent comparable to gore-tex?
Is the eVent comparable to gore-tex?
Yes. It even breaths a bit better.
I have an eVent drytop that I've been impressed with so I went for these also. Buying a Teva hiking shoe is a first for me but thought what the hell. The shoe is dry but yes, venting is limited so no tramping around in cotton socks with these. I would add an improved foot bed for better cushioning also but will probably never get around to doing that. I think these were a good purchase.
What's the difference between this shoe...
What's the difference between this shoe and the Teva Raith eVent shoe? Is one lighter than the other or something? Thanks.
Not a whole lot of difference. The Riva has more quality, name-brand materials: a vibram sole, suede nubuck leather upper, and weighs 1-2 oz more. The Raith has a teva spider rubber sole and manmade upper materials.
Great shoe, fairly limited use.
This is a great shoe for what it is. They don't vent very well but that is the trade-off you get for being waterproof. I think their best use is casual and light day hikes. As always, Vibram soles never disappoint.
I've put about two seasons of wear on my Teva Rivas and I've been very happy with them. They are my go to shoes for day hikes and when the weather becomes unfriendly to my chacos. I think that I've probably put over 100+ miles on them and have often worn them for over 10 hours straight and they have been very comfortable. Very little break-in period and I haven't had any problem with blisters or hotspots. I have superfeet oranges instead of the stock insole but when I tried them on they seemed fine as well.

The eVent linings have held up very well to all the wear here in the Pacific Northwest and combined with the leather uppers, my feet have never failed to stay dry. That being said, they do heat up quickly and become to hot to wear in warm/hot weather.

I've been very happy with the overall construction of the shoe. The Vibram soles are very sturdy and provide excellent traction even on some wet/slick surfaces. I also really like the thick rubber toe cap. The heal of the shoe is also leather which has been easy on my feet and shows no sign of wear.

The Revas make a great choice for a light hiking and PNW winter shoe. I couldn't be happier.
I'm pretty happy with these shoes so far. I've had them for a year and a bit but only in the last 6 months have they really been given a solid work out. The stitching has held up very well around the shoe, the vibram sole has a great balance between long life on the tread and importantly traction in slippery conditions. The event lining has been very comfortable to wear. To be honest I can't tell the difference between Gore Tex and Event when it comes to breathability as in summer (South East QLD Australia) most breathable linings struggle to keep up unlike in cooler parts of the world. But the shoe has been a solid performer and I would consider buying them again.