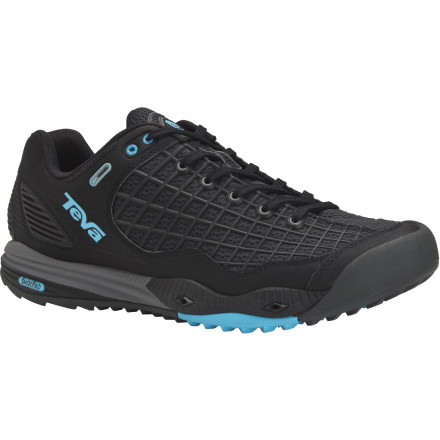 Born out of passion for life on the water, the Teva Reforge Ion Mask Shoe has evolved for exploring trails—specifically soggy or stream-laced trails.
Ion-Mask technology prevents moisture from being absorbed into the shoe material at a molecular level
Forefoot drainage in midsole channels water through the sole so you don't take on water weight
MUSH-infused topsole provides the lightweight, cushy feel found in Teva flip-flops
Spider 365 rubber outsole is Teva's fiercest, most high-traction outsole
Upper's molded frame increases stability and protection
Best Shoe I have ever owned!
I bought a pair 2 months ago for a backpacking trip in Colorado.
They have held up well with no rips or tears.
I have hiked to summit of several mountains in these and they are by far the most comfortable hiking shoe I have owned.
As far as their water proofing goes I have found that if you remove your socks and the removable insole before crossing a creek or river they will absorb very little water allowing them to dry off very quickly.
I would recommend to a friend
are there any reviews for this shoe. I do...
are there any reviews for this shoe. I do a lot of hiking, kayaking and am about to spend 5 days at disney world. i would like to know if this shoe will hold up and be comfortable for spending hours on my feet.
Best Answer
There is a review on Amazon, it reads:

Title: Light and comfortable

"I purchased these shoes because I love Teva sandals and I wanted something that would be as comfortable and as durable in the form of a shoe. The main attraction to these shoes was the fact they are water proof. I have stepped in a few puddles with them and so far so good, unlike my old sneakers, my socks stayed dry.

The first time putting them on they felt very snug, and after a few hours on my feet, my toes were becoming numb. I re-laced them while they were on my feet and the circulation returned. The size of shoe I ordered is correct, they are just a foot hugging shoe, and are very stiff out of the box. Over all comfort is exceptional.

These shoes breath extremely well, but in cold weather, expect to feel every breeze that passes on your feet. Definitely a warm weather shoe."

Here is the link to that review : ( http://www.amazon.com/Teva-Reforge-Ion-Mask-Hiking-Black/dp/B0055AUMK8/ref=sr_1_1?ie=UTF8&qid=1332958772&sr=8-1 )

I hope I was helpful :D
Great multi sport shoe! If you want a comfortable and supportive shoe that can literally be used for Light Back Packing, Trail Running, approach shoe, Hiker..etc... you get the picture. I really like the ION Mask technology. It does not keep your foot dry like the previous reviewer stated, but it does keep your shoe from getting heavy and soggy when doing stream crossing and in wet weather as the Ion Mask does not allow water to absorb into the fabric and also helps with the stink factor.