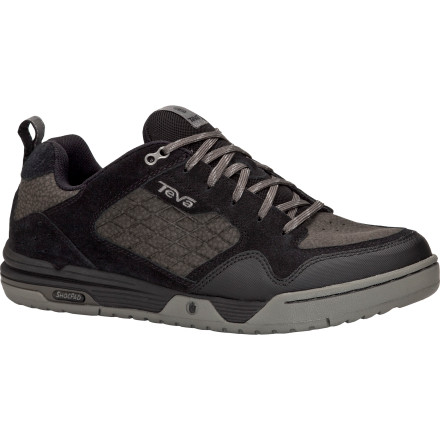 Teva may be new to the dirty and dusty mountain bike scene, but their shoe know-how has given them a upper hand. Slide into the Teva Pinner Shoe for positive traction. You'll stay locked on the pedals, thanks to the mega-grippy Spider365 rubber compound and durable construction.
Spider365 rubber not only stays securely planted to pedals, it also provides traction during hike-a-bikes

Blended EVA heel cup transfers impact energy throughout the footbed

was initially impressed with the pinners
Familiarity:

I've used it several times

Fit:

True to size
I purchased these shoes in early Jan of this year (2013) and the bottom of my right shoe is basically being torn to shreds. I have no issues with the other features of this shoe, but a little disappointed with the waffle walls being ripped apart. I ride ~2 times a week on these and have the Shimano Saint flats (pins are not too aggresive). When I first rcv'dthe shoes, they were grippy and held good. Now, starting to get slipage (very noticible on the right side). **Edit to add....the shoes may not be all that....but, Backcountry's Cust Service (as always) is AWESOME! Now riding in a pair of five ten freeriders**
Really wanted the Five Ten Freeriders but they were out of my size. SO I went with the Teva Pinners based on reviews and they seemed to be a comparable shoe. I've only been out once so far but they seemed pretty decent. Felt secure on the platforms, but maybe not drastically different than the Etnies I had been wearing. I suppose the tread pattern grabs the pins a bit more. Have yet to go out urban riding with them. The shoes feel comfy but I'd say they run small... so watch out for that if ordering online. I normally wear an 8. When the Freeriders I ordered were too small as an 8, I went up a half size for the Pinners. I could have worn a 9 in these shoes and been fine. I'll know next time. I still think the rubber of the Freeriders was more grippy.
Love these, way comfortable, totally stable and grippy, not sure why these aren't getting more hype because they are spot on target. Great job Teva, I am sold.
Saw these locally on sale, so I picked them up while looking for a different shoe to try. I was skeptical of the side panels wearing quickly but they've held up fine (they appear to be just a soft felt, but must not be). Still look good after being caked with mud, and dried/brushed off. Toe rand looks to be made of tough hypalon and has held up great all the way around.

Traction is great, as in I have to pick up my foot to move it if I need to reposition on my Wellgo MG-1s. Much stickier than my old Nike 6.0s.

The only thing I would like is a maybe an option to keep the laces out of the way (tucking them in seems to work ok too, though) and maybe a little more weatherproof- on a recent wet muddy ride, my feet were pretty soaked instantly after having to ride through some puddles. Maybe better left for drier summer riding.