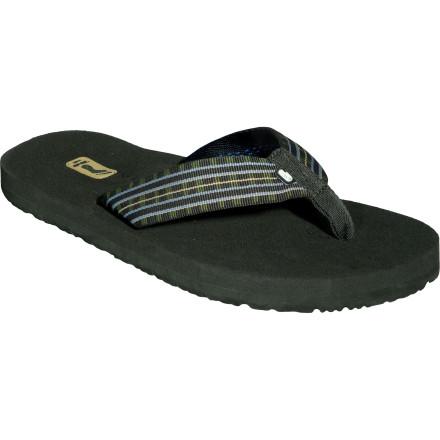 Detail Images

Community Images
Somewhere in your wildest dreams, you imagine yourself sitting on the beach resting your feet in cold mashed potatoes. The Teva Mush Sandal is pretty close to providing that level of comfort, except the cushioned EVA won't squish through your toes like potatoes will. The cushioning molds to your foot to encase it in custom goodness (without lumpy gravy ruining your afternoon), and the soft tubular webbing won't chafe your toes (plus it's much more comfortable than cranberry sauce).
A super comfortable sandal that I originally bought to just wear around the house, quickly became my wear everywhere shoes. Great all around, bum around shoe.
Sole is somewhat forming to the arch of your foot. Overall extremely comfortable. Fits true to size with my regular street shoes.
I saw these on clearance and read tons of glowing reviews claiming these to be some of the most comfortable sandals ever. They are nice but not great as the 5 star rating lead me to believe.
super comfy, super sturdy, but run just a bit too big
Bought a pair in desperation thinking I had thrown out all my other sandels by mistake before leaving on vacation. Just got back from my trip and ordered another two pairs for next summer. Found all my other sandels when I returned but will never wear them now.
Happy Feet!
marshmallows for your feet
these things are the best, anytime i think of leaving the mush i am quickly reminded that these are the best inexpensive sandal on the market. buy them and wear them, repeat as necessary.
This is the second pair I've bought. Just remember, they don't last forever. I wore my last pair down almost had a hole in them. Should have bought a new pair much sooner. I really like these, and will continue to buy them.
Do these Flip Flops absorb foot odor easily?...
Do these Flip Flops absorb foot odor easily? I have very sweaty feet and am concerned that they will reek after a couple of days.

I have a pair of Teva Hurricanes and they reek after 4-5 days without washing or spraying foot spray. (not when playing in the water, just wearin around town)
I feel your pain. I suffer from sweaty foot syndrome as well. I love these flip flops but Yes, they can retain quite a lot of odor. But I cant give them up, they are too comfortable. I'm on my 3rd pair. Every once and awhile Ill just wear them in the shower to get them smelling like new again. Definitely worth the occasional smell in my opinion.
Best flips ever. The only ones that can hold up to my abuse!
, ☃bcs_badge_alumni_label☃
Best flip flops out there
Extremely comfortable, especially when the foam gets broken down to the shape of your foot. I use them for just about everything and don't ever plan on buying any other sandals other than these again.
outta the ski boots and into these flipflops. the softest most comfortable flipflops i've ever had. they're great!
These sandals are great. They are light and comfortable and the material of the straps doesn't chafe.
I bought these for my boyfriend as a gift. He had previously had a pair of Tevas very similar to these and wore them for over three years and was in need of a replacement pair. The fact that he finally parted with his old ones goes to show how great these are...he loves them! They are super lightweight and the mush sole is really comfortable!! This is a great product!
The Teva Mush Sandals are super light and great for backpacking! Wouldn't change a thing.
I purchased the black size 11 and they are awesome. True to fit and feel super light and comfortable. I wear these everywhere...with the exception of work but the SECOND I get home these bad boys are on my feet. LOVE them.
These sandals rock. They are super light and comfortable. I will generally ALWAYS choose these over my heavy leather fips. Style looks great, good quality, fair price. I felt the sizing was dead on.
Bought these at least 3 years ago and they are still alive and kicking. I've worn them after a day working on the river and walking for miles in cities both hilly (San Fran, Seattle) and flat (Chicago). The thong is beginning to look like it may pull out of the footbed, but at ~$20 and 3+ years of use it's already exceeded my expectations. Will definitely buy another pair soon, highly recommended.
I ordered these Tevas as a gift and when given they were too small. Inside there is the size printed and womens were sent instead of mens. They replaced them right away. Dragonfly wrote a review that they ran small and to order a size up. I am wondering if they were also sent womens instead of mens. The replacement pair fits fine. Check inside the strap for a W or M. Now that we have the right size they are wonderful.
So comfy, but not long-lasting
I bought a pair of these last summer and loved them so much I bought another pair in a different color about a month later. They are so comfortable! The foam sole is mushy, soft, and extremely light (one of my size 12 sandals weighs 3.4 oz). It also is thick enough that you don't feel things poking through the bottom (like you do with cheap thinner-soled flips). The cloth strap is among the softest and most comfortable I've ever felt on a sandal and it is very good looking. Lastly, the sandals are reasonably priced. There are, however, two faults with the Mush sandals. First, the soles get very slick when wet. If you plan on wearing them in lakes, streams, or around water, make sure you have good balance. The other kicker is while the sole is comfortable, it lacks the durability of harder, heavier soles (ala Chaco Flip). Granted, I'm not real gentle on these guys (185 lbs), but if you wear these a lot like I do you can easily wear through the sole in a summer. Still, at only $20 a pair (or cheaper if you can find last year's model on sale), you can afford to buy a pair or two of these ultra-comfy flops every year. Highly recommended!