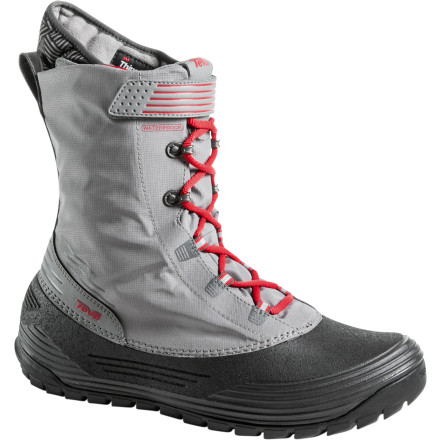 Toasty-warm, waterproof, and take-anywhere compressible, the Teva Chair 5 Boot is your snow-loving foot's dream come true. Stomp through snow and slush, to and from camp, on and off trail, then slip out of the shell and relax in the cozy liner. When it's time to pack it in, the boot fits right in your bag, so no more work-arounds like tying your bulky boot to the outside. Rejoice, dry, warm foot.
250g 3M Thinsulate LiteLoft insulation keeps your foot toasty-warm
Seam-sealed T.I.D.E. Hydro waterproof protection for all-day puddle-jumping and snow-stomping
Synthetic upper compresses down to make packing a cinch
Wear the removable liner in the cabin or tent for comfy coziness
Lightweight EVA foam and stabilizing nylon shank in midsole offer cushioning, support and stability
White Spider rubber sole grips onto slick, frozen, or otherwise squirrely terrain
Weak
Familiarity:

I've used it several times

Fit:

True to size
I bought these boots for exactly what they were advertising, warmth to tempatures as low as -20. They failed. My toes were freezing at +10. After just a few hours outdoors so much condensation built up inside that the boots that my feet were soaked and miserably cold. They do not breath whatsoever. Dare I say the worst boot I've ever bought. I would take them back if the retailer would have allowed me to. Do NOT buy! My toes were cold in them simply driving my car home.
Teh-vah wetboot
Familiarity:

I've put it through the wringer

Fit:

Runs small
"T.I.D.E. Hydro waterproof protection for all-day puddle-jumping" emphasis on jumping, because if you try and walk through a puddle or soft snow your feet will be soaked then freeze! RETURNED
initial test
Familiarity:

I've used it once or twice and have initial impressions

Fit:

True to size
was finally able to break these out and try them. drove about 1 each way to take kiddos tubing and were comfortable and not bulky to drive. hauled kids around tubing park for several hours in ~25? and light wind. feet were toasty warm and i was using very light smartwool ski sock. size for me were true to size. i use size 9, but have fred flintstone feet. i bought a 9 and 9.5 and my feet were swimming in the 9.5, but having wide feet could have compensated for not going a size up. extremely light and comfortable, after 4+ hours of running after, with, or pulling a 5 & 4 year old on the tubing hill no complaints. agree w/ Eric Porter's view on being tight fitting and could restrict blood flow if one is to be aggressive on lacing them, which was my case first time out. being able to take the inner booty out to dry is great. i bought them to go snow shoeing but not had the chance to using for this purpose yet, we'll see. overall satisfied so far.
How warm are these? I am on the hunt for...
How warm are these?

I am on the hunt for a boot I can sit around a campfire in -20 degree weather 3 feet of snow and not freeze, I have not been successful so far
Not warm at all. I'd order a pair of Sorel's, or the Muck Boot Artic Pro's.
less comfortable than desired
i had hoped that these would be the perfect snowshoeing boot. I am disappointed to say that for me, they are not. I agree with other reviews, go up a half size when you order. I had to make a return to upsize mine after I neglected to listen to the reviews. I ended up returning these too because they just fit my foot weird. it felt like my feet were getting pulled outward the entire time I wore them, and had to take them off after 15 minutes of having them on. they did feel very warm as I wore them, and they are extremely light which is a huge plus in my book. I never made it out into the snow with these on, and I'm still on the hunt for the perfect snowshoeing boot.
The go to after ski
Familiarity:

I've put it through the wringer

Fit:

Runs small
I wore this boot all last season and couldn't have been happier. Super warm and the pull out liner makes it really easy to get the boots on. Also the pull out liner has a super thin sole made to walk around in so you can wear you liner out of the mud room and not get your socks wet. Also they are really light and great to take on hut trips.
Super light
Familiarity:

I've used it once or twice and have initial impressions

Fit:

Runs small
I found the boots very light and easy to walk in, don't feel like you've to drag your foot around especially after a long day in them. Heeded the recommendation from the review here (thank, Eric Porter) and got a half size bigger and they fit perfectly. Tying the shoelaces can be a bit tedious at first because the first 2 loops are actually a hook but it's actually a very good design for easy access to get your foot in and out quickly.
Tell me about its waterproof performace.....
Tell me about its waterproof performace.. wear 7.5 sneakers shall i order 8 ?
Best Answer
I wore these all winter and didn't have any issues with my feet getting wet! Really warm, especially for how light they are. Probably less than half the weight of my old Sorel's, with better traction.



Definitely go up a half size when ordering, they are tight fitting, which helps for athletic activities in the boots but could also restrict blood flow a bit. That being said, a half size up should be perfect!