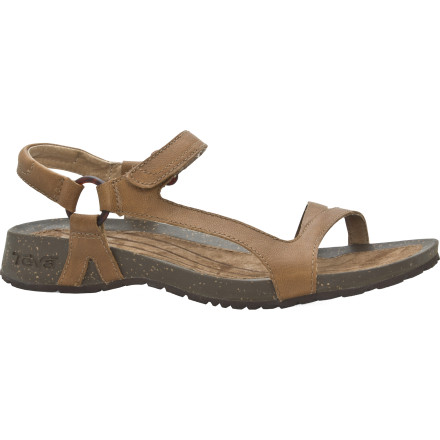 With a feel that rivals a classic water sandal and looks that compete with your nicest shoe, the Teva Women's Cabrillo Universal Shoe is bound to become a favorite. Of course, the Cabrillo is best saved for post-activity urban adventures, but just in case you find yourself on rough ground, the durable rubber outsole provides traction to keep your nice skirt in top shape.
These sandals are great. Just what I have been looking for. They are casual and not too sporty but definitely can go anywhere. Comfortable with good traction. The first time I wore these I was traveling abroad, did a ton of walking and never got a blister.
I have pins in my ankle and wear a leather brace all day. For evening, I needed a flat sandal with support. Several years ago, I bought my first pair of black sandals, the forerunner of these. I subsequently purchased 4 more pair of Teva sandals, heavy duty, light weight rubber for wet days and another 'dress' sandal. the Teva Cabrillo Universal Shoe is such a light hitter, I am angry. The foot bed is shorter than all 4 of other pairs, the straps are a little short, the straps are joined with a plastic ring (?)and they are not as comfortable. I will wear them anyway because I have worn out the first pair, although I will now have to think twice before ordering another Teva. Too bad you can't trust a good name anymore.
I have bad feet and I can walk all day in my sandles and have no pain....I realize the style has changed alittle but I'm going to order the new look....
wimpy and poorly crafted!
Poorly made with glue bursting from the seams, unsupportive, thin soled, narrow wimpy straps with the velcro in the wrong place. I can't imagine that this Cabrillo sandal would survive a single season of urban, let alone trail, adventures. I bought the leather strap, leather footbed, Teva Daphne sandal more than a decade ago and finally wore it out after MANY, MANY, many hikes and trail runs. Extremely disappointed that this, or a comparable, feminine yet rugged design is no longer being created by Teva.