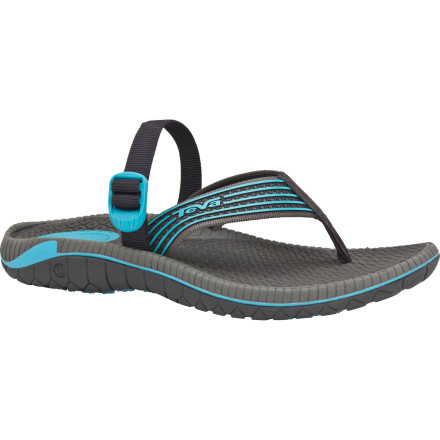 Videos
You're a flip-flop gal all the way, but at those times when you need to hike to the entrance of the secret beach or scamper out of the way of a wayward bicyclist, you sometimes question that lifestyle choice. Teva comes to the rescue with the Women's Bomber Flip Sandal, which combines the freedom of a flip-flop with the security of a technical sandal. Teva threw in a whole lot of support and comfort, too, so the only thing you'll end up questioning is why you'd wear anything else.
Adjustable instep strap can be tightened down for hiking or boating, or stowed for everyday wear
Spider Rubber + JStep outsole keep its grip on slippery surfaces
Blown rubber footbed resists water absorption so it doesn't end up soggy
Shoc Pad in the heel absorbs (you guessed it) shock
What do you think about this product?
Have questions about this product?
Teva Bomber Flip Sandal - Women's
Return of the river sandal
I recommend these for any lady like me who likes to be out and go on an impromptu hike if necessary. I've always loved this style of shoe, because they're not as bulky as a Chaco, more casual than a sandal, and are truly hard core. Always get the size above if you're a half. I wear 7.5 shoes and got an 8. It's perfect for rough surfaces, gives the arch a bit of lift, and holds close to the ankle, which is what I like most. These are the best thong-improvised shoe ever. Highly recommended!