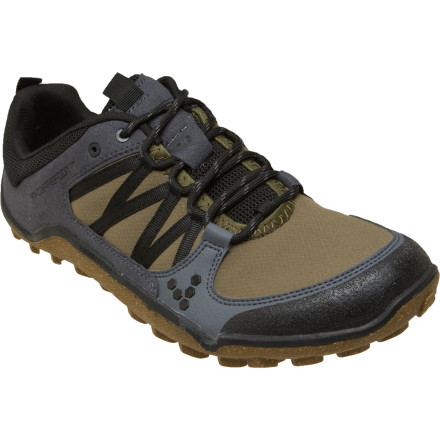 Detail Images

Videos
Trail running barefoot isn't super convenient unless you have huge calluses. Lace up the VIVOBAREFOOT Men's Neo Trail Running Shoe, and you get the benefits of having naked feet without the sharp rocks and sticks digging into your soles. This lightweight trail runner lifts you a mere 4 millimeters off the ground.
A durable, lugged outsole gives you reliable traction
A puncture-resistant layer protects your feet from trail hazards
Hydrophobic mesh uppers breathe and are water-resistant so as to help keep feet dry
Antimicrobial in the moisture-wicking, fast-drying insoles reduce the funk
Memory foam footbeds provide ridiculous comfort and are removable for easy washing
VIVOBAREFOOT uses as many recycled materials as possible and doesn't use leather or other animal products
VIVOBAREFOOT Neo Trail Running Shoe
I wasnt so happy with mine. I bought a pair in Manhattan. They were great for walking around Manhattan for a day. For the trails I walk, not so great. I walked a 7 mile hike actually barefoot. One of the best hikes Ive been on. I did the same hike with the shoes and my feet hurt worse. I understand the concept of the shoes and that they're different in function and sometimes fit than a regular shoe or sneaker. I didnt even mind paying $110 for them. I just cant wear them. They did fit fine, are durable and look really cool.
No Joke
Gender:

Male

Familiarity:

I've put it through the wringer
These shoes are the true barefoot shoe. They started it and they perfected it. They're a thing of beauty.
i've been using the vivo neo trails for a little over two months, now, and the shoes have been working well for me.

they're not insulated, so expect some coldfoot if you're using them outdoors during cold rain or snow (like the northern utah winter). this is expected for a minimalist, barefoot shoe.

the fabric and tread have held up well thus far, and the shoe fits well around my foot - no loose spots. good grip on trails (even snow), and the sole still allows for a decent barefoot feel after removing the stock insole (i'm accustomed to other vivos and vffs - comparable).

overall, a good comfortable shoe that's holding up well under rugged conditions. i'm interested to see how long the lightweight fabric lasts. (after five pairs of vffs, i'm over buying an new pair every six months or so.)

no complaints so far!
considering using them for the utah spartan beast this june. i'll write another review if that happens.


booger
Great minimalist shoe, bit wide fit
Great minimalist shoe. The pair I got was barely too small, (normally wear 11-12 and got european 45) but because of my narrow feet, any bigger size would have been too wide throughout the laces. Materials are nice and sole is SUPER grippy. Plenty of tread to go trail running, and the style is great. Agree tongue should be longer. Would be perfect if I my feet weren't so narrow. The only other minimalist shoe with more grip would be Innov-8 bare grip 200. I didn't get those cause they only come in lime green.
Ordered my typ. sz. & were fine on length. Nice roomy forefoot, - these other co's, that come out with their typ. narrow stuff are obviously clueless. With these shoes you'll have good trail feel and traction as well. Mid-wgt., good cool weather & winter trail shoe. Tongue should be 1/2" longer. They should make a lighter "summer version" also. Mizuno universe 4 is my road choice.