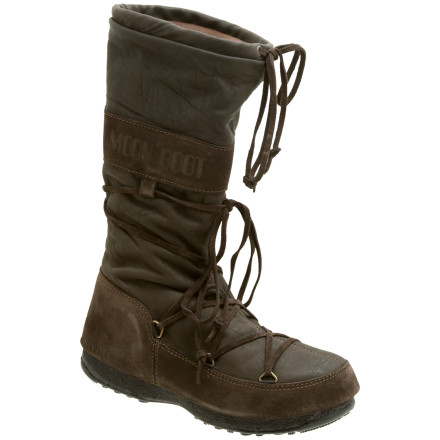 Detail Images
Unanswered Question
Are these waterproof?
I have these boots in brown and they are one of my favorite purchases EVER. They are not big or bulky at all like the other Moon Boots and they are very warm and comfortable. I'm a little bit worried about the quality of the laces (they seem like they could break really easily) but as long as I keep them tied all the time they should be fine.
How warm are these boots? e.g. compared...
How warm are these boots? e.g. compared to a shearling lined boot?
These boots are very warm. They also have a full rubber sole so you can walk in more wet areas compared to the original moon boot. It also makes your feet more shaped and elegant. I will wear my original moon boots when I know I am going to be standing just in snow. But this boot is great for walking in town on the sidewalk, a muddy parking lot and on snow.
Unanswered Question
Hi i love these boots- i am a 41 (in euro...
Hi i love these boots- i am a 41 (in euro shoes) and a 10 in US- you have a 41/42- i dont know if that will fit- help me-- andrea