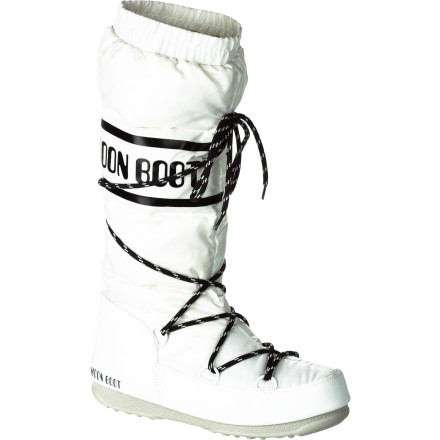 Videos
Look familiar? Inspired by the iconic original Moon Boot, the Tecnica Women's Moon Boot W.E. Duvet ups the cozy ante with goose down insulation and rocks a hotter, slimmer silhouette. And the sheen of its tough polyester shell gives it high-performance polish. It's all the fun and funk of its predecessors times infinity.
Slick, smooth polyester upper shell adds fun shine and sass to winter-weather function
Goose down feather insulation from top to bottom keeps your toes, foot, and lower leg all-day-and-night cozy
Lace-up closure gives you the control for a comfortable, snug, and consistent fit
Rubber sole provides support, impact-absorption, grip, and water-resistant protection
What do you think about this product?
Have questions about this product?
Tecnica Moon Boot W.E. Duvet - Women's
Considering these as a gift. Only concern...
Considering these as a gift. Only concern I have is whether the upper polyester portion will allow water from splashes and slush to leak through, and "wet out" the down. Specifications do not mention any waterproofing. Can anyone comment?
The Duvets have a DWR coating to protect the down. They are not

totally waterproof as the seems aren't taped but they are very water resistant. I would not worry about splashes and or slush.