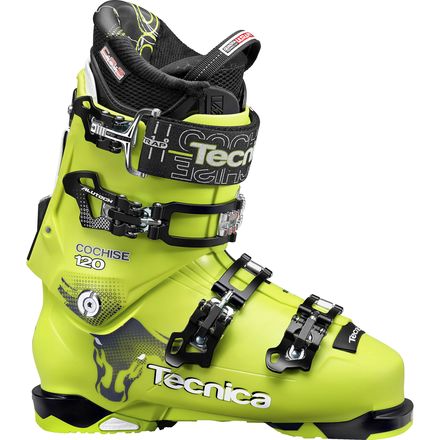 Description
Serious performance uphill and down.
The second-stiffest boot in Tecnica's Cochise freeride touring line, the Cochise 120 Men's Ski Boot's an ideal blend of uphill performance, downhill shredability, and comfort. It's built on a 100mm last, which offers slightly more room than the top-shelf Cochise 130, but rocks a 120 flex that's burlier than the 110 for more gnar-thrashing power on the descent. Other than that, it's the same, and that's more than all right. Tecnica made the shell out of new Triax 2.0 plastic, which is nice and stiff but 10% lighter than the original Triax, making the uphill slog a little easier, and redesigned the lower shell for better heel hold and less toe crunch. The Cuff Mobility System ski/walk mode also offers eight degrees more rotation this time around, giving you a more natural stride to take the hip-flexor pain out of longer approaches.

You'd expect a Tecnica to have bomber downhill performance, and, well, the 120 doesn't disappoint. It comes kitted out with a snug, sturdy UltraFit Pro liner that wraps your foot and resists packing out, and a PowerLock top buckle/power strap combo that provides a super-snug and sturdy wrap around your shin and calf for power and control. Three more rugged aluminum buckles lock the shell down around your foot, and the asymmetrical toe box provides a high-performance fit without cobra-squeezing your toes to death. Tecnica also equipped the Cochise with interchangeable sole technology, so you can swap in tech soles (sold seperately) for the included Techni-Grip rubber soles if you want to go for a full-on tech setup, and included a easy-flexing Quick Instep panel for easy on and off, even when temperatures are hovering around "North Pole in January" levels.

Triax 2.0 shell
120 flex and 100mm last
UltraFit Pro liner
Cuff Mobility System ski/walk mode
Interchangeable Techni-Grip rubber DIN and tech soles (tech soles sold separately)
PowerLock top buckle and power strap
Aluminum buckles
Quick Instep easy-on/off design
Asymmetrical toe box and pre-punched navicular (top of foot) area
Improved Fit and Performance for 15/16
Even though the boot looks the same as the 14/15 version it gets a new updated liner. The 15/16 model gets the all new C.A.S. liner. This liner debuted in the Mach boots last year and has been modified to fit the Cochise boots for 15/16. It features a material called Micro Cell on the outside of the liner. This is a firm material that is premolded at the factory to match the exact anatomy of the foot. Instead of a bunch of soft padding having to push against your foot to hold it in place the micro cell acts like a foam mold of your foot cradling the heal and ankle for a tighter hold. One of the best parts of this material is it is very firm and will not break down over time. Once you're past that initial break in period that is how the heal and ankle will fit for the life of the boot. This is especially important in touring boots when the foot moves around a lot more. Liners tend to pack out easier. Another added benefit is the CAS microcell material can be ground and punched. It's the most customizable liner on the market and comes stock in the Cochise 120, 130 and Pro W as well as all the Mach1 boots from Tecnica. There's no need to pay $700 for a boot then another $200 for an aftermarket liner.
How big a difference in terms of insulation/how warm, is there between Ultrafit and Ultrafit Pro liner? I ski in a quite cold climate and don't like cold feet :)
Hey Jacob,



As for warmth, there's not going to be a huge difference in warmth. The main differences are that the Pro has a tighter fit and a thermomoldable tongue, while the Ultrafit only has a thermomoldable foot area.



Ben
14/15 Cochise 120 forefoot volume
The overall volume in the 14/15 boot, forefoot & toebox, has been reduced...fwiw. For those with higher mets and a need more volume=warmth in toebox and/or who bought a little frostbite from the horrible gear of the past, go with the 13/14 boot and find a liner that offers a great fit. ..however a little shell-stretch from your bootguy may solve.
Cochise 120 Reviews All Holding True
Gender:

Male

Familiarity:

I've used it once or twice and have initial impressions
Just received the 120s in a 27.5; end of season sale made it affordable. Have been in Tecnicas for 35 yrs plus so very familiar with the line and models. You can see and feel the quality and workmanship. My eyes pop out looking at it. Sort of funny... my concerns about my wide E foot fitting the 100m and stiffness (I'm usually in a 100 flex) were immediately thrown out the window. No problem with either. All that time wasted worrying about something I didn't need to fret about.
Karen Lindsey, a Backcountry Gearhead, was an excellent resource and technical advisor on the boot and shared really great personal experience with boots and fitting.
I can hardly wait for the next season. Sure hope it's better next year. Hope to bump the rating up to the top b/c I do Love It!
Get the 120 now before she's gone off the shelf.****************
Aloha, Darrel from Honolulu.
*****************************************
A piece of advice from a OCD geek -
A quick but important note on the canting feature. Look at the instructions for the canting positions. To adjust the canting, you first loosen the center bolt ever so slightly, so it's loose. Maybe just a quarter turn left or right should do it. Then carefully turn the outside offcenter metal ring which is slotted, to where you want it (following the pics in the instructions). Then tighten back the hex bolt back slowly until tight. If you overtighten, it will strip the plastic sides on the inside of the shell that lock the canting mechanism in place.******** The canting adjustment area is also the hinge for the boot in the walk mode. Because of this function, my canting adjustment doesn't stay in place, but instead finds it way into the neutral position which makes sense as it's the position of least resistance. I asked Backcountry to check with the Tecnica rep for confirmation / help with the canting.
Unanswered Question
Are the Cochise 120 and Cochise Pro Light the same boot, but with different shell materials, and different top buckles/straps? Also, how much difference in the liners between the two boots?
Unanswered Question
hi im looking at the tecnica cochise 130. Is the 14 vs 15yr model the same? any differences?

I am also looking at the Full tilt seth morrison 15. I am currently skiing in a very old Nordica k9.1 size 315mm, which is a stiff boot with 130 flex. I like the tight race feel and am concerned about stiffness and how I will like the buckle system. I have narrow feet with my left being 97mm and my rt is 99. I am going to get custom footbeds done as well. I am expert skier that weighs 180lbs, 5'11 and skies 35-50 times a year.

I would welcome your thoughts and feedback as to which boot you think would be better for me and what size?
As good as my Tecnica Icon for DH
Familiarity:

I've used it several times
I have a an old pair of Tecnica Icon boots that I used for down hill skiing and a pair of Garmont Adrenaline boots for BC. The Cochise 120 is just as capable as the old Icon (130) but much more comfortable. A bit more volume than a racing boot but true to the Tecnica fit.. Definitely want to pick up some footbed inserts to take up a bit more volume in this boot. I was able to shred right out of the box after the footbeds (superfeet?) that Golf and Ski Warehouse in NH set me up with after picking the boot up here at Backcountry. Great return policy (not on the Cochise a snowboard). The only down side is the Tech Inserts for this boot are sold out all over the country so I need to wait for the next batch before I can test them out on my Black Diamonds. The Garmins with the Alpine soles installed could not handle my DH Atomic Sugar Daddy's. These boots rock on the Daddy's and they are soooo much easier to put on than the Icon's.
A Terrific Replacement
Familiarity:

I've used it several times
Having decided to retire my old bruisers (Rossignol Course K ski boots) I looked at three different brands that were just a bit more flexible but still had what appeared to be a high level of stiffness to them. My selection was the Tecnica Cochise 120 boot. Without the opportunity to try each boot on this was a tough decision but was made with a plan of exchanging them for one of the other two brands that I had initially considered should it be necessary.



An oversight of mine prior to ordering the boot was not noticing online that the fourth buckle was actually attached to the strap rather than being separate. This along with the boot having a higher instep rating caused me some concern.



The second concern vanished after I had worn the boots around my house for 10-15 minutes with the boots cinched down as tight as I would when skiing. Although I am a somewhat flat footed, these (26.5) boots were quite comfortable and also fit my size D feet very well.



After skiing in these boots several times I realized that my concern of not getting a firm and precise snug fit because of the fourth buckle/strap configuration was a non-issue. But my main concern that these boots would not be stiff enough also turned out to be a non-factor. They are a terrific replacement for the race horses I was used to skiing in.



These boots probably are a reflection of the current generation of higher end ski boots given their blend of fine tuned fit, stiffness, comfort, and relative ease of entry and exit. Great boots and I am happy that I bought them!




Choosing between the Cochise 120 and 130.

Besides the stiffness and last, what are the main differences between the 120 and 130?
The Cochise 120 is the perfect choice for the strong skier that is looking for uncompromising free ride performance, but with a slightly more relaxed fit. Featuring the same lower shell improvements as the 130, but in a slightly roomier 100m last.

Basically - you hit the major differences. The 120 is a higher volume boot, with a slightly softer flex!
Stiffness?

Wondering what others have thought about the stiffness of the 120's. Was thinking 110 might be a little softer for my style. Aggressive all mountain, bumps, trees. Weight 175. My current boots are salomon 90's but are to soft.
You could easily go 110s. A little better bang for your buck but really not that much softer.
New and Improved for 14/15
The Cochise series gets some major updates for 14/15. A new lower shell greatly improves the fit and a new design gives more rearward range of motion without compromising the flex. The Best Just Got Better