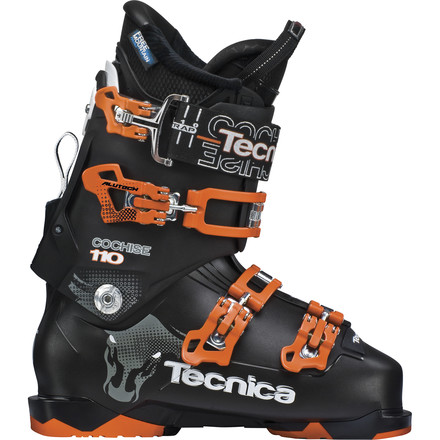 Everyone and their mom seems to be heading into the backcountry these days, and you sure as shootin' don't want to be left out of the conversation when everyone's talking about how sick it was out there. Fortunately, with the Tecnica Cochise 110 Ski Boot, accessing the goods is easier than ever, and with the solid downhill performance of a 110 flex, you can rip up the resort, too.
On the way up, the Cochise moves like greased lightning. The Cuff Mobility System switches from ski to hike mode with the flip of a switch, unhinging the cuff from the lower boot to provide a wide range of motion—8° more than last year's Cochise—for a smoother, more natural stride. Tecnica also redesigned the heel pocket for better hold, made the toe box slightly roomier, and built the last a few millimeters wider, so your heels won't get rubbed to smithereens and your toes won't go numb when you've been on the skinner for five minutes

Once you reach the top, the fun really starts. Pop the Cochise back into ski mode, cinch down the burly PowerLock top buckle over the new QuadraFit liner, and punch your line right down the middle. Even though the Triax 2.0 shell material is 10% lighter than previous iterations, it has plenty of backbone to help you rally pillows, pow, and steeps in all conditions, with rugged aluminum buckles to lock your foot down securely. Gotten your fill of face shots? Trick question. That's impossible, but you do have to stop ripping sometime—lucky for you, the Cochise's flexible Quick Instep plastic plate makes it easy to pop your boots off while you drink a beer and plan tomorrow's shredventure.

Triax 2.0 shell
110 flex and 100mm last
QuadraFit liner
Cuff Mobility System ski/walk mode
Interchangeable Techni-Grip rubber DIN and tech soles (tech soles sold separately)
PowerLock top buckle and power strap
Aluminum buckles
Quick Instep easy-on/off design
Asmmetrical toe box and pre-punched navicular (top of foot) area
get them now while they are on sale
Familiarity:

I've used it several times
Outstanding price for one of the best boots out there. One of the more comfortable boots out there, even first time on you should be good for a full day. Probably a better boot than I needed but very glad I went with them. Warm enough and very easy adjustments.
Hi there! Do you sell the tech soles, too? I can't find them anywhere. Thanks :-)

Best Answer
We do sell the tech soles we are just clear sold out until next season. Should have some more in stock early September. Ill keep you posted!
The Cochise series gets some major updates for 14/15. A new lower shell greatly improves the fit and a new design gives more rearward range of motion without compromising the flex. The Best Just Got Better