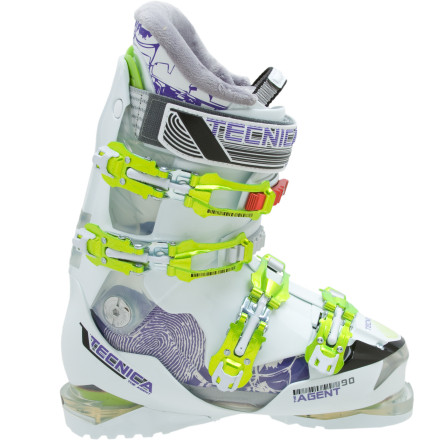 Detail Images
What do you think about this product?
Have questions about this product?
These boots are the best boots I have ever skied in. There is only one flaw I found and that is when it's a cold spring day my buckles froze onto the ladder. other than that these boots are amazing they have been through the park, chutes, moguls, groomers, and even when building jumps and were superior.
My daughter wanted a pair of dedicated alpine boots for the park, (although they worked, she was tired of hitting the trick ditch in her Scarpa Divas) and these looked to be the ticket. Nice, close fitting 98mm last, and all the shock absorbing bits do what they were designed to do. But most important for her, they are the best looking boots on the mountain. To me, used to nice Italian made boots, the buckles seem a little cheesy, but no matter. The liner is beautiful and warm with the Primaloft footbed. Cheers.
I have been skiing for over 20 years and shoving my beautiful feet into plastic every winter. Therefore, I believe my feet deserve a break if I can give them one. I like to get pedicures once a month and wear good boots that will not destroy my feet. I do not think that is too much to ask. I use to get toe bang, shin splints, boot bang, etc. really bad. But once I started using a soft Tecnica ski boot and a combination of stretches that all went away. I have not complained about my feet in over 3 years. And it has to do with me using the Tecnica Agent Ski Boot.

Just ask if you want to learn some stretching techniques to hinder shin bang as well.