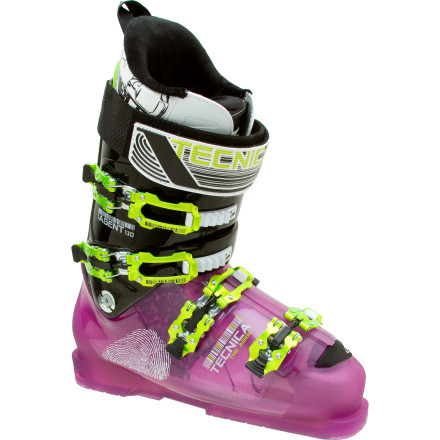 Detail Images

Community Images
Share your thoughts
What do you think of the
Tecnica
Agent 130 Ski Boot - Men's
? Share a...
Finally, a boot that fits!
Familiarity:

I've used it several times
Finally found the Agent 130 in a 23.5. With custom footbeds, this boot stays on my feet much longer than any other boots I have had in the past. Great options to adjust the spoiler and tongue, I leave them out because the lean forward is too pronounced. Overall, an excellent boot and would wear Technica again!
I wore this boot in the end of the 08 season and all of 09/10. Best boot I have skied in so far. I have not gotten shin-splints for the last 2 years in this boot. If you like a more fitted, stable boot, this is the way to go.
and BSL for [28.0-28.5] shell ?
and BSL for [28.0-28.5] shell ?
Tecnica is the perfect mold for my foot, which is the most important when choosing a boot. I can ski this boot right out of the box, no boot work necessary. I used to ski Atomic and would spend days with a boot fitter trying to get the boot comfortable. The only issue with this boot is that it is advertised as a 130 flex, but the black plastic is softer than the plastic of Diablo 130. I am able to crush the boot out of the box. I have been able to stiffen the boot by using an Intuition liner and a boster strap. This has created an incredibly comfortable boot with outstanding performance.
What's the BSL for the 27 and 26 shells?
What's the BSL for the 27 and 26 shells?
BSL [26.0/26.5]- 302mm
BSL [27.0/27.5]- 311mm
Finally hit the 20 day mark in the Technica Agent 130. I'm more of a Lange/Rossi fit, but the super snug ankle and heel definitely hold me down and the taller instep and wider feeling toe box (with regards to Lange/Rossi) let my toes go pain free. I can't really say that this is a true 130 stiffness (boot companies should standardize this rating!), it feels softer than that, but the Agent 130 is perfect for freeskiing, freestyle, and pow. If I'm skiing beat up snow with big skis (Legend XXL) it tends to feel a bit squishy, but still does the trick. The liner is really comfy and didn't require any sort of custom fitting or alterations. I just skied around for a few days and now they pop on like a glove. I've only dealt with a bit of break-in pain, like a day or two, but admittedly that's pretty good for a ski boot. The colors are oh-so-hot! I've gotten daily comments from friends and strangers alike. Lot's of "whoa...sick boots!". Admittedly again, pretty good for a ski boot...
Does anyone have the weight of this...
Does anyone have the weight of this boot?
How do these boots fit with respect to...
How do these boots fit with respect to instep height? My local dealer only stocks the Dragon, which has too much volume for my foot. Tecnica's website says that these boots are a lower volume last than the Dragon, but is that only because the last in narrower (98mm), or is the instep height actually lower?
Best Answer
The instep is a little bit higher than something like a high performance Solomon boot if you have ever tried one on. I ride with Agents and I've also tried the Dragons on and the instep on the Agent feels a little more snug, but I don't know the exact measurements.
Whats the boot sole length for a size...
Whats the boot sole length for a size 7.5?
Best Answer
Don't go by shoe size!! You have to try them on and see how they fit your foot all around! So many people make the mistake of ordering boots online without trying them. Ski boots are not shoes. You need to see if the boot is to wide, to thin, if the calf is tight/loose, if it pushes on any odd pressure points.

Go try them on in a store then order from Backcountry if it's cheaper. But remember a boot fitter will help make the boot fit you better and can make you insoles, which will likely be reduced in price if you buy the boots from them. I've mad the mistake of ordering boots online twice and have learned to take the hit of the bootshop prices over boots that hurt/suck/don't fit.
Cale probably knows all of the below info. If asking about sole length, a person is probably looking for a more accurate comparison between models from different manufacturers. They understand not to go buy shoe size or even the size on the boot, for that matter. But hey, thanks for dumbing it down for everybody.
I love the Agent130. I'm usually in a 110flex boot, but now the agent130 meets all my expectations from a ski boot. Its got the stiffness of a race boot with the comfort of a freeride boot. I feel that the flex is just a tad less than the race130, which is great for freeriding.
Oh yeah, its also super duper stylishly!
Chillin' in my Agents while in Argentina
This boot is super comfortable with incorporated performance, that is insane! I have ski toured, hucked and apre'd in these boots, and my feet never screamed for me to take them off. The Tecnica Agent is a pretty stiff boot, very responsive, and for an aggressive skier. And the purple.. oh my.. grape jolly ranchers for the feet... how AWesome is that?!!