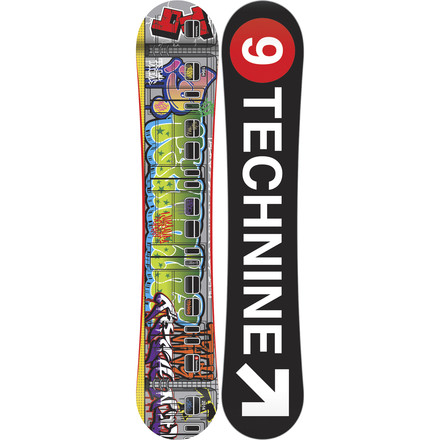 Whether you're a beginner looking for an easy-to-ride board or a jibbing veteran on a budget, the Technine Wassup Rocker Snowboard offers a playful, forgiving feel that's fun to ride whether you're casually carving groomed slopes or throwing down on urban hand rails.

The 9 Rocks profile features full rocker to make pressing easier, improve float in powder, and make catching an edge a thing of the past. Twin shaping makes taking off and landing easier, and factory detuned edges allow you to start hitting rails with confidence right out of the wrapper.

Tip-to-tail poplar keeps the core lightweight and gives it a lively feel, and birch hardwood strips running down the middle channel pop and reinforce the inserts to prevent blowouts. It also has an extruded base that's easy to repair when you beat it up on the streets. Plus, the edges come detuned so you can start sliding kink rails as you as you take this board out of the wrapper.

9 Rocks rocker profile
Twin shape
Radial sidecut
Stitched biax glass
Dual Tech Ultra Light core
Custom Jib edges
Extruded base