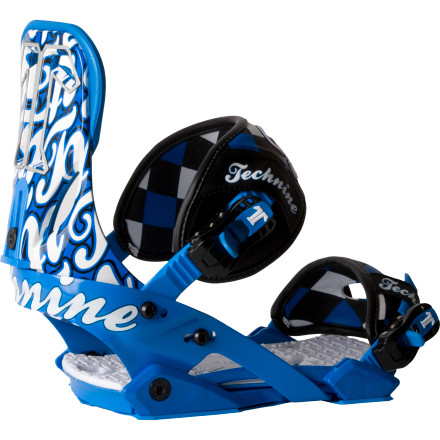 Community Images
love em!!!!!!!!!!!!!! highback broke once and technine replaced no questions asked
love em!!!!!!!!!!!!!! highback broke once and technine replaced no questions asked
my freinds got two pairs of tech nine bindings and nothing has every broken and he ride hard once in a while somthing comes loose but that can happen on all bindings . if they do break technine will send you new ones
Great feel!! Awesome tight fit with no movement between the binding and the boot even coming down from 8-9ft of air onto a flat landing, without feeling restricted. I'd be happy to pay $300 for them
Rode these bindings this season and didn't have single problem that wasn't caused by myself. On the third time this season I left the highback up when getting on the lift and the lift broke it. Since technine is so awesome they gave me a new one no questions asked. I got the black ones to go with my mass appeal board and it looks out of control.
i love these bindings i got them this year and i dont no y everybody is hatin on them i love them definitely worth the money
For all the hype put into these bindings and compant, I'm really disapointed. The toe cap strap completely busted on my boyfriend's binding only the third time riding them going down the mountain. Screws, strap and all was lost. Not only can't he ride til we can go out and buy parts to fix it, or get a new binding all together, but we didn't even get past the second run. SAVE YOUR MONEY.
i got these bindings just stocked to hit the mountain up opening day. when i hit a 10 foot drop the high back busted. couldnt even finish opening day.. save your money and buy something that wont leave you hanging like i was on the first day of the year