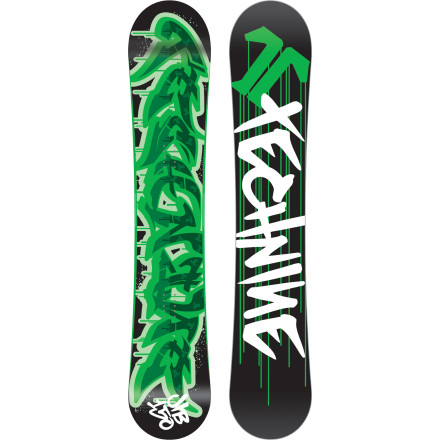 The Technine Jib Snowboard features a buttery flex to help lock in those two-sevs and keep your presses legit through even the steepest kinks. A slightly longer effective edge and a short tip and tail make the Jib easy to throw around on park features or street rails, while still providing enough stability to step to the jump line or gap to the bottom of the down-flat-down.
Traditional camber profile gives you the pop you need to get onto the tallest features
Interior Rubber Dampening absorbs vibrations and increases durability
park and still holds up on the mountain.
i dont know what the guy is talking about it being stiff. have you ridden it enough? it was kinda stiff and the more days you put on it the looser it gets. i have mine flexy as hell and it pops like a rocket with nitrous. i wasnt expecting it on a jump as i used to ride all mountiain boards and damn... this think can hop over anyhting. the lowered nose and tail tip also make initating spins sooo much easier. technine gets rep as a cheap brand but my board is sturdy as hell. i banged the tail on a side walk pretty good and it only dented a little bit (for as hard as a bailed, im suprised it didnt split completly) the longer effective edge is soooo nice cuz i can ride a 153 for park and street then hit the mountains (groomers only :/) and still have stability at high speeds. btw im 6,1" 170 lbs. so no this is not normal for people to ride this short of boards.
Dopest dope i ever did smoke...
Mad pop for a flexy jib board! Rails, boxes, jumps, your mom? Name it this board slays...I Lap the park all day with this board no regrets. First technine board and im way stoked on it. Go hard with this jib board for sure! Longer edges and rubber dampening definately make it ride solid at high speeds no chatter just a confident ride, feels good on jumps for a jib board.
SICK BOARD. i rode a rocker board before so i wasnt expecting much out of this in the park. i was WRONG. this board is great in the park. very fast and responsive for groomed trails. edges dont skip when you turn hard, which is an upgrade from the last cambered board i had. pretty flexible too. i had an easier time pressing with this board than my rockered board, and they are the same flexibility rating. ONE MORE THING, SICK...SICK pop. i almost went to space when i ollied this thing. ollying this board feels so good. because its got flex and pop
It's a good board, but not really a soft buttery jib board. If you're gonna get it make sure you get a smaller size, cause it's stiff as hell. It's a really good all around board, hits jumps like a champ, and you can cruise the mountain for sure, but make sure you get a smaller size if you wanna hit rails.

Bottom line: Definitely NOT a 3 on the flex scale
Just got this board out for the first time the other day...wow I love this board! Butters, rails, boxes, anything. This board does it all with ease. Best jibbing board I have ever ridden!!!