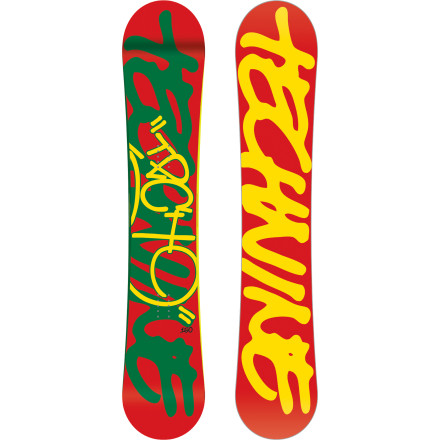 All-mountain control meets park flavor with The Technine Cam Rock Snowboard. The Cam Rock uses a hybrid camber combining camber and rocker with going fast, poaching powder, and ruling the park whenever it darn well chooses to.
Hybrid Camber places camber between the feet for control and rocker on the nose and tail for buttery looseness
Interior rubber dampening reduces high-speed chatter, adds underfoot cushioning, and increases strength
Dual Tech Core uses finger-jointed poplar wood and laces it up with full-length birch stringers which run through the inserts for added reinforcement and pop
Unanswered Question
does this board have detuned edges?
does this board have detuned edges?
This was my first reverse camber board (coming from a traditional camber - Nitro Swindle). Turn initiation is super easy, compared to standard camber, it basically carves for you. Very fun board, pretty flexible, a 3 on the flex rating scale according to TechNine's website. (1 being most flexible, 10 stiffest). Hold pretty well on kickers, and pretty fun to jib. Get's a little choppy at high speeds when carving, but that's typical for a moderately softer board. Overall a good board, definitely a fun board if you're looking for an alternative to an all mountain board.
Unanswered Question
Hey whats up. How light is this board?...
Hey whats up. How light is this board? Let's say compared to the K2 WWW. And how is it for big jumps and soft jibs?