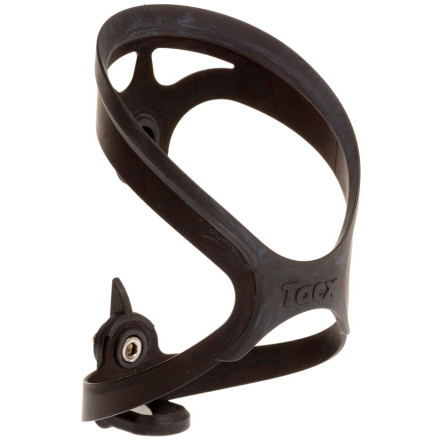 The Tacx Tao Water Bottle Cage is the only cage that seems to have a foothold against the Elite monopoly in the pro peloton. The Tao has a very modern look and won't mark up your bottles. Te full-wrap design ensures that your bottles stay put, even over the roughest cobbles or early-spring potholes. Available in Silver and Black.
It hold on to your bottles!
Familiarity:

I've put it through the wringer
These work really well at a great price. If you want lighter, skip dessert!
Kung Tao
Familiarity:

I've put it through the wringer
Super simple design that does exactly what it needs to do. At first I was concerned because it doesn't really have a way to grab or squeeze the bottle in the cage so I was worried about the bottle falling out, but it hasn't happened yet. I have it on my road bike, but I would guess there would be issues on a mountain bike. The bottle goes in and out easily and very smooth. Super easy to install and I haven't had any issues with it yet.
Simple and works great!
Gender:

Male

Familiarity:

I've put it through the wringer
Though design is simple, it's works great and aesthetically pleasing. I've had this cage for 7 years now and I don't recall that it dropped a bottle once(road)! It's also very easy to pull bottle out of the cage as well. Compared to my Specialized carbon cage, these are easier to slide the bottle in and out.
Looks ok, doesn't grip well off road
Familiarity:

I've put it through the wringer
I liked the look of these cages and used them for a while on my road bike before trying something lighter. They hold ok for the road as long as things don't get too rough. After transferring them to my CX bike, I found they don't grip enough for bouncy stuff. The cage is essentially a sleeve and has no spring to it like standard cages. They also left more marks on the bottle than most other cages I've used.
Great budget alternative
Familiarity:

I've put it through the wringer
Let's compare to the Arundel Mandible. The Tacx is 42 grams versus 29 grams for the Arundel, but the Tacx is 1/4 the price. You carry 12 more grams with the Tacx, plus the weight of the cash you saved.



It is very important that your frame's water bottle bosses are threaded holes to accept a bolt going through the bottle cage. This cage absolutely will NOT work on a frame where the bottle bosses have threaded screws coming out of the frame and expect a nut from the bottle cage side. This is why I have to use Arundels on my Parlee, even thought the trusty Tacx is just as good.
It works well since it has such large "hug" area around your water bottle but mine has slight play in it (doesn't rattle the bottle around but you can jiggle the bottle ever so slightly). Kids like it since they don't have to fight to get their bottle out; which can sometimes be dangerous since they swerve as they pull out of stiffer cages. I wouldn't rec for mountain biking. As with all cages will eventually leave some marks on bottles. Very light and durable; my 2 are over 3 yrs old...this might be the cause of the looser fit. Never lost a bottle on the road.