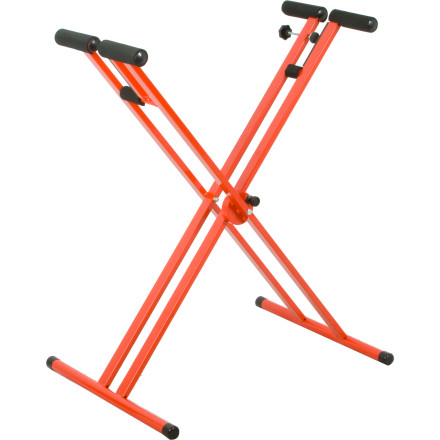 Detail Images
If your status as the snowboard repair shop's best customer is putting a hole in your beer fund, set up the Swix Snowboard Waxing Table in your garage, and start doing your own tuning and repairs. This stable fold-out stand holds your board flat for base repair and waxing; when it's time for edge work, flip the board on its side, and secure it with the adjustable clamps. The height of the table adjusts easily between 28 and 38 inches (71-97cm) to give you the best leverage.
Could you wax skis with this too?
Could you wax skis with this too?


Yes, you could, though it won't be the ideal choice. Because of the shortened space where the skis come in contact with the "table" plus the fact that you can't use vises, it will be ok to wax on, but you would have a hard time scraping or brushing skis with this.
Great Buy
Familiarity:

I've used it several times
Love this wax and tuning table. I have an apt so this is great for me because of limited space. The table is put together well and is very sturdy. Do agree on wishing it had two clamps instead of one. I got it on sale and it was well worth it. Going to last a long time.
Turns your home into a snowboard shop
Gender:

Male

Familiarity:

I've used it several times
Finally a great way to wax your snowboard at home without having to convert a room into a snowboard shop. I really love how easy it is to just unfold, setup, and start waxing. It folds up nice and can be stored easily because it is almost flat when folded up. The build quality is out standing. It is really padded when the board is flat for waxing or on it's side in the slots. The only negative is when the board is on it's side in the slots there is only a vice on one side, so the other end can do a bit of wiggling. Not a huge deal, but when you think of the cost of the waxing table and the cost of a little screw and a pad it would have been great if they would have just done it.
I love this table. its very handy for waxing my board. you're probably going to have to take your bindings off to fit it on the table, but hey, you should be doing that anyway. Also, the channel for tuning your edges is pretty cool. Great option for those with limited space, or for avoiding the wrath of your wife/girlfriend/mother for clamping a snowboard vise to the kitchen table.
great addition to the kit
I've been doing all my tuning and waxing at home for years, and used everything from chairs to foot stools to the more typical clamp/vises to hold my board... My back already thanks me. Nice and stable, holds the board at a comfy height, and the clamp holds nicely for working on edges. One oddity- the instructions it comes with are in Japanese ONLY. Fortunately, it's a pretty straight forward thing to use, so the lack of instructions is no big deal.
I'm sure I will be happy with this purchase for many years to come. The waxing table is solidly built and very easy to use. The foam pads on the top protect your board, and the secondary clamp which holds the board on it's side when you sharpen your edges works just fine. Way better than using the basic clamps you can attach to standard tables... go with this one, well worth it.