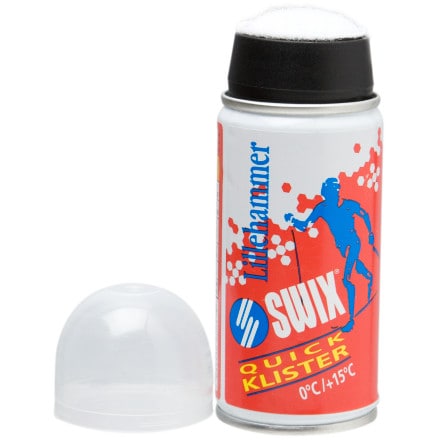 Description
Kick on a stick.
The Swix Red Quick Klister is a handy little tool that may be the only thing standing between you and a frustrating Nordic skiing afternoon. Red Quick Klister rolls on from the container in a thin layer for an easy, fast application, far removed from the toothpaste tube and sacrifice scraper you're used to. This means if you're out there and the snow turns into ball-bearing wet corn, you can slap on a layer of Klister and kick with confidence.
Share your thoughts
What do you think of the
Swix
Quick Klister
? Share a...
Posted on
I'm new to kick wax skiing-but I've been...
I'm new to kick wax skiing-but I've been waxless classic skiing for several years.I own an iron. I'm in the Sierras (royal gorge etc.) Any suggestions on kick wax-swix vs, toko, likely color range--etc. Also, is this klister as good as tube klister?
Responded on
Speaking from a racer/coach perspective, Klister is never a good thing. It's messy to apply and messy to clean up. No matter how careful you are it gets everywhere... that said, in the right conditions it will perform well and last longer than traditional hard wax. I would recommend a universal -5/+5 klister. In general, if you have fresh snow klister is not the correct choice- a hard wax will bind to sharp, well formed snow crystals and is easier to use... also, fluffy snow will stick to klister no matter how thin of a layer you put on. I would recommend sticking with one company... either Swix, Star, or Toko... in general, each line performs predictably, but if you start mixing lines their properties get blended and it gets more difficult.