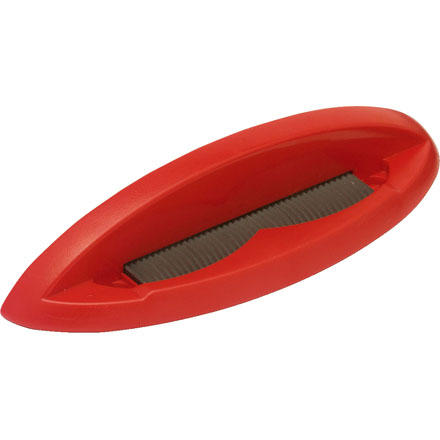 Keep your plexi scraper sharp and ready to go with the Swix Pro Plexi Sharpener. With its longer 86mm design, this hand-held scraper gives you a firm grip, so you don't have to bolt it down to your work bench. If you do your own waxing, keeping a sharp edge on your scraper speeds up the process and makes it much easier. To use the Pro Plexi Sharpener, just hold your scraper at a 90-degree angle, and drag it across the cutting edge.
I hate scraping without using this first. It takes off the gunk from your edges, and gives you enough sharpness to finish the job nicely. I love that it keeps the angle perfectly so you know you're not giving your scraper funny edges. Definitely would recommend this, it's a key part of our tuning bench!
Ever wonder why it is so hard to scrape your skis? The answer is a dull scraper. Once attached to a wood workbench or other stable surface this makes your scraper super sharp with just a couple of passes over the file. It keeps a nice right angle to give you a super sharp edge.

I am impressed and can't imagine no having this tool.
After years of free hand sharping plexi scrapers I finally know what I have been missing. Watch your fingers though, that panzer file is sharp.
I have been using the Toko scraper sharpener for over a year, and it works excellently, but over time it gives the scraper a concave shape. Which is the reason i decided on this sharpener.

So far, the results are impressive. The sharpener leaves a nice, clean, sharp edge. Definitely something to look into if you're tired of scraping with a dull scraper.