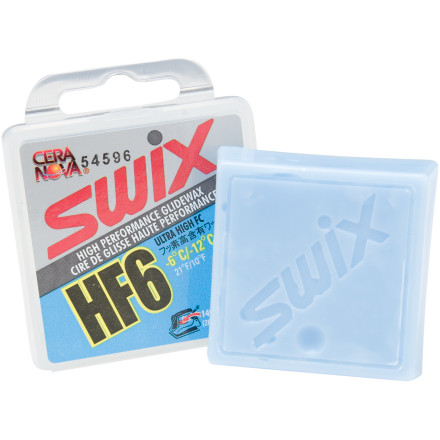 With 5 different temperature options in the line, Swix's super-durable, dirt-resistant Cera Nova HF Glide Wax offers unparalleled conditioning for your fast-moving skis. Swix's High Fluorocarbon formulated wax accelerates quickly and remains effective over a wide range of temperatures. These waxes provide fast acceleration, are effective in a wide range of temperatures, and are durable and dirt resistant. What more are you looking for? *Please see sizing chart for wax temperature suggestions.
Extra speed sauce
Familiarity:

I've put it through the wringer
If you want even faster skis without breaking the bank (and your body, potentially) with pure fluoro powders and liquids, a highly fluorinated wax is a good boost, especially in warm and wet conditions. Use it sparingly and crayon and you can make it last surprisingly long.
Yes, it is expensive. But, if you are like me and Nordic ski race a lot, it is so worth the money. Ski racing is never a cheap sport, so it only seems fair to pay decent amounts of money to go really fast. And I mean fast. If you go to any major race in the world you will definitely see swix HF waxes on the benches of the pros. I've been to a few of these races myself and used these waxes and swear by them.
This ain't your Beer League wax...
Put this in your tuning box only if you are racing the big ones (NorAms, NCAAs, JO's, FIS) or bombing on the DH Circuits where that extra mph on the flats makes all the difference. Generally, mistakes you make in the course will hurt your time more than this will ever have a chance in making it better. BUT, when it all comes together perfectly in that one minute of you, the course, and the timer, there is almost nothing better to be had on the bases of your skis. This stuff can and will make the difference.

Just be sure to hot scrape and rewax with some BP or CH8 afterwards to prevent base dryout from all of the fluoros. In this concentration, its not the best for your bases in the long run...
HF wax is $89.95 because it is HIGH QUALITY. This is a wax racers use before a big race to get that extra millisecond off their time. Obviously, there are higher grade/quality waxes out there for racing, but HF is MORE than enough for the average ski bum. For a basic great wax, check out the LF.

Powder Rider- don't review something negative if you don't know what it is. seriously uncool.
Seriously!?! Who spends $90 on wax?