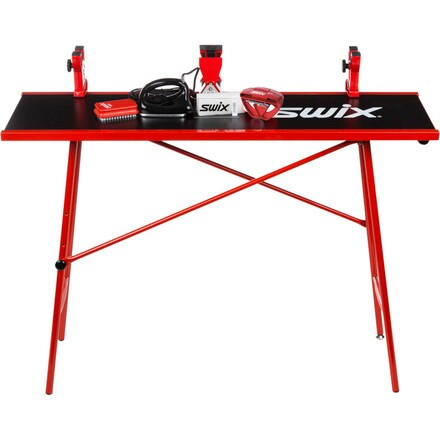 Detail Images
See all that powder outside your bedroom window? You'll be able to enjoy it more when your alpine skis are properly waxed. The Swix Epic Wax and Tuning Kit gives you the tools you need to do the deed, from collapsible table to technical manual to iron and more. And since tuning isn't just about waxing (your edges need love, too), Swix included the clamps and a basic side and edge tool for dialing in a razor-sharp edge that can handle any iciness you might encounter at the mountain. This kit is ideal for those just getting into the world of ski maintenance, racers who need a bare-bones travel kit, or anyone with maintenance-hungry skis but limited working space in their living quarters. Nordic skiers could also consider this kit a good starting place, since the included tuning table and clamps are set up to accept cross-country waxing profiles, and you can give the edge tools and universal wax to an alpine-ski friend.
Compact waxing table gives you a sturdy surface on which to mount your clamps or your cross-country waxing profiles (sold separately)
Waxing table folds down small for easy storage and in-car transportation, and it features a single adjustable leg to accommodate uneven floors no matter where you need to set up
Table also features a soft, non-slip surface so your tools won't slide around or get scratched when you're really pushing hard on your wax scraper
Econo waxing iron provides a reliable alternative to more expensive models, and this iron features an adjustable temperature range and a ready-light so you can tell when the iron is hot enough to start waxing
Large, completely flat face makes this iron significantly more efficient at transferring heat, which means you won't waste as much wax and you'll get your wax job done fast
Power Vice set is a three-piece, all-metal vice set that accepts skis up to 155mm underfoot
Power Vice end pieces feature rubberized tops for waxing and spring-loaded tip and tail suppers that adjust in height from 5.5 to 6.75in from the clamping surface
30 degrees of clamp angle adjustment allows you to position your skis anywhere between 60 and 90 degrees in relation to the clamp body
All three clamp pieces feature screw-clamp adjustment so you can attach the whole set to the edge of a table, thick or thin
Edger Comp Base and Side Edge Tuner is a handy file guide that comes with a 40mm file so you can sharpen the base or side edge of your skis using one tool (anywhere between 85- to 90-degree angle)
Large bar of Universal Wax (180g) serves as an all-purpose wax for reliable performance in a variety of snow and temperature conditions
Universal Wax is a cost-effective and easy-to-apply way to protect your bases from highly abrasive snow crystals
Plexi scraper gives you a sharp, durable tool for scraping wax off your bases after you wax your skis
Swix Sport Manual is a tech manual that outlines the basic techniques and tools needed to maintain your skis, from edge-sharping to base-waxing and more
Share your thoughts
What do you think of the
Swix
Epic Wax and Tuning Kit
? Share a...
Posted on
Isn't this an absurd amount of cash outlay...
Isn't this an absurd amount of cash outlay for what looks to be a table based on ironing board technology and a couple of clamps? Jesus, SWIX really thinks they have you over a barrel...
Responded on
Hey ncrp407415,

Thanks for the question. The $559.95 price tag for a tuning table and set of vices would be pretty pricey, but Swix also includes a nylon brush, plexi wax scraper, edger comp base (base edge file guide), side edge tuner, an Econo waxing iron with its own nylon bag and 180 grams of Universal Temperature Swix wax. Both edge tuners also come with a 40mm file and a tech manual is included for guidance when tuning skis.

When you put all of it together, the price seems pretty good for all that stuff. If you are looking to build your own tuning setup, this package would be a good start.