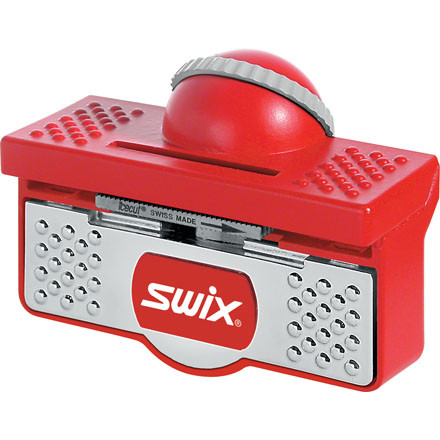 Detail Images
After you're done waxing, sharpen the edges of your skis or snowboard with the Swix Compact Edger. A knob makes this Swix edge sharpener easy to use, and it feels comfortable in your hand. It uses a 40mm file to give you a side edge bevel from 90 to 85-degrees and base edge from 0.5 to 1 degree.
I got one of these as a gift and it seems like a good idea, but the plastic tensioner broke under normal use.
Just like a previous reviewer, the mechanism that tightens the file in place won't tighten anymore. It's too small for regular tuning anyway -- you can't really get a good grip on it, but easy to carry on a trip somewhere -- if it worked.
I haven't had it long enough to speak about durability, but other than that it seems to work quite well.
Works great when it works, but I broke two of these under normal use. As others have said, the tension adjuster failed. I have gone back to a simpler tool.
Do not buy this edge guide
I used this thing twice and the tensioner broke on me..I couldn't tighten or loosen the file...I cant believe they charge this much for this POS!!
I used this edger for about 3 tunes before it started to fail. The mechanism that tightens to hold the file in place must have stripped out, and it didn't allow the file to be held for more than a few passes on the ski. Not a very durable file guide. Also, it's pretty expensive for what it is. Look for a guide that files at a specific angle instead of an adjustable one, which I think are just prone to failure.