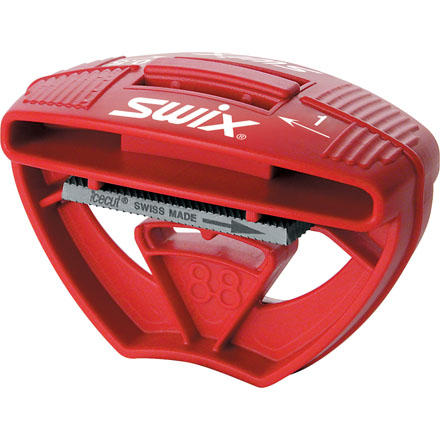 Colors
Description
Fine tune your ski and snowboard edges with the Swix Edger 2x2.
The Swix Edger 2x2 is a pocket-sized hero. Use the Swix Edger to sharpen the base and side edges of your skis or snowboard when you're on the mountain. It allows you to file your side edge to 87 and 88 degrees, and the base edge to 0.5 and 1 degree.
Starter Pocket Edger
Familiarity:

I've used it once or twice and have initial impressions
This edger is better in theory than it is in practice. The file is super sharp, but a bit small. The edger has a few angles you can use, but it takes some fiddling to get it set up. Overall the item is small, which is great for travel but not for dedicated tuning.

For me, the deciding factor is going to be the file. If the file stays sharp then I'll be happy, but if the file quickly dulls and wears out then I'll be looking for a replacement.

Ben
brabinowitz@backcountry.com
801-746-7564
Good enough for a guy like me
Familiarity:

I've used it several times
Never have edged my own gear before I got this. It was cheap, simple, and works fine. It took a second to realize how to switch the sharpening blade from one position to the other, but it was super easy going once I figured that out. This helped scrape off rust and goobers and got my edge nice and sharp.
Unanswered Question
Swix site indicates 88 or 89* edge angles....
Swix site indicates 88 or 89* edge angles. The model on their site is TA3001 and looks like this one. The Swix site doesn't have another model that looks like this one. Please confirm that this one is 87* or 88* side edge capable.
Basic tuning tool, bad instructions
Familiarity:

I've used it once or twice and have initial impressions
I have only used the tool 1 time so far and must say it does tune side and base edges fairly well. But it definitely could use some instructions. Also the file is VERY difficult to pull out when it is in the base edge position.
Good simple edge tool
Familiarity:

I've used it several times
It takes a little practice to get it down but once you get it down it's a great little tool. Gets the job done when you want to start tuning your own gear.
That's basically it. It tunes. It's nothing spectacular, but it works for the mini shop set up in my dorm room. It certainly suffices when I have my friends come over with their hands full of gear that need tuning. Swix doesn't make awful products. This will get the job done.
Does the job once you figure it out
Familiarity:

I've used it several times
...but that may take some time. Q&P is easier - and might make you a better skier. Maybe.
Semi-helpful demo of the pocket edger
Great for a quick tune. Long live the Q&P.
great on the gp tool tp keep ski/snowboard edges clean and sharp
Great!
Gender:

Female

Familiarity:

I gave it as a gift but have feedback to share
I gave this to my boyfriend so he can fine tune our skis. He thinks it is great.
Just used this edger for the first time and it worked superbly. My edges are wicked sharp now.
Just go my 2x2 Swix Edger - no instructions?
I have my Swix 2x2 edger, but the instructions are very poor. Not sure which degree is up or down if I want a 2 degree edge? Do I have the 88 up or down?

The picture on back is very poor and the only example given, which doesn't show if the file direction arrow is the same direction I file or the opposite?

Is there any better instruction?
Where can you get replacement files for...
Where can you get replacement files for this?
Best Answer
My best bet would be the swix website or a local ski/snowboard shop.
Let's just say I want a 2 degree side edge...
Let's just say I want a 2 degree side edge - I want the 88 degree setting for that. Do I have the '88' embossed on the tool facing ME or facing towards the SKI BASE? - in the case of the latter, I would be looking at the '89' in order to get the 88 setting on my edge. Kind of important, and apparently everyone knows the correct way to do this except me. The tool works great, but I need to know what angle I'm getting. Not good to turn 1's into 2's and vice-versa.

I don't have this problem with the base edge settings - just stick the file in the correct hole, and everything else is impossible to screw up. For race skis, I keep the sides at 3 degrees, and it's a shame they don't sell a 3/4 degree 2x2 tool with the same base edge angles, but this is still really useful to have around, and anything I have uses .5 or 1 for the base edge....

thanks for the help!
Best Answer
While I don't own this specific tool, I personally have a lot of experience with these types of tools and will impart some knowledge. First to answer your question, you are correct; you would insert the file into the side you want, 88/89; or 1 or 2 degrees of bevel you would place the file on the 88 side which would also be the side placed toward the ski/snowboard; thus you would be looking at the 89 for an 88 degree side edge. Always make sure you try to stick to the factory bevels, otherwise this file alone isn't sufficient to properly cut a new angle and will result in poor edge tuning. There is some science behind edge angles and basically it's to tune the amount of grip or bite and slip that the edges provide/allow in different conditions. The base edge bevel makes a ski more forgiving and the edges less sticky. The side edge bevels only purpose is to change the sharpness of the edge. Race techs will impart new angles multiple times a day, using many different files, stones, tools, etc., in addition to changing the bevel along the entire contact edge, to adjust for conditions. Don't forget that the file in this tool probably only cuts one way, thus the direction pointer on top of the tool shows which cutting direction to place the file in the tool and drag it for filing. Also always tune from tip to tail and never rub file back and forth, always a one way motion, pick up and restart...
The answer below has it spot on. You could also check out

http://wwwswixschool.com

for some videos or

http://www.swixsport.com/eway/default.aspx?pid=278&trg=MainContent_6179&MainContent_6179=6155:0:24,2988

for some written instructions.
I really like this edge tool because you can use it on both side edge, and base edge. it's a little tricky figuring out which directing to mount the file, but for the most part it's pretty easy to use.
A MUST HAVE for boarders that keep their boards for more than one season and don't have the money to pay $10 each time they want sharp edges. With different options of angles to sharpen your edge, this sharpener is just as important as having gloves on the slopes.
Base and side edge capability.
Plain and simple you need less tools in the long run to take care of your equipment.
Put your ski on a vice so the edge is facing up. If you do not have a vice then hold the ski strongly with your other hand so the edge is facing the ceiling (the side of the your ski - the base should not be pointing to the ceiling). Hold the tool in your right hand and stroke the edge hard enough that a needle size metal particles come out of the tool. It will take you a few times to get a hang of it, but once you see the needle particles come out you are doing it right. Also, try drawing on the edge with a Sharpie Permanent marker so you can see the progress you have made on the edge.
This is the best small handheld edger around. Blows the Dakine one out of the water. It is nice being able to do base edge bevels. Used it today, and after the diamond stone, my edges looked brand new.