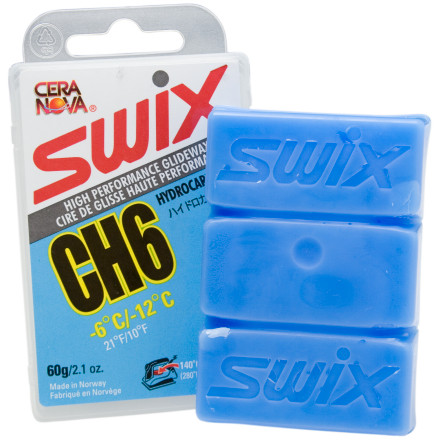 If you're looking for a wax that gives your skis a good glide without robbing your bank account, grab the Swix CH Glide Wax. Cross country skiing through the winter wonderland can be a fairly horrid experience when you're sticking to the snow every second. Iron this wax onto your skis and enjoy a day of smooth sailing along the track or through the woods. This non-fluorocarbon CH Glide Wax can also be used as a race wax. *Please see sizing chart for wax temperature suggestions.
Good wax but not a lot of it.
Familiarity:

I've used it once or twice and have initial impressions
This stuff works great. I used quite a bit of it the first time but that's really more my own problem. Did a good job and had no issues.
For this price.. load up.
Familiarity:

I've put it through the wringer
Great wax for most days. It is rated for 28-18 degrees Fahrenheit. Basically, most of your pow days. Buy it, wax it, scrape it, and go faster. Pair this up with a tuning iron and a scraper (metal) and wax till your heart is content.



Kyle Brady

1-800-409-4502 ext 4420

kbrady@backcountry.com

Instagram: @kb4420


Great Recreational Wax
Familiarity:

I've put it through the wringer
I've been using the CH line for years, and I dig it. It's easy to use, easy to scrape, and it makes you go fast for any sort of recreational use. The temp ratings are accurate, great range for all sorts of conditions here in Utah.
Good range of training waxes
Familiarity:

I've put it through the wringer
These are true training waxes, but for anything non-competitive, the waxes are top-notch and the easy to use color/ temp system is worth something when it comes down to beating a friend down the run. Just keep in mind that abrasive snow, grind pattern, structure and other things effect speed more than wax, so don't go to blaming the wax first.
Swix Cera Nova CH = Super Great
Familiarity:

I've used it several times
I got the green (CH4) version of this wax earlier this season when we had a cold snap here in Utah. This stuff did the trick as I was able to slide on snow considerably faster than my counterparts.



I don't always wax my skis, but when I do I use Swix Cera Nova CH Wax.
CH4 temp
Familiarity:

I've used it several times
-10c to -32

14f to -26
A flavor for all tastes (or tempratures)
Familiarity:

I've put it through the wringer
I have this wax in every flavor except mint (CH4) because it doesnt get that cold and dry here on the BC south coast (whistler/north shore). Blueberry (CH6) is the hardest wax I need for those cool powder days. Remember, it's always better to have a wax that's too hard for the conditions than too soft, and the newer the snow (frest powder=very new/spring slush=very old) the harder the wax you'll need. If you're looking for a 1 size fits all wax than I would not recomend a product like this one of this level. It's greating being able to rubber band 2 different flavors together to create a hybrid. I have grape (CH7) and strawberry (CH8) in LF for racing boardercross and can tell the difference between CH and LF. LF can dry your base out so I wouldn't recomend it unless you're willing to hot scrape after each trip. Wish I could afford HF even just to try but $100 is just too steep for an amature. I have heard of people mixing HF and CH to tune in the floro level they want, but why not just get LF and be done with it?...

Great high performance training wax.
This wax is AWESOME!! I picked up the green good from -25F to 14F. It works great for those bitter cold days when your skis or board just snap and pop on the snow but won't seem to let you slide at low speeds. Keep in mind those ratings are for SNOW temp not ambient temperatures. Having that said, this wax is much more dense than loads of other wax brands I've tried (Oneballjay, magicalgogo, dakine to name a few) so it lasts longer. I have been blending it a bit with a Bluebird all temperature wax on those days that are just a bit too cold for all temp. One thing I noticed is that my cheap iron didn't have as much heat as I would prefer but worked ok. You'll have the best luck with an iron that has a temperature setting up to 150 F.
Great Wax
Gender:

Female

Familiarity:

I've put it through the wringer
Swix wax is great! I wax my skis with it for practice and most races. However, if you ski lots, its worth buying in larger bulk.
If you dont mind waxing often to keep you skis in the right temp wax then this is for you. When you are on temp then you are golden and super fast. Plus when it gets real cold and you have used the green then you will be blowing the doors off you buddies and what could be more fun than that?
Top option for cheap versatile quality wax
Top option for cheap versatile quality wax. the most bang for your buck, without a doubt. works great, only need something more expensive if you are serious about racing.

IF YOU DON'T KNOW WHICH WAX YOU NEED FOR CONDITIONS, LOOK AT THE SIZING CHART
Good for recreation or race training
Swix has it down. CH is great for recreational use or for race training.
i really like this wax. yah, the LF's are better but this wax does preform well if you wax for the right temperature plus its super cheap. I would recommend this wax to people looking for an everyday wax for training or having fun. I wouldn't suggest using this for racing but it is fast enough for everything else.
My ski's were so slow the other day . I am a skate skier and man it was work.,. Do I need to brush more or less or what .. The temp was about 15 F .JB
It is cold and what wax options and brushing...
It is cold and what wax options and brushing options work best . I have mixed feelings about steel brushing, , than bronz brushing and when one does this or if any ,, I am a skate skier.. What is symmiliar to START GREEN and START BLUE// or can I get this wax here??
Best Answer
CH6 is the coldest wax. I suggest checking the recommended wax on the swix wax wizard, If you mus error, error on the colder rather than warmer.
http://www.swixschool.com/web/wizard.html?langInput=lang2&menuInput=subM2
Then apply a few layers of the wax, using an appropriately warm iron to crayon or dribble the wax on first, then run the iron along the base of the ski, melting the wax being careful not to let the iron rest in one place (you could burn your bases) Then, after the bases have cooled scrape with a plastic scraper until little to no wax can be scraped off. Then brush 5-6 ski lengths with a bronze/mixed brush, followed by another 5-6 ski lengths using a nylon/horsehair brush. This should yield a sufficiently quick ski for most conditions.
Sam, i think you may have made a typo, or were misinformed... CH4 is actually the coldest wax in the swix CH line up. they do not have the correct picture of it on the website, but it is one of the ordering options. it is essentially the same at START Green. CH6 should be similare to START Blue. if it is really cold out use CH4, then scrape and brush with a bronze brush two to three times, and that should be fine. if you are really concerned about top speed as soon as you start skiing, you can brush with a nylon to top it off.
Andrew it correct. CH4 is the coldest. But while he said "if you are really concerned about top speed as soon as you start skiing, you can brush with a nylon to top it off" the way to really get the fastest skis would generally be to put some sort of graphite on before hand or at least brush with a black and then blue fine brush.
The CH10 is max wax of choice for cleaning the bases of my skis, and also for getting the bases good and saturated. If you don´t really wanna pay a bit more for the LF waxes, this would be my choice for everyday wax too.
Only wax I ever use. These are the only temperatures you are really going to ever need unless you ski in consistently below 0 temperatures, or are a ski racer. Use for all ski days except races.
This is good stuff for cruising around Ohio in the slush with. I've noticed that Swix stuff tends to be pretty sensitive to wax application temps so just give your board plenty of time to warm up. I found out the hard way.
How much of this should i use per ski? My...
How much of this should i use per ski? My skis are 176 cm long.
If you are hot waxing (the original way) just spread out drops of it evenly along the whole ski. Should end up using not too much, barely 1/3 of one little brick of the block. The "new" way of waxing is to tap the edge of the wax to your iron and rub it on then over with an iron/fiberline*. That way uses much less wax. I prefer to use the old way and one little brick of the block can last me 4/5 waxes on my 175cm race skis.
As much as it takes to cover your whole base from snow contact at the tail to the point at the shovel, without excessive dripping onto your work bench. If you notice you are dripping every inch or so, you put too much on. If you still see uncovered base behind the hot iron, you used too little. There is no "proper amount" that you have to use, its a feel kinda thing.

But at about $1.50 per wax (+/- 25 cents) using more does not matter all that much, its decently cheap with CH. If you use LF/HF/HFBD you need to pay more attention though.

But if you really want a number, in my experience these 60-gram blocks give me about 5-8 waxes on 191cm race boards (I prefer the drop method of waxing my skis).
Higher Cost=Better Quality
Swix wax is the best out there. Toko is a close second. CH wax isn't as good as LF. There is a noticeable difference. However, if you are on a budget, you can't go wrong with the CH, but if you see the LF (or HF) on sale, Grab It!