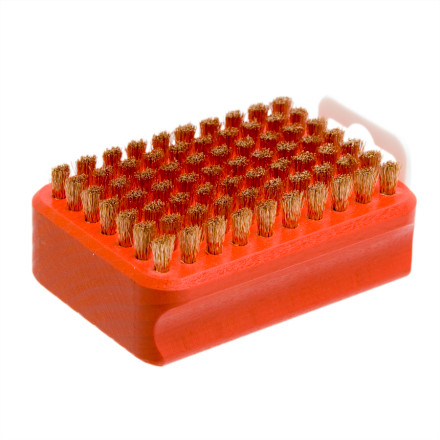 Description
If you can only have one brush to clean your skis' base structure, this is the one.
The Swix Bronze Coarse Brush is an all-purpose brush for soft to hard waxes. Use it as your main brush for recreational ski tuning, or as second brush on fine structures for high-level racing. Swix brushes are designed for brushing wax out of the structures (base patterns) in ski bases and snowboards after you have used the acrylic scraper [SWI0022] to remove the bulk of applied wax. The brush should be used in one direction only: from tip to tail.
Does what it says, use it to clean your bases before you tune and add some structure before you use the nylon brush.
Great maintenance brush
Familiarity:

I've used it several times
To go off of EricSkiDude's review, this brush is great for cleaning/prepping your bases/edges before waxing. This brush will obliterate any grime, dirt, rocks, grass, what-have-you. I like the smaller size of this brush as it allows me to be more precise with my strokes. I wouldn't recommend this as a finishing brush, it'd just a bit too stiff for that.

I'd definitely recommend this brush for a prep brush. Check out the OneBallJay Brass Brush (OBJ0057) if you want a similarly priced, but larger, brush.

Ben
brabinowitz@backcountry.com
801-746-7564
Great Brush.
Familiarity:

I've put it through the wringer
Allows me to clean the bases before waxing. OK for swiping after waxing with a light touch. It is a bit too stiff for polishing after waxing.
A great addition to my tuning kit. It's small size afford portability and is great for all-purpose use. There are brushes for more specific use and ones that are bigger, but this is a great general one that's also easy to travel with.
Great small size. Haven't used it really yet, but its nice cause its big enough to handle big skis but is small enough you can take it with you on trips.
Product works well. Even after scraping thoroughly this brush brings out even more wax. Def recommend.
This brush is essential to a proper waxing brush quiver, but it's not what I would call a "do it all brush". Too stiff and coarse for polishing work.
This is a good brush for pre-wax treatment. I would not use this after applying my new coat of wax - I go for a hard nylon and finally with a soft nylon or horse hair to finish. If I were to get one brush it would be the hard nylon. Using a bronze coarse before and after each waxing is a bit of overkill. This is a decent brush but consider the higher quality of the T0197B, the rectangular steel brush - much better for a pre-wax treatment.
great brush must have for your tuning kit
I have been using a nylon brush only for the past couple seasons, and it got the job done, but their was definitely something missing.

This is a handy little brush, and it does a good job. I would recommend it to anybody looking for a more complete waxing set-up
If you not racing a brass brush is the only brush you need. Wax your skis often and after you scrape give it a couple swipes with this brush, you'll be happy you did!!
If you only want to buy one brush, this would be the one. Also, if you are looking to take only one brush with you on a ski trip, this would be the one you would take.
Get a bronze brush. It makes all the difference. I brush my skis before I wax ( after I clean them), and you wouldn't believe how much extra glop comes out compared to using a nylon brush. I don't race, but am always breezin' by my buds on traverses and flats. The beauty of a good tune is realized when you are pillaging the 15" of new while your friends are 50 feet behind poling on traverses.
For many years I just scraped my board with a flat edge before waxing then my friend told me to use this. It is amazing how much wax is still left on your board after a thorough scraping. It really is an attention to detail not worth missing. Great purchase.