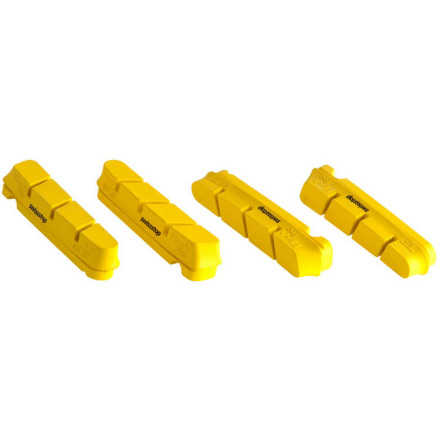 Description
Still the king.
Swapping brake pads when changing between carbon and aluminum rims can be a hassle if you just want to get out the door or get a flat and then have to worry about braking function the rest of the race with that aluminum neutral wheel. The SwissStop FlashPro Yellow King Brake Pat Set takes away these worries and let you focus on the ride, whatever rim type you choose. The Yellow King was designed primarily for use with carbon rims and provides some of the best stopping power across both dry and wet conditions, with the additional bonus of being quiet and durable to boot.
While all that performance is great on its own, what really sets the Yellow King Brake Pad Set apart from its competitors is the ability to move from carbon to aluminum rims while still providing awesome braking functionality. You'll want to check the pads for any aluminum debris and clean them up before throwing the carbon rims back on though just to make sure there aren't any bits that could dig into the carbon.
Yellow synthetic material
Increased pad depth
Designed for use with carbon fiber rims
Can be used with aluminum rims
Compatible with Shimano and SRAM road caliper brakes
Works for me
Familiarity:

I've put it through the wringer
I used these with my carbon wheels for several years. They seem to work fine and grab predictably in wet and dry. Compared to Reynold blue carbon pad(first gen), these seem a little bit softer. About 3k on these and about half way worn.
Nice
Familiarity:

I've put it through the wringer
This is one of the few pads that performed well on my carbon wheels but i could also thrown the alloy training wheels on and still have decent braking. In the wet they are sub par compared to some other options including the black prince pads and cork. Each carbon braking surface is different but if you are looking for a starting point these would be at the top of my list.
Cross
Familiarity:

I've put it through the wringer
These have held up very well over two seasons of cyclocross. They are very predictable in any conditions.
Know the difference
Gender:

Male

Familiarity:

I've put it through the wringer
The pads work great, they are amazing at what they were designed to do, however, to the excessive brake rider, I would recommend sticking to cork, these pads do not dissipate heat the way cork does and under extreme braking conditions will overheat the carbon braking surface. Buy these brakes if you know and are conscious of this fact, If you tend to forget about the limitations of your wheels, then save yourself the trouble of going thru a lengthy warranty process and simply stick to cork.
SwissStop Brake Pads (Yellow)
Rocketing down the hill, approaching a sharp 180 degree off-camber left, your fingers tap the hoods of the brakes.



You're cautious, but then again you don't want to lose too much speed on that turn.



The brake pad fade which used to occur is still in your mind. The painful audible memory of screeching pads all too familiar.



But NO longer.



It's like butter. The SwissStop pads hold onto the carbon rims like any man would hold onto a beautiful redhead. You hold her tightly... never wanting to let go, but you do.... In the back of your mind you think about her, your heart quickens knowing you'll get to hold her again as the next turn approaches.



These SwissStop Yellow brakes pads are phenomenal. The braking control you can exhibit on carbon rims is unlike any thing I've ever felt before.