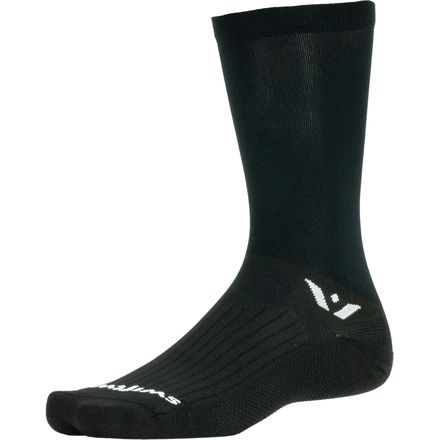 Detail Images
Description
Style for miles.
The Swiftwick Aspire Seven Socks are knit in Tennessee of Olefin yarns. Olefin is a lightweight polypropylene fiber that wicks moisture to keep your feet dry. Dry feet mean less chafing and blisters. Additionally, the Olefin is hydrophobic so that it won't absorb moisture from the outside. The footbed is cushioned and conforms to the shape of your arch with a knit-in nylon and spandex arch support. This thicker knit gradually becomes a channeled upper that acts as a subtle compression sock, helping to improve blood flow through your extremities.
Olefin yarn
Women-specific fit
Seamless construction
7" height
Consistent foot issues
Familiarity:

I've put it through the wringer

Fit:

True to size
I have had consistent hot spots during long rides. I switched to these socks before a multi day stage race in hopes that they would provide some relief. The compression has been just enough that the hot spots have been noticeably reduced and late race foot cramps have completely disappeared.
Only socks I ride in.
Familiarity:

I've put it through the wringer

Fit:

True to size
I own multiple pairs of the Swift Wick socks and I keep coming back for the consistency and durability. Ive never had the Aspire blow out, ever, or get loose. On the flip side, the compression that keeps them together is not overbearing.
Made in the USA is also a great reason to purchase.
Pretty Good
Familiarity:

I've used it several times

Fit:

True to size
I bought these based on some other swiftwick socks I have & love thinking they were the same. The others were merino like & a bit more padded. I like them better but these are nice. The height is good as they provide some support to you calves but are not too tall i.e. over the calf. They dry quickly & don't seem to get too stinky...

I'm a solid 10.5 & the large is perfect sizing. I would buy them again - they just were not what I was expecting.
love them
Familiarity:

I've put it through the wringer

Fit:

True to size
these fit great. and help keep your calfs from cramping up. love using them for when i go biking.
Great for Riding or Highfalutin affairs!
Gender:

Male

Familiarity:

I've put it through the wringer

Fit:

True to size
If you're the type that says "I draw the line when it comes to buying "Cycling" socks", let me be the first one to tell you that you should give Swiftwick socks a try...If I'm wrong, then return them.



Most compression sock manufacturers focus on the heel to the knee. What I dig about Swiftwick is their love for feet and making a sock that helps blood-flow in your foot while ridin. Read more about Managed Compression on Swiftwick's website.



Here's the reason I choose these socks over others in my sock drawer: COMFORT



My foot is between two different sizes in most cycling shoes, the fact that swiftwick ASPIRE socks are designed with a number of contour focused stitching through their 200 needle construction, allows me to fit perfectly in Sidi size 44 versus a 44.5 which is slightly too big for my foot. Read the product description on this product page and you'll see what I'm talking about.



On a side note: These are definitely the first socks I reach for when I dig around my sock drawer. I, like most of you, have a drawer dedicated to my Cycling socks. My other socks from the days before I discovered Swiftwick go completely neglected.



It's come to the point where I love these socks so much, that I use them for work or any highfalutin affair. Whether I'm on a bike, in a Suit or Tux, or just sportin black socks with my Chucks, the Swiftwick Sevens are what I wear everytime! FACT.



PROS:

+ Made in America - Enough Said. I'd buy Swiftwick for this reason alone.

+ My feet can breathe and don't come out looking like prunes after a long ride

+ My entire foot gets to benefit from Compression

+ No color fading after 100+ washes

+ Socks are not stretched out after 100+ rides



CONS:

- They are a bit pricey, but so are dress socks...I get the benefit of both in just one pair w/ Swiftwick



TIPS:

+ Most cyclists wear the ASPIRE Four socks, try the Seven if you want to try them for non-cycling use

+ Start with two pairs so you won't get disappointed from not washing yesterday's pair!
These socks rock
Familiarity:

I've put it through the wringer

Fit:

True to size
Need Socks to give you best Cyclist tan line, these are them, they look cool, stay up, and keep your feet feeling great. The white ones hold stains if you happen to get them really muddy and then wash and dry them.

I have been replacing my entire sock drawer with Swiftwick
Great socks!
Familiarity:

I've used it several times

Fit:

True to size
Very comfy and fit excellent. I like the long profile and they look cool too. They stay tight and cozy the entire ride and through the rest of the day as well.
Super socks
Familiarity:

I've put it through the wringer
Since being given a pair of Swiftwick socks as a gift a while back, I will only buy these from now on. Super legit, keep their size after numerous washes, colors don't fade, and may get a whole season out of these. I personally like the longer profile, but the tan line they leave makes your friends laugh :) Makes your shoes that much better - Great socks all around.
After trying these, I refuse to try anything else!
Figured I'd try some Swiftwick socks after all the high praise they get from reviews and the write ups on their websites. I didn't realize the benefit good socks can have on your ride until I purchased these! I'm a tall dude and love the 7" cuff/tall socks. These are extremely comfortable, durable, and do what they are supposed to do: stay in place, provide compression, and not produce any friction. No goofy seams or poor design flaws that you notice while riding. My wife even has a pair and never gets excited about gear, but she really likes her pair of Swiftwick socks and says they are superior to anything she's tried before.