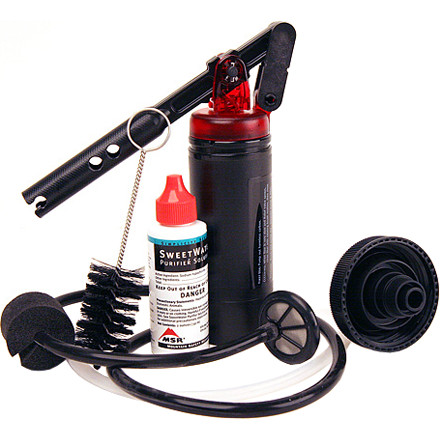 MSR's SweetWater Purifier System gives you added protection against bacteria, protozoa, and viruses. This backcountry kit includes a SweetWater Microfilter, an 80-micron stainless-steel prefilter, two color-coded silicone hoses, foam float, Universal Bottle Adapter plus cleanside cover, cleaning brush, ViralStop Purifier Solution and stuff sack. Simply pump the water through the SweetWater purifier, then add five drops of the purifier solution per liter and wait five minutes for the purification process to complete. MSR's water Purifier Solution inactivates 99.99 percent of waterborne viruses, bacteria, and common protozoan parasites, so you can avoid spending your camping or traveling expedition doubled over in your tent.
I bought this for my brother and he loves it. He has used it for hunting, camping, and backpacking and he says it works great for eveything
Consistent performance and easy to use
I am continuing to use the Sweetwater filter during backpacking trips in the midwest. It effectively filters dirt and sand from murky streams. After filtering, river water tastes very fresh. Eventually the flow rate slows, but is easily remedied with a quick scrub. The pump mechanism is simple to disassemble, and the carry sack makes it easy to pack. Thanks MSR for the quality product, and thanks Backcountry.com for the product information!
clean water every time
Familiarity:

I've put it through the wringer
if you enjoy going hiking / camping and dont want to lug up a bunch of extra water with you, then look no further. all you need is this pump/filter system and you can have all the clean refreshing water you want without worrying about getting sick.
it all packs up really small and neat in the bag that is included, and weighs pretty much nothing.
Constant Flow
Familiarity:

I've put it through the wringer
I recently was charged with outfitting my group (wife, sister, brother-in-law, brother, sister-in-law) with gear for a week long trip in southern utah canyon country. We got tents, sleeping bags, stoves, backpacks, the whole run. All of our gear held up and served us well.
The SweetWater has long been a go to in the mountains with good reason. It runs fast and runs long. The silty water in southern utah slows it down momentarily, but following the maintenance instructions is easy and gets it running again.
keeps going and going
Familiarity:

I've put it through the wringer
I've used mine a great deal now and it's great. After a ton of use a small piece cracked in the internal spring mech. I sent it back to MSR and they replaced it promptly with no questions asked. The replacement cartridge is expensive ($50). Newer filters will filter more and cost less but I have a soft spot in my heart for this one. It's compact enough for me and filters rather fast all things considered. I'm still kicking so the giardia hasn't bested me yet.



When the cartridge gets old it starts to form a black line down it to let you know it's time to replace it. Just take a baby bottle brush to it at this point and you'll still get a few more trips out of it.
If I'm backpacking in the US and Canada is it worth getting the sweetwater purifier system or is the filter alone CAS0480 sufficient? From what I can tell they are the same except the purifier system comes with some solution that removes viruses. Do they differ in the way the water is cleaned when it is pumped or are they the same filter and you add the solution afterward?

Thanks
Best Answer
Hey Jarrett,



The only difference between the purifier system and the filter is the system includes the solution for viruses. If you are going to be in the U.S. and Canada then the filter will be sufficient for back country use. If you have any more questions about water filters or gear, give me a call at 1-800-409-4502 ext 4446 or email at gconner@backcountry.com
Easy and Simple
Familiarity:

I've put it through the wringer
This unit gets the job done quickly and easily. I stopped using my SteriPin in favor or this time tested favorite. Dont fix what isn't broken.
Couldn't be happier.
Familiarity:

I've used it once or twice and have initial impressions
This is the first water filtration system, so I don't have another one to compare it to, but I love this thing. I have used the MiniWorks EX as well, but I think I prefer this one as it packs down a little smaller. It's small, light, and ingenious in its design. The stow sack is nice as well, but I do wish it had separate compartments to keep the "clean" parts separate from the "dirty" parts. Easily solved using a ziplock bag to keep the dirty water tube/filter in instead. I purchased this unit over others mainly because of MSR's proven track record. I know so many people that have one of the MSR filters and almost all of them are extremely satisfied.
Quick and Easy
Familiarity:

I've used it several times
The thing I like most about this water filter, is how easy is is to pump. I have used other filters where you directly move the siphon like you would a bike pump. The lever action of the SweetWater makes pumping a breeze. I was able to fill two bottles worth of water in the time my buddy took to fill one.
Great for clearwater streams
Familiarity:

I've put it through the wringer
I usually take this filter as my primary filter on backpacking trips, and as a backup for expeditionary trips. It is a good filter, small, compact, light. I have never had to use it as a backup filter thankfully. If you do have to filter silty water like with desert or glacial rivers. I would let the water settle out over night and treat the water with alum and clean the filter out after 1/4 nalgene. It does take a while to fill a Nalgene as well. For solo trips where clear water streams are plentiful. It works great. You do have to replace the purification drops annually.
Best Bang for your Buck!!
Familiarity:

I've put it through the wringer
We've been using the Sweetwater now for over 14 years, and clearly hope MSR continues to manufacture/support this water filtration system. It does take time to fill a container, but this filters the water perfectly. Over the years we have had the inlet screen plug from much use.. DO NOT USE THIS WITHOUT THE INLET SCREEN!! We got particulates/sand into the pump and screwed it up where it would not pump at all. I would recommend brushing/cleaning the filter after every use to extend the filter life. It takes us roughly 30 minutes to fill a 2.5 gallon container. We won't travel into the wilderness/backcountry without it!! The purification drops do impart a taste into the water, but the this is a small price to pay for a healthy GI tract!!
Just got back from Denver. Used the purifier on two overnights and it worked great. Saved hauling water which helped keep the backpack weight down. 2 people it is easier but one can do it just fine.Didn't use the sweetwater. From other reviews didn't see the need. Save yourself from carrying all that extra weight!
great for the back country back pack or hiking. I love the double action filter flow compared to filters that do not have that.
I have used the Sweetwater purifier extensively while backpacking throughout Utah. It works great in the swift rivers and high alpine lakes of the Uintas and also the trickling creeks and remote waterfalls of Coyote Gulch and Dark Canyon. On average I can efficiently pump about 3 liters in 10 minutes after a fresh cleaning. You need to clean it about once every 9 liters or so. Its easy to clean, easy to store, easy to pack up, and easy to carry. Five stars and I highly recommend this thirsty backpacker's best friend!
I did a substantial amount of homework before purchasing this filter system, and I am far beyond satisfied. Over the last few months, I've romped all over Kentucky and West Virginia sticking my MSR Sweetwater into rivers and enjoying fresh mountain water with no illness whatsoever. After first pumping out the black carbon dust, this filter performed flawlessly. There were a few things that I was worried about that I didn't see mentioned in other reviews, so I want to help anybody out that may have the same weird questions that I did:

"That pump handle attachment looks SUPER SKETCHY. Won't it break in a backpack?"
No. This thing is not going to break. The handle detaches at the top of the filter and neatly folds back on itself.

"How is this going to be easy to clean? It seems sort of complicated."
The Grey part is the filter, and it screws right off of the orange part, which is the pump. The ease of use comes in the construction. The pump takes in water from the bottom of the filter, forcing it through the element and out of the side. The pump itself never comes in contact with clean water, and everything can be taken apart, cleaned to your heart's paranoid content, and dried. There are all sorts of methods you can use to prevent cross-contamination.

"Should I save up a bit more money and get one of those super-expensive Katadyn filters? Am I missing out on something?"
No. This filter is awesome. My buddy has a Katadyn Combi, and it's done him well for years. I've used it before, and I think the Sweetwater is much easier to clean, and the pump mechanism is totally genius. I would much rather have the Sweetwater in my pack than his Combi. Instead of spending extra cash on a fancy Combi, I got a new sleeping bag!

"I'm really cheap. Should I spend a little less and go for a fiber filter like a Katadyn Hiker?"
Something about paying ten dollars more for a ceramic filter seems reasonable to me. I'm definitely cheap, which is why I didn't just splurge on the most expensive one I could find - which is what my buddy with the Combi did - but I don't mind paying a little bit more for peace of mind.

"Do I really need this 'Purifier Solution?'"
You mean bleach water? Maybe, but I didn't use it. I figure that pulling near-freezing moving water from a nice stream is clean enough already, the filter is the extra precaution. Carrying around bleach water might be necessary in some third-world country's stagnant poo-trough creek, but I don't think it's necessary on a romp through Appalachia.
If I'm chemically treating the water anyway,...
If I'm chemically treating the water anyway, what is the point of having the filter?
Best Answer
Hey Rob,.

If you're simply asking why you would want to use this in addition to something like Micropur tablets, try using one in a 1L Nalgene and leaving it in the sun for a couple hours and have a smell. This tastes infinitely better. I generally only rely on the tablets for emergencies, filter malfunctions, or when I'm being seriously lazy. But to answer your question: No, you don't need to do both.
I would also add that filtering the water first and them chemically treating it takes away the 'dwell time' disadvantage. Because viruses are so easily taken care of with chemicals, and the fact that filtration takes out protozoa, bacteria, etc, all you have to wait is a total of 5 minutes to get purified water. Super importante=> always filter first, then add the chemical.

As has already been mentioned, adding the right chemical (Cascade Designs makes Sweetwater Solution which is a diluted sodium hypochlorite designed primarily for free-floating virus) will result in zero chlorine smell or taste when compared to chlorine dioxide tablets.
No complains here, like all water treatment systems you need to let it dry out before you store it in your pack for a week. Filters out water real well, its light compact and its one of the most complete systems out there
worked well when i needed it
I used this on long range patrols in Afghanistan, this was a great piece of gear that allowed my platoon to lighten our loads. It pumped much faster than the PUR filters that we were provided and, most importantly, no one got sick after pulling water from watering holes that were normally used for livestock.
I need to purchase a new bottle of purifier...
I need to purchase a new bottle of purifier solution. If I bought it today what would the expiration date be?
most reagents have a shelf life of 90 days after the package is opened an exposed to air. that being said, MSR does not list these specs with their product information (nor does backcountry.com)...you would probably be best served by calling MSR customer service (cascadedesigns) at 1-206-505-9500.
Hey Alicia,

Hard to say exactly what date whatever you ordered today was actually made, but MSR's shelf-life for the solution is 2 years. Probably best to call Backcountry customer service and ask them if they can read you the expiration date off a bottle from their most recent batch. If it's a recent shipment, go for it, but for the freshest solution, it might be something that you would want to order directly from MSR.
Perfect for 'suspect' areas, but heavy
Love the taste of the fresh, filtered water, but slow and heavy as compared to a gravity feed system