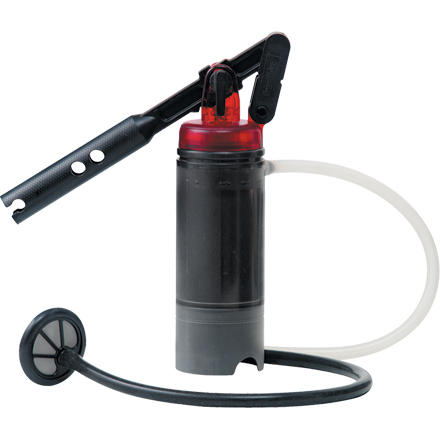 The MSR SweetWater Microfilter gives you a fast, dependable way to filter your water, and only adds 11 ounces to your backpack. This MSR water filter's lever-action pumps water on both up and down strokes for a fast 1.25-liters-per-minute flow rate, and the filter eliminates 99.99% of all waterborne bacteria and common protozoan parasites like giardia and cryptosporidia. Simple brushing restores a clogged filter, and the pump lets you know when the filter needs replacing. Fold the handle down and slip the 7.5 x 2in SweetWater Microfilter into the included stuff sack. *Also includes 80-micron stainless steel prefilter, color-coded silicone hoses, foam float, water bottle adapter, and cleaning brush.
Sweet water is a sweet little pump.
I took this out for the first time around three sisters. Loved it! My friends all had other pump but this little guy pumps twice as fast as all the rest. By the end of the hike everyone was going to sell theirs and get a sweet water. I couldn't be happier with backcountrys service. My pump showed up right on time.
How much water can be filtered before the cartridge needs to be changed?
Best Answer
Grant Kates: Asking the right questions, giving the right answers. So sage. So wise.



So GURU.
Haven't gotten sick yet...
Familiarity:

I've put it through the wringer
The title is a bit tongue-in-cheek, but how else would you know whether your water filter is working?



I got mine in 2009. I think that year they made some defective filters because mine got irreversibly clogged after three short weekend trips. I noticed that other reviewers had had the same problem and wrote to MSR, who provided a free replacement filter which has now been going strong for three seasons.



When the filter is becoming clogged, water shoots out of the pressure relief valve. This is good, because it purportedly prevents the filter from being damaged; but it's annoying, depending on which hand you're pumping with, because it can shoot the water straight at your chest. Of course, if you give your kids the job of filtering water, they will laugh hilariously and intentionally shoot water at each other and you won't have to do any of the pumping yourself.



It probably takes about ten minutes of pumping to get three to four liters of water. It's not fast but it's much faster than the old First Need water purifiers were.



I haven't had any problems with the prefilter clogging but I have been using very clear mountain streams and ponds as my water sources.



It's a little large and bulky compared to some of the other filters out there, so if you are an ultralighter, you might want to go with something else. I like this one because, other than the first summer, it has been very reliable. It's so easy to use, even a seven year old can do it.
Prefilter vs. Ceramic filter problems
Familiarity:

I've put it through the wringer
I've had my Sweetwater for 6 or so years now; over 800 miles on the AT plus other trails. I've worn out 2 ceramic filters and needed a replacement pre-filter also. I probably would not have worn out 2 ceramic filters if the operators instructions were clearer about what is clogging up. They don't tell you how to determine which filter is clogged. At first I assumed all clogs were in the ceramic filter, so I brushed a lot of that filter material away needlessly. MSR was good to send me a free pre-filter replacement once I figured out the problem on my own, but what they have not told me is what solution(s) to best clean it with to avoid buying more replacements. When you try to pump water and there is an obvious blockage in the "suction" feel on the handle instead of blockage on the "push" stroke, with no water popping out the relief valve, you have a clogged prefilter. Right now I am in the process of trying soaking it in vinegar (so far has not helped yet) then I will try a detergent soak and then a diluted Chlorox soak. This is the 2nd time I have done this cleaning. The first time it got my old prefilter working OK. Now the old one is still working but the replacement is about stopped up. Maybe at least I will remember wich solutions actually helps it. You can tell how clogged it is by blowing through the hose into the filter sitting in water or any solution, and comparing how hard you have to blow.
Good review by Outdoor gearlab
I have the original sweet water pump. MSR didn't change a thing other than the color of some of the parts. I ordered a bottle of the MSR sweet water purifying liquid and added it to the pouch, now I feel that much more secure when I pump from different sources.

The rate of flow isn't great and you will work for your water.
Does this also remove any chemicals such...
Does this also remove any chemicals such as fertilizer that may be in the water source?


The carbon will remove impuities like fertilizer, within reason. It will reduce impurities in relatively clean water, but nothing aside from distilling will help very polluted water.

Most filter systems like this are primarily for biologicals.
Easy to work/worked perfectly
This filter is the easiest filter I've ever used. It's super small, light weight and worked awesome. It's super easy to clean, as well.
I have used the Sweetwater purifier extensively while backpacking throughout Utah. It works great in the swift rivers and high alpine lakes of the Uintas and also the trickling creeks and remote waterfalls of Coyote Gulch and Dark Canyon. On average I can efficiently pump about 3 liters in 10 minutes after a fresh cleaning. You need to clean it about once every 9 liters or so. Its easy to clean, easy to store, easy to pack up, and easy to carry. Five stars and I highly recommend this thirsty backpacker's best friend!
The spec's say the filter material is...
The spec's say the filter material is carbon. Is this like carbon, ie: activated carbon, making the water taste better? Or is it not related?
I don't think the carbon is related to the taste. In my experience the purified water tastes about as good as the source. For example, swift moving mountain creek water tastes amazing.
Best Answer
The carbon element is needed primarily for taking out bad tastes and contaminates from backcountry water. This is essentially the 'finishing touch' to allow the water to taste its best and keep it as safe as possible. Carbon is the most essential of all atoms and most elements are attracted to it. It acts as a magnet, causing these molecules to 'stick' to the granular pieces of carbon located on the inside of the filter element. Also taken our by carbon are pesticides at the molecular level. It should be noted that heavy metals cannot be taken out with carbon.
7 years strong and still pumping! I think it helps to get a hose that is longer to reach the water source. Keeps you from falling in! Haha Get one.
Easy to use, compact, and best of all haven't gotten giardiasis!!
The sweetwater microfilter a fast, light weight filter that is great for long distance hikes. I've used one on the AT and the PCT with great results. The replacement filters are fairly common, easy to change and easy to clean. MSR has great customer service and have help me out on two occasions when I broke the handles on my filters. They replaced them no questions asked.a good water filter...
How often does the filter need replacing? Does...
How often does the filter need replacing?

Does anyone have any 'real life' experience with the filter? i.e. "I used it on approx. # trips a year and had to replace the filter after # trips/years." The manufacture estimate is helpful, but I'd also like to hear about practical experiences.
Best Answer
MSR claims a very subjective 750 liters. This number all depends on the quality of water being filtered. I use the resistance method. When the filter becomes noticeably harder to pump, change the filter!
hey Richard,

I agree with Jeff, water sources dictate a filters life span. Filtering water from seeps you dig will shorten it life faster than clear running water. The silt from glacial water also clogs filetrs faster.

On the Pct a filter would last me around 700 miles, but I would use a toothbrush to clean it to prolong its life.

On the AT a filter would last me a lillte more than 800 miles, but I didn't drink as much water as I did on the PCT.

These numbers only work for me, everyone's will be different...carry a spare filter with you
or have easy access to one until you are confident with it..!!

hope this helps
What is the better filter, ceramic or...
What is the better filter, ceramic or carbon?
Best Answer
Having the carbon in the system helps to remove tastes and odors from the water. That is about the item that I've ever heard that one holds over the other. Either ceramic or carbon are gonna be great systems, just if you go places where the water tastes funny you might go carbon.
Just to add to the previous review, ceramic elements are cleanable & last much longer. For this reason they are also more expensive.
I'm planning a multiday backpacking trip...
I'm planning a multiday backpacking trip in October for Sipsy Forrest in Alabama and plan to take many more trips within the USA for years to come I'm considering this water filter as well as the MSR mini works. I recently saw both of these in person at an outdoor store. It seemed as though the Miniworks removes the most, yet it still doesn't remove viruses. Should this be of any concern for me in the USA? How can I combat viruses if so? Filter, then boil? I appreciate any input anybody has!!!
I wouldn't worry about viruses in backcountry water sources in the US. Not really a problem here. If you are going to be overseas in a 2nd or 3rd world country or a warm climate then it is more of a concern. Any other method to treat water, like a Steripen, chemicals (Aqua Mira or iodine), or boiling will get rid of viruses.
I love this filter. It pumps fast and is...
I love this filter. It pumps fast and is super easy to use. Recently though, water has been coming out of the top area around where the "piston" part goes into the filter chamber thinger. It's not coming out of the pressure valve--I know what that looks like. Is it possible that one of the gaskets inside is worn and should be replaced? Or do I need a new filter (I don't think the filter is done yet--it still pumps fast). Thanks!
Best Answer
You're exactly right. The top pump seal/gasket has been compromised however this doesn't effect the water being filtered. It's still filtering like it should. If this still makes you uneasy, talk to the store where you purchased it & they should replace the unit for you. Mine did the exact same thing & the entire unit was replaced.
i've been doing quite a bit of digging...
i've been doing quite a bit of digging around for a water filter that i can depend on. I have been running into the term 'microns' quite a bit. I am doing an Isle Royale trip in a few weeks and am wondering if this filter will be okay to use by its self. On there DNR site it says a filter should filter .4microns or less for bacteria and 25 microns or less for tapeworm. Will this filter do the job?
Best Answer
On the MSR website it lists the filter pore size as 0.2 microns and that it is effective against bacteria and protozoa so it should definitely meet their standards and work well for the trip. Also, any of the MSR models(SweetWater, HyperFlow, and MiniWorks) would work for your trip as they all according to MSR are .2 microns in filter pore size.
You'll be fine filtering Great Lakes/Lake Superior water with this filter. It will also filter out crytosporidium which is approximately 1 micron in size & a major concern in these parts.
I had a sweetwater filter for a number of years, then lost it, and I am going to purchase another one because it has been by far, among the best filters I've experienced. I've used it with my field crew of 4-6 people back-packing and spending 3 summers in the Tetons...it got used ALOT and I NEVER had any trouble with it. It's very easy to clean in the field, and easy to maintain it. I LOVE how the pump action works water at both strokes into the containers, and I LOVE how easy it is to pump without your arm getting too tired. It's easy to tell when you need a new filter,and the filter is easy to replace. It is worth the cost.

As with ALL filters, if you are going to the silty waters of Southern Utah, I would recommend putting a coffee filter and a rubber band around the pre-filter to avoid clogging it with all that fine silt!
How often does the filter need to be...
How often does the filter need to be replaced and/or does it matter if it sits for a while after use, less than a year?
The standard answer is it should last approximately 250 gallons before the filter element needs replacing. However this is highly dependent on the quality of water filtered and how often it was cleaned. The best indicator of whether or not the element needs to be replaced is if it can filter or not. If it's really hard to filter or the pressure release valve is spurting water everywhere then you should replace it.

If the filter has sat for 6 months or more without proper maintenance, I would replace it. There isn't a concern on whether or not it will still filter the bugs out of the water (i.e. it's efficacy), but if it can still pump water. I would use that as the determining factor.