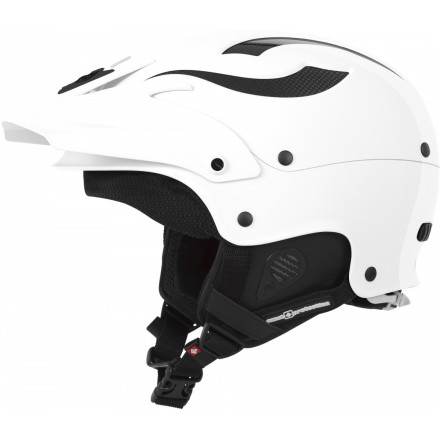 Community Images
Sweet Protection only makes one helmet that's more protective than the Rocker Helmet, and that's the Rocker Full Face. Unless you're charging waterfalls the size of a small building, the standard Rocker is enough for the biggest challenges in the river. Sweet used a unique combination of thermoplastic and carbon fiber to make the shell softer at the crown and more rigid toward the sides. Coupled with the high-impact, low-weight EPP foam inside, this combination of material allows for the most versatile impact protection from big, low-speed hits and small, high-speed bonks. All in all, you get a lid that fits like a glove, drains quickly, adjusts in mere moments, and keeps your skull safe in the whitewater when that's all that matters.
TLC shell technology uses both thermoplastic and carbon fiber for the best balance of elasticity, rigidity, and strength throughout the helmet
ABS thermoplastic shell has improved impact resistance thanks to rubber-toughened construction
Expanded Polypropylene liner offers extraordinarily durable shock-absorbing properties at a low weight
Occigrip design provides a firm and comfortable fit so your helmet won't roll forward or side-to-side on impact
Coolmax lining dries quickly, allows sweat to move rapidly away from your skin, and the reinforced front flap cover insulates your forehead and temple from cold water
Self-adhesive fitpads can be placed between the liner and the stitched liner to dial in the fit
Adjustable visor shields your eyes from spray and the sun
Best helmet on the market
The price of this helmet may put people off, but if I had known how much more comfortable this was than my old cheap helmet, I would have gotten one sooner. The Rocker is light, it fits well and it doesn't move around when you're under water. I will probably just keep replacing this with the same when the need arises in the years to come.
Warm, great helmet
Familiarity:

I've put it through the wringer
I love how in the summer, you can take the ears off. This is a very warm helmet. I used it all winter without a liner, the pads are enough and the ear covers are great. Tested upside-down in the cold water, off of rocks and it is a solid helmet! The only downside is if you do roll, expect to not hear anything for a brief moment in time when you surface due to the ears.
Very Nice Helmet
Familiarity:

I've used it several times
Wow, That's what I can say! Not just about the Sweet Helmet, but also about Backcountry. A great deal and super fast shipping! This helmet is super comfy and instills great confidence while paddling some quality whitewater. Goose it Smeed.
Sweet Comfy Helmet
Familiarity:

I've used it several times
I got the Rocker in preparation for rafting the Grand Canyon. While the security the Rocker provides was well beyond what I needed for the Canyon I primarily needed a more comfortable helmet. I upgraded from an NRS Chaos helmet that just never fit right. The problem is I have a large head so when I looked at upgrading I really only had two options, the WRSI Trident and the Sweet Rocker. After reading a lot of reviews I decided to take a leap of faith on the Rocker. Am I glad I did. This helmet is so comfortable it's like "sex on your head." I wore it daily for three weeks and never had a problem with fit or comfort.



The helmet is warm, which worked for a November Grand Canyon trip and works perfectly for packrafting in Alaska. The only complaint I have is that it offers zero shading from the sun. I installed the visor but it sits up so high that I get no shading at all.



I got this late in the packrafting season (2014), so I will update this review after getting out on more Alaskan rivers and creeks and putting the Rocker to the test.
Top of the line.
Familiarity:

I've put it through the wringer
Like most people, when I first got into the sport of kayaking I wasn't ready to spend over $200 on a helmet when there were others for a lot less. I was already spending enough on all the other stuff. My mistake! Like I said in my review for the full face, Sweet Helmets are a step above all others. After purchasing my full face, I just didn't want to go back to anything less so I made an order for the Half-Cut. Plus that new orange color is just bad ass!



Just like the full face it comes in different sizes and has minor adjustments to make it fit your head snug. It has great coverage on the forehead and the back of the head. Once its adjusted to your size, it stays in place and you forget it it there. Also the chin strap is easy to adjust so if you need to throw on a scull cap, you can loosen it up as you walk down the trail. But the helmet is pretty warm, so you'll only need that cap on bitter cold days.



Again like the full face, my only complaint is that with the ear pads in you can't hear even from a few feet away. Add in any whitewater and you end up yelling and saying "What'd you say?" a lot. But they come out easy and a scull cap easily replaces the insulation for the ears, even of the coldest of cold days.



Conclusion, spend the money and get the Sweets! You head will thank you!
Pretty Good
Familiarity:

I've put it through the wringer
When I first bought this helmet I thought it was the perfect helmet. Fits nicely without having to add tons of pads at the beggining and didn't slide as much as the Strutter when play boating. In terms of protection it works really well too - I know two guys who should be seriously injured, but instead walked away with cracked helmets and little blood.



Now that I have put it through the "wringer", there are some annoying features. The ear pieces paddings are held on by buttons and they always come off now. Also, I don't like the chin strap system they have going on, it's too hard to get a comfortable fit and it even though it has a soft cloth protecting the buckle, it still chafes your neck.
The best
Gender:

Male

Familiarity:

I've put it through the wringer
This helmet is expensive. But it's also the best, most comfortable helmet that you're going to find out there. I've taken a few big hits with it against sharp rocks. One even sliced my gopro mount clean in half, yet I hardly felt the hit. So, if you want to get serious about your paddling, or just might be spending some time upside down in rocky, moving water this is the helmet for you. However, I did have one of the screws for the visor come out shortly after purchase while rolling on flatwater. This is frustrating, but is also a fluke. Also, This is a hot helmet. I'd wear it in the winter without any kind of liner even in the Northeast. If you live in a warmer environment and don't plan to be on low volume rivers, the Strutter might be a good alternative since it's got a more breathable liner and has a sturdier visor.