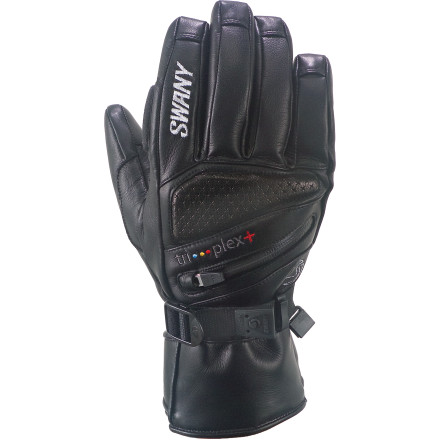 The burly leather Men's X-Clusive II Glove from Swany is built for top-tier performance whether you're skinning up backcountry ridge lines or hopping on the tram. A combination of three different weights of Primaloft insulation keeps your hands warm while the Dyna-Therm liner wicks away moisture to keep the inside of your glove from feeling like a swamp. When the storm front rolls in, slip a hand-warmer in the designated pocket, clean your goggles with the wiper, and enjoy exclusive powder runs after everyone else has run to the lodge.

The smooth-grain Leather Shield shell with a reinforced digitized palm protects in tough winter conditions and provides excellent durability
Three different weights of Primaloft insulation (thicker on backs of fingers, flexible on sides, thinner on palm) provide the necessary warmth to keep you ripping turns all day long without affecting dexterity
Dyna-Therm liner wicks moisture away for all-day comfort
The Dryfinger Reflection insert utilizes a heat reflective shield to hold in warmth and quickly evaporate excess moisture
Quick release strap allows for easy on and off
Pre-curved finger construction helps when you're gripping ski poles
Waterproof seams block winter weather
Padded knuckles protect in tight tree lines and bar fights
Utility heat pocket holds a hand-warmer pack for extra cold days
Swany leash prevents you from losing a glove when you crash and burn
Goggle wiper helps keep vision crystal clear
Very warm, not great in wet weather
I've skied in these gloves 3 times. Twice it was about 10 degrees F, and they did great: they were very warm and comfortable. They don't feel bulky or get in the way and they seem sturdy and well-made.

Today I skied at Eldora and it was just under freezing and DUMPING snow -- challenging conditions for any gear. These did a good job keeping my hands warm but they got pretty saturated, which made taking them off and putting them on difficult. It's been about 5 hours since I stopped skiing and despite Colorado's dry air they're still pretty wet.

I think they'll generally be great for Colorado skiing but if I still lived in the Northwest I'd look for something more waterproof.