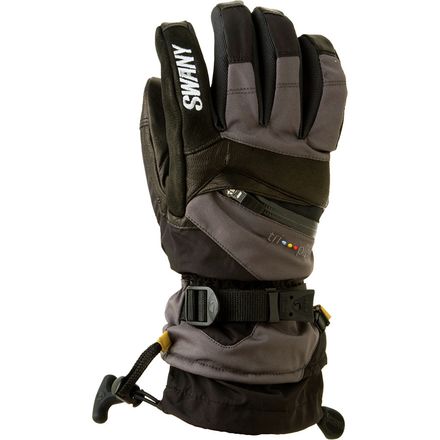 Detail Images
Description
When wouldn't you wear them?
With all the outdoor companies out there overusing the letter 'X' to imply that their product is somehow more 'Xtreme' than another, it would be easy to assume that Swany was trying to pull off the same lame maneuver with their X-Change II Gloves. But the X here actually stands for cross-over, and given the X-Change's durable construction, waterproof breathable fabrics, and Tri-plex insulation system, the folks at Swany nailed it when naming these shred-loving, backcountry-ripping, park-smoking, sled-eating gloves. They'll hold up to years of your (dare we say) Xtreme abuse.
Wanted to love them
Familiarity:

I've used it several times

Fit:

True to size
I had hoped to love these. They were warm and I thought the price was right but after one season they started to fall apart at the seams. Simply poor construction.
Great for most conditions
Familiarity:

I've put it through the wringer

Fit:

True to size
These Swany gloves are true to size, comfortable, look great, and very warm. I've worn them for 20 ski days after I picked them up mid-season and they still seem brand new. I picked them up for 30% on Backcountry.com (~$70), you really can't beat this quality of gloves at that price. In early January -10 degree conditions, you might want a warmer mitt, but these work great for most conditions.
Good above 20 degrees
Familiarity:

I've put it through the wringer

Fit:

True to size
I cannot find any gloves that will keep my hands warm when it's 20 degrees or colder. I have wasted so much time and money trying to find warm gloves that it's not funny anymore. Actually, it wasn't fun at the time either. For that reason, I have gave up earlier this winter and bought the Swany X-Change Mitten. I don't usually like mittens, because they usually make my hands sweat. The X-Change mittens, however, are fantastic. No sweaty hands with the X-Change mitten, even when it's just below 20 degrees. When it's really cold, they keep my hands toasty without making them too warm. Wore them during the -40 wind chill temps of the stupid Polar Vortex that dropped on Indiana in January and they performed well above my expectations. Love the look of them. Love the feel of them, etc... I was so impressed with them, that I bought X-Change glove when I was made aware of their existence. I like the look of them. I like the feel of them...when it's over 20 degrees. Under 20, I go with the X-Change mitten.
Great glove for 5 years...
Familiarity:

I've put it through the wringer

Fit:

True to size
I have had these gloves for 5 years now and they have performed extremely well. I almost never use them with warmers and have worn them on many single digit days and been warm and dry. They have held up amazingly well. Really well considering they are my only gloves and I almost never wear anything else with over 30 days on the mountain per year.



I have read some of the other reviews and understand that there has been some concern with stitching issues on later model gloves, perhaps there has been a change in manufacturer? My gloves being over 5 years old that may be the reason I have not experienced and problems. I did buy the kids Exchange II for my son this year to replace a pair he had outgrown and passed to his sister and they are new so we will see how they hold up compared to the originals.
Swany not worth it anymore
Familiarity:

I've put it through the wringer

Fit:

True to size
Had these gloves for a 1 season and the stiching started coming apart on the fingers and the palm. Used Duct Tape to get them through one more season but just not worth the c-note you have to pay for them. Swany gloves used to be really nice but it seems like the quality has fallen way off.
You can get better gloves for the same or cheaper price
I had these gloves for 2 seasons. They have a bunch of bells and whistles however none of them last/do their job well. The cuff isn't long enough and the hand warmer pocket is pretty small. halfway through season 2 I had big rips and cuts in both of the thumbs. Duct tape is good for only so long.

I didn't find them very warm when it was kind of cold either- I found my hands were cold (pre cuts in thumbs) with temps in the teens.

My two cents- average at best
I've heard a lot of good things about Swany and made the plunge to purchase a pair of these last season. Well, not more than 20 days out on the mountain signs of fraying began to appear around the fingers and shortly after the stitching around most of the fingers began to rip out. Now they are being held together by black electrical tape in a last ditch effort to finish out last season. I've heard they changed manufacturing companies in the last few years and since than it seems the quality of their product has degraded.
These are the best gloves I have ever owned! My hands stayed warm, even in -10 temps. They don't breathe very well, though. Lots of moisture build-up inside after a long day on the slopes.