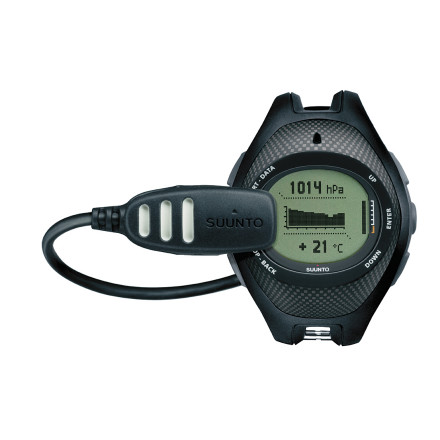 Detail Images

Community Images
too many compromises for the price. I had mine for six months before the face came out of the watch band. I never figured out how to use a route downloaded to the watch, although recording a route and then importing to google earth worked like a charm.
I am in the military and would like to...
I am in the military and would like to know if this watch uses the 8-10 digit military grid reference system or only Lat/Long for the GPS?
You can choose either system for display.
Hi, can you help me, please? I have a watch...
Hi, can you help me, please? I have a watch Suunto X9i, but I need the manual in Slovak or Czech language, too? Thank you
Best Answer
check the Suunto website. You can download manuals there. not sure about which languages are available, but if it exists, you'll find it under the customer care page in the "download" section.
Well I usually give rave reviews to products I write about, but this one just does not cut it. I bought mine for a great price (new) only $330 about a year ago, but I have sent it back for repair twice. First the GPS did not work properly with incredible inaccuracy, then I got a replacement and the face literally separated from band! The glue had melted away, now that is some shotty construction on a watch retailing for over $500. Under ideal conditions the GPS fix takes forever! If you want to go out and run with this thing you had better set it up about 15 minutes and leave it still somewhere if you want a chance at the GPS fixing, otherwise youve got one badass stopwatch for your trip. Now lets say that actually worked, make sure you stear clear of any trees! The signal goes away easily and will leave you baffled about either your super human speed according to GPS, or the opposite where you ran say 7 miles and it says you only did 4. I could go on about the shortcomings of this watch but I think you get the point.
To say something positive.. it is great as a digital compass, and barometer (just cool feature, looking at the sky gives you pretty much same info), and thermometer, however if youre wearing it the reading is never accurate due to body heat! The altimeter is highly inaccuarate too, there I go again I tried to say something nice and I got sidetracked by more negative stuff. Bottom line, this is not useful device for anything other than playing around. A very awesome toy for grown-ups, but dont count on it saving your life or accurately giving you any information other than the time, date, barometer, and compass readings.
This watch can do a lot of stuff, so it takes some practice learning all of the functions and menus.

GPS signal acquisition is slow getting locked in initially but then maintains the signal well. Obviously, you can't take it in dense trees and expect the GPS to still work.

The battery will last about 3-4 hours in GPS mode at 1 second update intervals. If you remember to power down the GPS when you don't need it, you can easily extend the battery to last on multi-day trips. I primarily use just the altimeter mode and don't need to recharge the battery for weeks.

The included software is OK for looking at altimeter logs, but not much else. The good thing is that you can export the GPS logs into Google Earth or your topo software.
Unanswered Question
Hi got problems to adjust GPS to marine...
Hi
got problems to adjust GPS to marine needs.
Just need N / E Position and dont get right results with WGS84
somebody can help ?
Comparison: Suunto X9i vs. Garmin Forerunner 405
After two weeks of side-by-side usage, I've concluded that these watches are targeted at very different markets. Furthermore, in many respects, it seems like neither watch is totally ready for prime-time. Both have nice feature sets, but they each seem to be lacking some very important features to make them truly useful across several sports. The Suunto X9i seems to be targeted and more useful to the climbing crowd, whereas the Garmin Forerunner 405 seems targeted at the fitness/jogging crowd. Neither has the complete feature set that the above-average hiker/trail runner/mountain biker needs. Thus, if you purchase either, you have to accept the compromises inherit in one or the other.
If I was pressed to recommend one over the other, I very hesitantly lean towards the Garmin Forerunner 405 due to smaller size, better battery life, faster GPS synch, slightly better navigation screen and of course, lower price. I'm hesitant because of several important cons which I elaborate on below.
STATS:
Battery Life (w/ GPS): 4.5hr (X9i) vs. 8hr (405)
Battery Life (w/o GPS): 16d. (X9i) vs. 12d. (405)
Size: X9i is larger in every dimension than 405
Weight: 74g (X9i) vs. 60g (405)
Water Resistence: 100m (X9i) vs. 3m (405)
Heart Rate Monitor: No (X9i) vs. Yes (405)
Outside Temperature: Yes(X9i) vs. No (405)
CONS: Garmin Forerunner 405
1) Does not display raw latitude/longitude position on standard screen. You can save a waypoint, which they call 'location', and then edit that point to see the latitude/longitude (displayed in non-decimal format).
2) Does not have On/Off button to save battery-life.
3) Comes with very basic software with limited maps. Cannot export tracks into GPX format.
4) Difficult to upload waypoints for future route.
5) Limited to WGS84 map datum (limits international usage of tracks)
PROS: Garmin Forerunner 405
1) Easy to use menu system.
2) Fast GPS satellite synching.
3) Can connect to heart rate monitor.
4) If you can get waypoints loaded, there is a nice screen that shows the direction/distance to the selected waypoint.
5) Great fitness monitoring screens and many are customizable.
CONS: Sunnto X9i
1) Large physical size.
2) Poor battery life with GPS on.
3) Slow GPS satellite synching.
4) Difficult to use and complex menu system with 5 buttons.
5) Does not have On/Off button to save battery-life.
6) GPS tracks, which they call 'logs', tend to have jumps/errors when GPS drops out, which is often.
7) Comes with very basic software with no maps.
8) No screen to show direction to a selected waypoint.
9) Limited to WGS84 map datum (limits international usage of tracks)
10) Suggested Retail Price is 25% more than the Garmin 405.
PROS: Suunto X9i
1) Does display raw latitude/longitude position on Position screen, but in non-decimal format.
2) Does have temperature feature.
I purchased this watch for two reasons: to keep track of my running and to start geotagging my pictures. It works on both accounts, amazingly well. I don't have trouble getting a signal, and have quickly learned how to use the basic functions. I do find that the distance does get a little weird at times, but there's a lot of signal interference where I run. Well worth the cost.
I use this for backcountry K-9 search and rescue and overall I am happy! Mind a few things however:

1. It is small and light. It isn't heavy and is in fact much lighter/smaller than the Garmin model and easier to use, but if you are in a cave or under heavy dense trees/plant life, you may lose GPS reception. Just like any GPS, you need a sky (literally) to triangulate your signal to. If it is in a heavy forest, etc. reception will be poor...JUST LIKE ANY GPS, but mind that I have used this in many extreme conditions from heavy snow and sleet to average "days in the park" and have only had a signal issue once (so did my Garmin 60 CSX).

2. Battery does well(despite a previous post...he is a moron, don't read his rating). The big thing is to be sure you charge it before you go and to remind yourself that the more you use the light, the more the GPS "updates", etc, the more battery you use (just like a normal GPS). I can go for almost a week between charges in GPS mode.The big thing to remember is that when you sleep at night or not using the watch, turn the GPS portion off.

3. Due to the watch's small size and antenna design, GPS connection at the very first "lock" can take a few. Be sure the watch is in 1 secs mode. It works well, but again, amount of open sky, available satellites, and other factors will play into this, but if you follow the given directions included in the watch, you will be fine.

4. Water. It can be submerged to 30M. Awesome feature if you decide to take in a lake for a swim. I recommend you do NOT press buttons while submerged...just to be safe.

5. Google Earth, and many other TOPOs can be used!!! Unlike the "other" models, this one can utilize many mapping programs to make your life easier and wallet happy due to not having to buy excessive software.

6. MOST IMPORTANT THING!!!!!
Be sure to remember to use this as a secondary device and not as a replacement for a main GPS and ALWAYS ALWAYS ALWAYS carry a map and compass. Electronics do and have failed...don't let it happen to you!!!!!!1
This is definitely a great gadget. It does everything it says it will. You MUST follow the directions for firing up the GPS, making sure it's in the 1 sec update mode. If not, mine goes immediately into "pause" mode and won't acquire satellites. All the other features work just like you think they would. I don't think that the menus are that bad, certainly no worse than some other multifunction watches I own. It is very accurate so far, even when driving in the car.
X9i GPS Watch has two deficiencies, The first, this is big and heavy to move the long trips, and the second battery life is very short to last a full day.
Good watch... but not perfect
Purchased this watch as a replacement for a Suunto X9. Overall, the X9i is a great improvement over its predecessor. The USB interface and charging system are much better than the old cradle. Battery life is also significantly improved. One disappointment is the removal of the ability to calibrate the altimeter by setting the reference barometric pressure. With the X9i, the only calibration option is to set a known elevation into the watch. As for the GPS functions, there are performance improvements over the old watch, but it is still slow to acquire an initial position and loses satellite lock quite easily due to the antenna design. Like all GPS units, tree cover or anything that blocks the unit's view of the sky will degrade signal reception, resulting in inaccurate positions or loss of signal altogether. The X9i must download satellite almanac data every time the GPS is turned on, and so it can take a really long time for it to acquire an initial position. Unfortunately, there is no provision to manually enter a known position, which shortens the acquisition time in other units. The included Suunto Trek Manager software is quite good and is essential for building a route to transfer to the watch. Overall, it's a good, functional watch, but because of the inherent limitations of putting a GPS into such a small package, you're better off using a traditional GPS unit with mapping capabilities (such as the Garmin GPSMAP 60CSx) for serious outdoor activities. I mostly use this watch for the altimeter and compass features, which are excellent. The GPS feature is best used as a back-up source of position information.
Does What It Is Supposed to Do
The Suunto watch entirely lives up to what advertising and reviews say it will do, and I am well satisfied with it. It is more useful and accurate than a somewhat similar device from Garmin which I got a couple of years ago. That said, the operations, or better, the instructions for them, could be simplified and improved.
I've bought this watch and am VERY HAPPY with it. It has worked flawlessly and has been exceptionally accurate. I have used it while operating my car and it was perfect in distance over 103 miles. It can gauge speed and was dead on with the speedometer of my auto. I tracked back from 140 miles out and it was within .01 dead on accurate. You MUST read the manual from the CD. The watch is complicated and you must understand the functions to succeed with it. If you don't, you'll end up unhappy. Spend time reading and you'll find a new best friend.
Not the best.... depending on why you're buying it
I purchased this watch/"GPS" a few weeks ago and I must admit, I'm pretty disappointed. I intended to use it to track routes and keep up with my training (trail run, bike, paddle, etc.) but it turns out that this is probably not what this device is best suited for. It seems that it would be best used strictly as a traditional GPS unit to track routes while hiking/camping. I would however highly recommend the Garmin Forerunner 305 (see my review for it) for anyone wanting a good (not perfect) GPS unit to track progress while training. Overall the X9i only gets 2 stars from me mainly because 1) It is not intuitive (included instructions help some, but keep them close at hand), 2) The distance it recorded for my run was way off (I ran approx 4.5 miles; it recorded 7.75) and 3) It is gigantic (I understand this is necessary to cram all of the circuitry needed for GPS) Bottom line: If you want a compact GPS training device, go with the Forerunner 205 or 305. If you want a GPS for hiking/camping buy a real GPS. Sure, it won't be quite as small, but it will work much better.