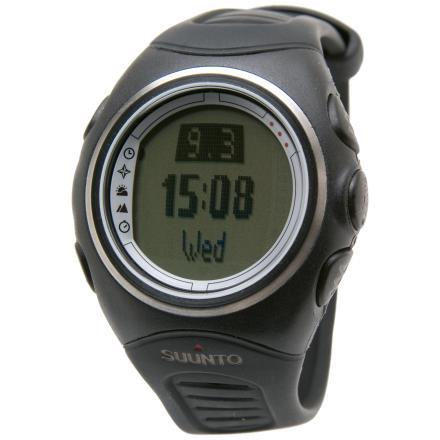 Use the Suunto X6HR's heart rate monitor functions for your endurance adventure training and its altimeter for your alpine treks. Take the X6HR from base camp to the summit, using its altitude, barometric pressure, and compass readings. You can record these readings for later analysis on your PC. If you feel like a long, grueling workout, take the X6HR out for a 20-miler and track your heart rate limits, time, and distance. Suunto included their new heart rate transmitter belt, so you can get after it the moment this monitor arrives on your door step. Suunto made the X6HR of composite materials, so it can handle the burliest adventures you throw at it.
I use this watch mostly for backcountry/ski-mountaineering in the winter and training for backcountry skiing in the summer. The logbook is my favorite function of this watch. It tracks the total amount of vertical ascent and descent as well as the number of laps. I only use the heart rate monitor in the summer months while training. I like being able to keep an eye on my heart rate. The heart rate monitor allows me to pace my self better and target a certain heart rate and stay there. Definitely helps me get a little more out of my workouts.
Sorry, the software is PC compatible only.Suunto is working on a web-based software so it will work with either OS
Sorry, the software is PC compatible only.
I mainly use this for backcountry skiing and have been using this watch for two years. Like the other reviews state, the HR functions on this watch are basic, if you are looking for more than your basic heart rate then look at more dedicated watches. The altimeter/barometer are fairly dependable. The menu/operation of this watch is fairly simple and easy to remember from one ski season to the next.
Weak HR Monitor; Good Altimeter
I've been using the X6HR for a little over a year. The device is easy to use, easy to set up, and for the most part works well. The altimeter (and barometer) and compass are great, and both are essential backcountry navigation tools. The HR monitor is the weakest part of this watch. I use it almost daily for training (running/cycling) and I find that it often displays and records grossly incorrect readings for the first 10-15 minutes of my workouts. For example, it often reads 180+ bpm, or fluctuates between 177 and 127 bpm. I know that these readings are wrong from my perceived effort level and my general awareness of my HR levels during exercise. It usually settles down and starts to read accurately some time into the workout. I live in New York City, and I'm willing to believe that there is a lot of ambient electromagnetic pollution where I run that may interfere with the signal. However, for a device this expensive, I expect better performance on all functions.
Unanswered Question
can you use the foot pod and bike pod with...
can you use the foot pod and bike pod with this watch like you can with the t6
Previous Version Excellent
I've had this watch (pre-HR green version) for 3 years and worn it in the roughest environments. It's taken a real beating but continues to function better than any of my others. It's comfortable, allows you to read two time zones on the same page, estremely customizable and has an intuitive layout. The ABC (I mainly use compass) functions well. It's also a bit smaller than most Suuntos.Only downside is that it's not solar powered as I burned out a a bettery about onece a year.
Vital piece of equipment for BC skiing
Along with beacons, shovels and probes, a Suunto X6 wrist computer is an essential piece of backcountry equipment. I use mine every time I go out to track vertical and it often inspires me to take one more run just to round up my total to the next highest number. Suunto watches have a vast array of options, yet a simple menu layout which makes them easy to use. They are also incredibly durable and reliable, which is nice when they get dropped, sat on or accidentally abused.