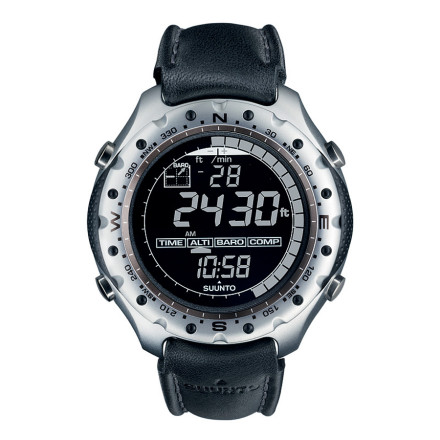 Detail Images

Community Images
The Suunto XLander Watch combines all the features of a watch with a bit more pizzaz— an altimeter, barometer, electronic compass, and a complete calendar clock, all housed in a high-tech, stylish aluminum casing. Use the altimeter to track your ascent as you tackle that burly hike. The barometer clues you in to changing weather conditions and the electronic compass keeps you on track. Always remember your significant other's birthday as the complete calendar clock keeps you up to date. Suunto equipped the XLander with a mineral crystal glass face and a carbon fiber back to ensure maximum durability.
Big Watch Fashion Accessory
Gender:

Male

Familiarity:

I've put it through the wringer
Wish I had looked into this further before purchasing. If you google it, 30M/100 feet in the parlance of watches and water resistance actually means "can get splashed or caught in the rain", which is woefully inadequate given that some $40 watches got to 100 or 200M.

I had the same exact experience with the band, then the bezel just falling off and Suunto telling me that this isn't covered under warranty and it is $90 for them to fix it. Not happening, now is just a low-quality backup device in the bottom of a gear bag.
good watch with issues
Gender:

Male

Familiarity:

I've put it through the wringer

Fit:

True to size
This watch is great for everything but water. Mine has leaked numerous times on me. Sent it back twice to Suunto, who has awesome customer service, but have not been able to fix the leak.



I will say, even when logged with swamp water and even brackish swamp water, the watch has fogged up but never stopped working, so thats a plus.



As you can see, their compass doesnt fit their band... some serious modifications needed to be made.
Hard to read display.
Familiarity:

I've used it once or twice and have initial impressions

Fit:

True to size
I bought this watch as a present for my father. He liked the watch overall but had a really tough time seeing the display, especially when he was outside under the sun. He is park ranger so that is when he uses it the most. Ended up returning it for the Spartan which he can actually read, although it doesn't have the compass.
Decent watch, terrible customer service!
Familiarity:

I've put it through the wringer

Fit:

True to size
I bought this watch and was excited as it was just what I was looking for, or so I thought. After 1 year, I had to replace a band, which I ended up having to do each year. The "water-resistant" leather really isn't very water resistant.



After about 2 years, I kept having the plastic bezel pop off. After about a year of this, it popped off when I wasn't looking and I lost it as well as one of the plastic accent pieces that the bezel holds in place. That should be an easy fix, right? Just contact Suunto and they can send me the 2 parts and it should be less than $20 or so. Wrong. Suunto would not send me these pieces - I had to send them my watch. When they got it, they would not just replace the missing pieces, they would only do that if they polished the face, cleaned it up, etc., at a cost of $90.



I had spent $300 on the watch, $30 a year for new band, and they wanted me to spend me, which I did not want to do. The bezel should not have fallen off on the first place, but the customer service was just terrible when something happened. I'd love to get another Suunto watch, but just could never buy from them again because of the terrible customer service. I've worked at high levels in the customer service industry for 30 years and have only rarely dealt with customer service like this.



Rating:

Watch - 3 stars

Customer Service - 1 star

Average - 2 stars
Designed in Sweden, made in China
Familiarity:

I've used it several times

Fit:

True to size
This watch was great while it lasted, but be warned, the bezel will fall off and SURPRISE it turns out that this is not covered under the warranty even if it happens after a few months.

Their image as a maker of high quality outdoor gear type stuff is all just a marketing ploy and has no real basis in their products or their support for their products. They are just big fashion accessories for people that want to look outdoorsy.



I snowboard, mountain bike, dive, windsurf, trek, surf, climb, camp, etc., so when it came time to get a new watch, Suunto was an obvious option. At $350 the X-Lander Military seemed it would be a ruggedly built watch and be able to stand up to that kind of use pretty well. Wrong.



I typically only used the watch when doing stuff outdoors b/c it is too bulky for regular daily wear, so I imagine it was used maybe 50-60 days in about one year. One day, while not doing anything too taxing (driving actually), the face bezel just falls off. I snap it back on and was thankful that it didn't come off and get lost. The next time it came off, it did get lost.



No problem, I assume that Suunto would have an adequate warranty and I assumed they would stand by their product. Wrong again. Suunto is NOT like that.



I called Suunto and was informed that the warranty DOES NOT COVER the face bezel falling off. Huh? The customer service rep informs me that these are connected when they leave the factory and therefore not covered b/c they are not supposed to come off (I responded with 'that much we can agree on, they should not come off). He then goes on to tell me that it will be at least $90 to send it to them to fix it. Again, huh? $90 for what would be about $7 (if that, they make them after all) in parts and ~30 minutes of labor? Are you kidding me? I can get a new one now for ~$200, but won't for obvious reasons. Now I just have an expensive, semi-functioning backup in the gear bag.



Thanks for nothing Suunto.
what are sings of low battery.
what are sings of low battery.
Hey Raymond,



The watch actually has a low battery indicator so before your watch powers down you should see an icon appear on your display that looks like a battery with only part of it shaded in.



I hope that kinda makes sense.
Foolish looks, great watch
Familiarity:

I've put it through the wringer

Fit:

True to size
My buddy gave me this watch after I discovered it was unloved in the bottom of his footlocker. I have owned vectors, cores, altimax, both Ambit 1 & 2 as well as I own a Spartan. I like the X-Lander better than the Vector as being in the military a metal case and crystal face is more durable than plastic. Both same guts, great products, but this one if my favorite. I have never had an issue with the strap, it was a pain to get off before airport security one time but I learned my lesson. I recommend this watch !
Watch was lost because of shi**y strap
Such a shame to make a nice watch and overlook a detail like a strong band and attachment. I had this watch for less than a year and was mountain biking in the French Alpes - hard uphill, checked my altitude at the top of the climb and then bombed back down to Chamonix. Went to check the time- no watch. That really sucked.

If you are marketing a product for rugged backcountry use, climbing, biking, skiing, etc make a complete product, don't stop 7/8 of the way to the finish line.
Mine has the neoprene strap, it fell off when I was canoeing down a river, i just managed to catch it before it fell into the water. the stitching had just dissolved.
Sunnto still have not come up with a better strap
I read a review that said the seconds...
I read a review that said the seconds "hand" is tough to follow, that it doesn't show every second. I am a Wilderness EMT and so having a seconds hand that is easy to read for taking a pulse is essential. Can you tell me any more about this?
Best Answer
If it were mission critical, I would be still using an analog watch. Digital watches are pretty useless when something happens to the battery, regardless of all the toys it has.

A well crafted wind up analog watch has no equal when in the wilderness
Does your wind up analog have an altimeter in it? Still looking for an answer.
Derek, I don't have an X-lander, just two Cores, but if the module is similar to the Core, the seconds indicator disappears after two to five minutes, except when the display is in seconds mode. The prevailing theory is battery life savings, but it would be nice if it would stay on. As a WFR, I get where you're coming from. The Pathfinder I have has the seconds indicator on all the time (PAW-1500T) but the altimeter accuracy is godawful. So I split wrist time between the Core and the Pathfinder, and occasionally the G-Shock Riseman.

I would recommend a Core over the X, the storm alarm and the greater accuracy from the altimeter lock make it a better tool, in my opinion.
this generation of Suunto watches has an animated display of seconds sweeping around the very outside of the dial, and a digital readout of seconds (you choose to see either this or the date). The animated sweeping display is indeed a bit odd at first. It is accurate, but it is not exactly like a traditional sweeping second hand on an analog watch.
Thick as in height off the wrist? Around 17mm.
I have the Suunto X-Lander since 2008 and...
I have the Suunto X-Lander since 2008 and just ran out of battery.Do I need To replace battery and lid or can I replace only the battery?
Its a great watch with all the features needed to be in the outdoors!! easy to use! a bit big so if you don't like big watches, don't buy it. Backlight could be better but not a big problem. I've taken it to a couple of mountaineering trips and worked perfectly!
x-lander w/x-lander military straps
ok so like i said i bought my x-lander a few weeks ago. and it had the leather straps, and sucked... well last night i replaced the leather straps with the suunto x-lander military edition replacement straps... and i love it, it has reduced the weight of the watch tremedously... it looks just like the military edition just with the silver watch face.... it's pretty awsome...now you cant find the straps on the suunto website ;( but i found them on amazon for around 24.00 they came in the original suunto packaging and with extra pins. overall just with the new bands it increased its appearance and function...
so i just recently bought the x-lander about two weeks ago. overall im impressed with the wristtop computer and the functions. all and all it really isnt that much different from the vector funtionality wise... if you are however on the verge of buying a suunto vector or xlander i would go with the vector. for the simple reason that the xlanders straps suck... the leather one and the synthectic they suck period. now if you just love the xlander i recommend going with the military edition. simply because the straps are more durable. plain and simple overall i have no complaints about the actual watch itself. so if you cant decide which one to buy i cant help you there but if i could do it over agian i would go with the vector or the military edition xlander.
I really like the excellent product, recommended to buy from you!! thanks again
Bought this watch to replace a handheld GPS unit for competition shooting and hunting. Works great with no issues. Accurate to within a quarter of a minute when shooting over 600 yards.
I have owned this watch for a couple of years. The first battery lasted me almost 1 year but since I replaced it it has been eating batteries and I have gone through at least 6 of them in 1 year. Not sure if there is a problem with the watch or the battery quality
Can this watch track number of runs skiid...
Can this watch track number of runs skiid and total vertical feet skiid in a day/week/or season?
No,
You need the ore Altimeter for that one. This one has an altimeter, but is really used for navigation vice vertical count.