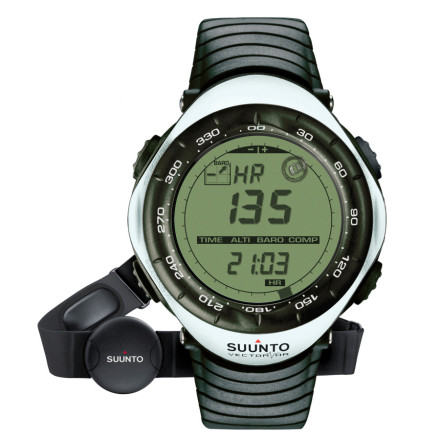 Community Images
If you've forgone the cubicle and have turned to the mountains to finally test your manhood, the Suunto Vector HR Altimeter Watch gives you the tools for accurate training and precise monitoring of your progress. The Vector HR Altimeter watch combines an altimeter, barometer and compass with a heart rate monitor with zone alarms that warn you when your heart rate is climbing too fast or you need to work harder. Add the ability to measure vertical climbing speed and you can start to see the training potential of this very serious athletic watch.
Altimeter features a range up to 29,500 ft and measures vertical speed
Heart rate monitor features zone alarms that indicate high and low HR levels based on parameters you preset
Barometer features a weather trend display that tracks changes in barometric pressure to help keep you ahead of storms
Electric compass with bubble level delivers an accurate reading with 3-degree precision, and can be set to track a specific bearing to keep you on your heading
Comfort belt gives you the option of a softer feel against the skin with traction strips
The difference between the suunto vector...
The difference between the suunto vector and the suunto vector HR is just the heart rate monitor? does the vector HR have a storm alert alarm?
Hey AJ

The difference is the Heart Rate Monitor. Although this does have a weather trend indicator, displays temps between -4F to 140F and can record weather for up to 4 days it does not have a storm warning. I believe that feature is only on the Core.
Outdoor Gear Lab Best Buy
Outdoor Gear Lab tested five of the best altimeter watches on the market in side-by-side tests over a year. These watches feature the key functions that hikers, backpackers, and climbers use the most: altimeter, barometer, digital compass, and standard time-keeping features.
Great customer service!!
Familiarity:

I gave it as a gift but have feedback to share
I bought this watch for my boyfriend as a replacement for the same one that he left at a hotel that he absolutely loved. Backcountry gave great costumer service in the online chat and even price-matched this product from another company over seas. I would definitely shop here again and give this company my business.
I am on my second one of these beauties. First one got left in a hotel room. Anyway, this watch does a great job of "walking the line" between functionality and ease of use. If you are in to tracking data on your HR, splits, altitude, etc., you can certainly do that. If you are looking to just have a basic HR watch with some cool add on features (like temperature and a compass), it qworks great for that too. It is made incredibly well andf is very comfortable to wear. One detractor for those very serious techies is that it is not conectable to a computer but that wasn't a big deal to me. Price is reasonable too. Great product.
Okay---

This may seem like a stupid issue but I wondered if it would be indicative of more serious problems down the road.
The Suunto lettering on the watch and the numbers wore off after a couple of weeks of use. I sent the watch back to Suunto. It took ten days to get the watch back and in a week, the lettering rubbed off again.
This is a nearly $300 watch, people!
Anyway, all Suunto would do was have me return the watch once again. I decided to take backcountry up on its promise and returned the watch for something else.
Great price and has everything. Little techie for an everyday watch but one of the only watches with an altimeter and a HR monitor..
Temp gauge is useless!
Does this watch have strap adjustments to...
Does this watch have strap adjustments to fit a smaller, female wrist?
yes. tried this guy on in a brick and mortar a couple weeks ago. as long as you dont have crazy small wrists you should be fine.
Does this watch provide an accurate calories...
Does this watch provide an accurate calories burned reading as well?
Thanks
All watches that list calories burned are estimates.
Will the comfort belt work with Polar...
Will the comfort belt work with Polar compatible gym equipment? Other gym equipment?
Best Answer
I was told that they should, although mine did not.
I got this watch about a month ago. I find the belt to be comfortable compared to the old Suunto belts. It seems to be reliable in detecting my heart rate. It does not calculate calories burned like some other Suunto watches. The compass and altimeter are pretty accurate, although I have not had to try it yet in a true outdoor experience. Not sure about the barometer. The thermometer seems to not be able to account for body heat so I have subtract 9 degrees (F) if I am wearing it.
Unanswered Question
hello guys does this watch measure distance...
hello guys

does this watch measure distance covered and speed while running??

Also, can some1 please tell me the size of the watch? i mean the diameter of the watch.

thanks
Unanswered Question
Anyone know if the heart rate belt can go...
Anyone know if the heart rate belt can go in a pool for use in swim training?
I just got this for my birthday and I'm excited to get out and use it. After reading through the manual I think there's a pretty steep learning curve with this watch. But the initial set up of time/day/HR was pretty simple. Used it biking, it works great.

I'll see what it's like the next couple months and report back later. I like all the Alti/Baro/HR/Compass options, also why I bought this watch. Hopefully it won't be to difficult to get it all down.
will you match online price from paragon...
will you match online price from paragon...$249...I like you guys and want to give you my biz
Best Answer
You should call in, 1.800.409.4502. Hopefully a rep can work out a deal with you.
Will altimeter watches like this, being...
Will altimeter watches like this, being that its good to 29,000 or so feet, also be good for use with skydiving/base jumping? I want one for backpacking that can double with my other hobbies. Thanks :)
I wouldn't use them for this type of activities where you need to have an extreme accuracy. Due to the fact the altimeter is linked to barometric pressure, there is some variances if you don't calibrate it regularly
I forgot to say that this is not specific to Suunto, but this is the same for almost all outdoor wristop computers
Best Answer
Some jumpers in the dropzone I go to use this as their altimeters. It's quite accurate I should say. We matched it side by side with manual skydiving altimeters and they match.
There a pic of a climber on the Mt. Everest summit showing the altitude with his Suunto watch!
So far so GREAT! Heart rate is awesome and I love how I can choose whether or not to have it beep. The comfort strap is just that, comfortable! I forget it's on quite often and then look down at my watch to check the time and realize that it's my heart rate!

The compass works great but I definitely need to remember to recalibrate before using it on a trip. I also LOVE to see my elevation at any time as well as the temperature which I use a LOT. You definitely need to remember that your body temperature manipulates the outdoor temp so I just take it off for about 5 minutes to have it regulate to the temp outside. I cannot wait to use that feature on a long camping or hiking trip!
I am looking to buy either the Suunto Core...
I am looking to buy either the Suunto Core or the Vector HR for my back-country/off-piste skiing husband. Does the Vector do everything the Core does, plus has a heart-rate monitor? Or is it missing a feature or two? The Vector HR is listed for "training" uses, while the Core is for "Skiing etc." so I am afraid I will miss a critical function if I go for the Vector HR.
Best Answer
If HR is a big deal go for the Vector HR (or the X6 HR series; nicer construction and menu) if not, the Core are great with an easier menu, extra features like sunrise/sunset, auto calibration compass, and real time logbooks.
I'm looking at buying the T6c or the new...
I'm looking at buying the T6c or the new Vector HR. I'm an outdoor guide and endurance runner wanting to find the best of both worlds i.e. Altimeter, Barometer, Compass + HRM & good chrono features. I'd rather have one watch that does it all, but it seems as if the HR function on the Vector HR might be pretty basic (e.g. no PC interface). Should I instead look for two separate watches...??? Cheers!

EDIT: I am also considering the X6HR, though it is a few years old and a few hundred $$ more expensive.
Best Answer
Polar is based in the same town in Finland as Suunto.
I'm a big fan of the X6HR, it has the full set of ABC plus the basic HR functions, and computer interface. I've been wearing an X6HRT for about 6 years, and it is still in great shape, and looks nice too.