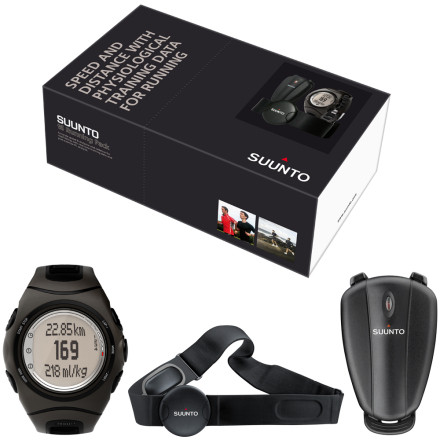 The comprehensive Suunto t6c Running Pack includes an altimeter / heart rate monitor watch and Foot POD to give you precise training information to help you get fitter faster. Not only does the Suunto t6c Watch track your heart rate to help you say in target zones during endurance and interval training, it also tracks your altitude to give you accurate bragging rights on ski trips and help with navigation on adventure races. The Foot POD transmits distance information to this watch, so you can see your pace. Download the data to your computer to track your progress throughout the season.
What do you think about this product?
Have questions about this product?
This is a great setup for tracking run data - distance and elevation tracking are both very accurate.

I found it was difficult to get the foot pod off of my shoe at first but it has become easier with more use. I've replaced the watch battery twice and the foot pod battery once since I purchased it in Dec. '09 but that may just be due to the amount of use it gets.

I ended up getting the Bike Pod as well and found it very easy to sync and setup. Overall, I would definitely recommend this to anyone looking for a quality heart rate monitor with some extra functionality.
is this compatible with the gps pod
is this compatible with the gps pod
hi folks I am looking for a combination...
hi folks

I am looking for a combination heart rate and sports watch - particularly important are count down timers - set for 3 minute intervals and auto repeat etc.

I see this product has chronograph - reading this as standard stopwatch? but not necessarily countdown timer?

be good to have all in one

not concerned about GPS as carry a seperate unit while out on the trail
The Suunto t6c doesn't have repeating countdown timers, but it does have chrono and lap timers.
the polar rs800 has a countdown timer, HR and atimeter, but don't know if the countdown timers repeat or not.