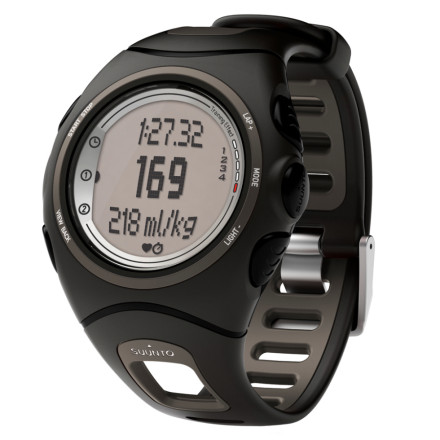 Community Images
Fine-tune your training with the Suunto t6d Heart Rate Monitor. This wrist computer, which comes with the Dual Comfort Belt, provides information previously only available in sports laboratories, including training effect, oxygen consumption, respiratory rate, energy consumption, and excess post-exercise oxygen consumption (EPOC). After your workout, upload your training log to Movescount.com for analysis and the chance to share with a worldwide community of dedicated athletes.
Data downloads to your computer for storage and analysis (software included)
Altimeter monitors your ascents and descents
Customizable screen layout lets you track your specific information needs
Chronograph includes stopwatch, countdown timer, and interval timer
Heart rate monitor provides current and average rate as well training effect in real time
Dual Comfort Belt works with your t6d as well as most gym cardio equipment and all Suunto heart rate monitors and Suunto fitness PODs
Watch includes date, day, and dual time functions
Share your thoughts
What do you think of the
Suunto
t6d Heart Rate Monitor with Dual Comfort Belt
? Share a...
Can you use the heart rate monitor in the...
Can you use the heart rate monitor in the pool?
Best Answer
It is water resistant but does not seem to transmit very well through water. So no.
Sunnto t6
Gender:

Male

Familiarity:

I've put it through the wringer
Not the newest watch out there but still one of the best. If you aren't worried about GPS (its just a battery drain) this is the way to go for the serious athlete. Full HR is important for staying in tour training zones and analyzing race results. Altimeter works well and is reliable if you are reasonable about zeroing it when you know your altitude. Comfortable and not bulky like some sports watches. Batter is easy to find and replace. Movescount software works well (but check out rubitrack if you are on a mac). The cable connection to the computer is reliable.
Great training tool
Gender:

Male

Familiarity:

I've used it several times
Excellent features in this HR monitor and its even better when paired with a foot pod. Very accurate. The Movescount web site is top notch and a easy to navigate to all your data that's been uploaded.

I've owned another brands GPS/HR monitor and although I liked the features, waiting for the GPS to get a strong signal sometimes took upwards of 10 minutes. I really love how quickly the Suunto T6D picks up the HR belt and foot pod. Its ready to go before I am out the door. Another plus is you can track your distance and pace while on a treadmill or indoor track.

This is my second Suunto HR Monitor, I upgraded to the T6 from the T3.
I only have been out for one session, so far. So far so good. Cool to know your heart rate as well as calories.
I have owned a few Suuntos and other HR watches but this own has been the best. Enter your personal info and it calcs your calories. You can customize the two displays to show what you want to see...great feature. Display is nice and big, easy to see. Looking forward to using more!
Unanswered Question
do you have the sunoto t6?
do you have the sunoto t6?
a quick SUUNTO T6d review from Winter OR 2011
Does this software work with MAC
Does this software work with MAC
Since the interface for this monitor is via USB to a web interface (Movescount.com) it should not have a problem interfacing through and OS X computer.
Great watch, the second Suunto watch I've owned, I lost the first one. Great new comfy strap for the accurate heart-rate monitor. I highly recommemd this.
Gets the job done but a little annoying
It does what I need it to and it's pretty accurate. It is a little uncomfortable but then again so is running three plus miles a day....Good product and I recommend it.
The Suunto t6d is a very nice watch!. All features work very well.
The configurable display is a very nice feature.
The heart beat belt works very well and the movescount sw is easy to use and gives you a nice tracking solution.
I was just disappointed with the GPS POD: it only records speed, and no GPS coordinates at all! Too little for a GPS accessory.
Get rid of the Suunto t6d Black Flame!
The Suunto t6d Black Flame is a lousy product!
It has a black face,with white numbers that are really gray: you just can't read the numbers!
This products does not comply with Suunto quality at all and Suunto should not sell it!
Both Black Fusion t6d and Black Smoke t6d models have a white face and are excellent watches!
GET RID OF THE BLACK FLAME t6d WITH BLACK FACE!
Suunto T6d - Black Smoke
I have had this watch for about two months now and its awesome. i use it when I lift weights, snowboard or go running. I used to be a personal trainer and wished i had this tool when I trained my clients. The heart rate monitor is precise and comfortable to wear. The watch is user friendly and links perfectly with the monitor. The T6d also pairs great with Movescount ... just plug in and play. Movescount.com does a great job of tracking all of the information and gives detailed charts of your EPOC, TE, HR, Altitude, Temp and several other things i don't have abbreviations for.

My only complaint would be the light on the watch. Doesn't do a great job....that's about it.
IS IT COMPATABLE WITH MAC
IS IT COMPATABLE WITH MAC
Moveslink (download software) and Movescount (web based software for analysis) are both compatible with Mac's with Intel processor, and running OSX 5 and higher (Leopard/Snow Leopard). The previous PC-based analysis software, Suunto Training Manager, was pretty good, and was stand alone, on your machine, not Suunto's servers. I liked it, but it was not natively compatible on Mac PPC or Intel - you have to boot up in windows and download to that partition or use a Win emulator/VM. Movescount is definitely a step down in data analysis, and is little more than a social networking site with ability to track your "progress," but not get the deep dive into the data that STraM provided. Suunto has discontinued support for for STraM and refuses to answer even basic questions about it on Movescount.com and their Facebook page. You can logon and check out Movescount without buying the watch. TrainingPeaks is also compatible with Suunto T6, and is web based, but much more data rich than Movescount. Unfortunately, for TrainingPeaks you must upload .sdf file, which can only be downloaded via (STraM), so Catch-22.
Awesome watch...when it works.
Look...I want to love this thing.
And I guess I do, since I'm on my THIRD one.
The first two were T6c models.
Both failed in various ways...one stopped working entirely. It would just sit there with a blank face no matter how new the batteries were.
The other completely stopped communicating with my computer.
Both had odd button behavior. Sometimes the buttons would change modes, sometimes they wouldn't. It would beep sometimes...not others.
Seemed completely random.
Both had display issues. Various horizontal lines would disappear from the readout (like a complete row of pixels winking out of existence), or it would dim down to near-invisibility, making it very hard to read, then would re-appear as if by magic....also seemed totally random and had nothing to do with the temperature or how sweaty it was.
I was putting up with these foibles in both watches until they became unusable. Now I'm on my third one, and it's a T6d.
So far, I've had the aforementioned display issues a few times, but nothing else has failed on it...yet.
It stopped communicating with my FootPod once, (which had a brand new battery in it) and I was fretting over it and trying everything I knew to fix it (removing batteries from both devices and replacing the batteries...effectively "rebooting" them...attempting to resynchronize them via the menu on the watch...etc) All to no avail. So I got pissed and threw it against the wall hard enough to chip some drywall off and scare both the dogs.
Ironically, that fixed it. Seriously. Very weird.
Anyway, that was apparently an issue with the FootPod, not the watch.
I digress.

Like I said in the title...when the watch works, which in all fairness is 90% of the time or so, it's great. The amount of data this thing pulls out of your workouts is more than sufficient for you to fine-tune your routine and actually see improvements in your fitness level. The piles of data become a motivational tool. For me anyway.
The new website Suunto launched (movescount.com) is far better than the previous software that came with the T6c (Training Manager). With Movescount, you just connect the watch and it uploads the data to your account and makes it very easy to track over time.

I've been using the T6d for about a month now. My two previous T6c's lasted about 6-9 months before they retired themselves.
If I don't forget, I'll update this review in a few months and let you know if this one dies too.

All in all...I love this watch, the software (website), and the level of meticulous, nerdy data it collects that I can geek on and obsess over.
I've been using these watches for about 2 years now and the numerical proof that my fitness is improving in various ways makes the various issues I've had with these things well worth it to me.
Of course, that's something you'll have to decide for yourself.
And it IS possible that I got two lemons in a row.
Mine have been...quirky.
This video shows me checking my Suunto for heart rate before I drop into my first ski day of the year for 2010! Mt. Baldy Alta, Main Chute. I hiked up 2,000+ vert, and most importanly.. skied 2,000+ feet down!

My work out summary can be viewed on movescount.com: http://www.movescount.com/members/juliancarr

My average HR was 136. Over 2,000 calories used. From parking lot, hike, ski, back to car, it was 2 hours 48 minutes. Plus the altimeter in the watch also keeps tabs on total time hiking up, how many feet, idle time, and descent info. Plus it graphs it all amongst everything else!

This watch comes with software to download each workout automatically into movescount.com - it graphs your data, and helps you acheive your exercise goals.

I have been using my t6d for 2 months now, it is fun learning about the efficiencies/inneffincies of my body. I have had a great time training with the aide of this watch, knowing what my training effect is, and where my heart rate sits at, helps me pinpoint exactly what my body needs work out to work out. I am approaching the best shape of my life, and I know part of the reason is this watch! Crazy!

Besides, before this watch, I didn't even know what training effect, oxygen consumption, respiratory rate, energy consumption, and excess post-exercise oxygen consumption (EPOC) even meant!

I love this watch!
So.. this is a really cool watch. It will calculate pretty much anything to do with fitness level. I don't use most of the features and unless you're into Exercise physiology, you probably won't either. I got the bike pod to go along with this and it has worked fairly well, although it seems to be around 1mph faster than what my gps shows.